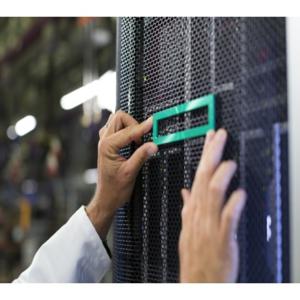 HPE 3PAR File Persona Software
Are you looking for a truly converged and flash-optimized primary storage platform? HPE 3PAR StoreServ Storage with the HPE 3PAR File Persona is efficient, effortless, no compromise flash storage engineered for block, file, and object access. HPE 3PAR File Persona Software enables rich file protocols from SMB/CIFS to NFS and FTP/FTPS, file data services from quota management, virus scanning to file snapshots and retention/immutability, and programmatic data access via an Object Access (REST) API. It extends the spectrum of workloads natively addressed by HPE 3PAR StoreServ Storage from virtualization, databases, and applications via the Block Persona to include home directory consolidation and user/group shares, content management and collaboration, and data preservation/governance via the File Persona – all from one converged controller architecture, one agile capacity group, and one truly unified management GUI, CLI and WSAPI.
Get Started
Financing available through HPEFS
Offered by HPE Reseller
More Information
What's New
Enhanced high availability from non-transparent automatic failover of file services between arrays with straightforward push button failback.
Increased security with File Lock Compliance to meet regulations defined by U.S. Securities and Exchange Commission rule 17a-4.
Key Features
Maximize Your Primary Storage Efficiency
Datacenter space saving and significant power savings via one converged controller architecture and one capacity group for agile provisioning of block volumes, file shares, and object access.
Seamless file data compaction leveraging Thin Built-In Zero Detect, Thin Provisioning, Thin Persistence, and Thin Deduplication.
Right place for the right file data at the right time via Adaptive Optimization and Dynamic Optimization.
Performance acceleration through Adaptive Flash Cache for read intensive workloads.
Simplify Your Storage Deployment and Administration
Streamlined administration for block volumes, file shares, and object access using the truly unified 3PAR SSMC, the scriptable 3PAR OS CLI and programmatic management via 3PAR WSAPI. Plus self-service cloud file share management via OpenStack Manila for flexible hybrid infrastructure.
Seamless support for a broad range of client operating systems via the included rich set of SMB/CIFS, NFS, and FTP/FTPS protocols.
Programmatic data access for cloud applications via the Object Access (REST) API.
Straightforward integration into a broad range of IT infrastructure with support for Microsoft Active Directory, OpenLDAP, and local user authentication.
Deploy Your File Shares with Confidence
Autonomic configuration of high availability for File Provisioning Groups and Virtual File Servers.
Continuously Available file shares allow non-disruptive 3PAR OS upgrades and transparent failover of clients in the event of a controller failure.
Comprehensive data protection with point-in-time file snapshots featuring user-driven file restore, Recovery Manager Central Express Protect for entire File Provisioning Groups, third party antivirus and backup/restore software support, and disaster recovery replication via Remote Copy.
Security of FIPS 140-2 validated Data At Rest Encryption as an optional additional measure to prevent unauthorized data access.
* Prices may vary based on local reseller.
Find what you are looking for?
Need help locating the right product for your business?
Our product experts would love to chat with you to find products and services that enable opportunities and resolve your business problems.
Select country to get quote
Max 4 items can be added for comparison.