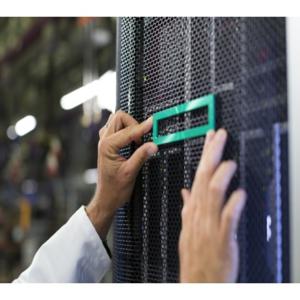 HPE OpenStack for 3PAR StoreServ and StoreVirtual Software
Developed and integrated into the open-source cloud platform, HPE OpenStack for 3PAR StoreServ and StoreVirtual Software provides simplified cloud management with all-inclusive enterprise class storage features in both Cinder (block) and Manila (file) OpenStack drivers. Efficiently and simply deploy and manage true convergence of block, file and object access with 3PAR StoreServ. With Tier 1 Storage and best-in-class service levels, 3PAR StoreServ delivers robust cloud performance. For agile and simple scale out storage, StoreVirtual VSA provides complete array functionality on top of Linux KVM/ESXi environments without external array hardware. Leverage your existing x86-based hardware and transform your internal or direct attached storage into fully featured share storage arrays.
More Information
What's New
HPE OpenStack 3PAR and HPE StoreVirtual cinder support for volume replication at scale
Support for generic image caching to deliver improved performance for new VM image deployments
Improved Horizon plugins for OpenStack including diagnostics, license checks and getting detailed visibility into the cinder volumes
Support for HPE 3PAR Data-at-encryption with HPE 3PAR Cinder drivers
Support for file share extend and shrink with HPE 3PAR Manila drivers
Improved security with access level control for read-only and read-write
Key Features
Simplified and Converged Management Across Cloud Storage
IT professionals juggling many responsibilities require simplified and comprehensive insights and management into their cloud environment. Easily manage volumes and snapshots to orchestrate your storage with HPE Storage integration into OpenStack's latest Manila (file) and Cinder (block) drivers.
For fluctuating cloud workloads, HPE 3PAR StoreServ provides unified management of both file and block storage on a dedicated, flash-optimized physical storage appliance.
Leverage your existing x86-based hardware for fully featured block, cloud storage with HPE StoreVirtual VSA. As a software-defined storage (SDS) solution you benefit from agile, scalable and high available storage.
Enterprise-ready Cloud Storage Infrastructure
Build an attainable and successful cloud strategy to operate in today's "always-connected" and "always-on" environment with HPE Storage's industry-leading scale and density to satisfy cloud growth requirements in less physical space.
Improve the use of your capacity with snapshot and volume management, while taking advantage of admin/user defined templates for adaptive volume provisioning with HPE 3PAR StoreServ and HPE StoreVirtual VSA.
Deep linking between Horizon OpenStack user interface and HPE 3PAR's Management Console (SSMC) makes it easier to gather information on the software licenses, helps in diagnostics, deploy and gain management visibility into specific volumes and storage details.
You can also easily import or manage volumes originally created outside of your OpenStack environment.
Resilient, Flash Storage in Mind
Maximize your cloud storage performance through HPE 3PAR StoreServ Adaptive Flash Cache feature that harnesses SSD capacity as a virtual extension of DRAM cache to reduce latency for cloud based online transactions processing (OLTP) and other read-intensive Web workloads.
Achieve greater cost efficiency with uncompromising performance and agility with HPE 3PAR StoreServ converged controllers and storage management. Easily adjust volume types from iSCSI to Fibre Channel or vice versa, without taking the OpenStack cloud offline.
OpenStack® is a trademark and/or registered trademark of the OpenStack® Foundation in the United States and other countries. ESXi™ is a trademark of VMware, Inc. in the United States and/or other jurisdictions. Linux® is a registered trademark of Linus Torvalds. OpenStack® is a trademark and/or registered trademark of the OpenStack® Foundation in the United States and other countries.
* Prices may vary based on local reseller.
Find what you are looking for?
Need help locating the right product for your business?
Our product experts would love to chat with you to find products and services that enable opportunities and resolve your business problems.
Select country to get quote
Max 4 items can be added for comparison.