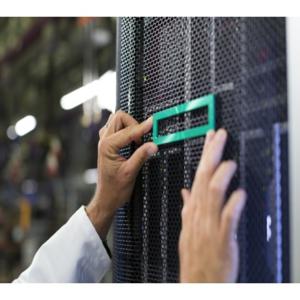 HPE Persistent Storage for Containers
Containers enable portability, agility and accelerated application delivery. Stateful and mission-critical containerized applications require reliable data storage with high performance and availability. The integration of HPE 3PAR with Docker, Kubernetes, Red Hat OpenShift, Mesos and SuSE CaaS enables self-service dynamic storage provisioning, QoS, multi-tenancy, snapshots, clones, replication of data volumes on a highly available storage platform.The integration also enables migrating legacy data volumes into containers paving way for modernizing traditional workloads with containers. The IT Ops teams can deliver multi-tenant Container-as-a-Service (CaaS) offerings for tenants to on-board workloads with clear separation of data enabled by Virtual domains. The integration is made possible with HPE 3PAR Volume Plug-in for Docker, HPE FlexVolume driver and dynamic provisioner for Kubernetes. HPE 3PAR is Docker certified and a Red Hat OpenShift Primed partner.
More Information
What's New
Dynamic Storage provisioning for Kubernetes with volume attributes such as thin, compressed, dededuped or fully provisioned volumes across multiple HPE 3PAR arrays
Snapshots and clone of container data volumes with retention, expiration, as well as scheduling of snapshots
Per data volume QoS and secure multi-tenancy for running multiple Kubernetes clusters on same array
Synchronous replication with automated failover with HPE 3PAR peer persistence and , asynchronous replication of container data volumes
Ansible-based automated installation of Plug-in in OpenShift and standalone Docker environments. Import of legacy data volumes into containers
Expanded ecosystem including Kubernetes 1.8 and higher , Red Hat OpenShift 3.7, 3.9 and 3.10, Docker EE 2.0, SuSE CaaS/CAP v3
Key Features
Single Persistent Storage Platform for Containerized Traditional and Cloud-native Workloads
Deep integration into Docker, Kubernetes, Red Hat OpenShift and SuSE CaaS/CAP means you can deploy both traditional and containerized workloads on same HPE 3PAR and avoid multiple storage silos.
Automatically convert your legacy data volumes to containerized volumes managed with any container platforms to enable modernization of traditional applications to containers.
Protect your containerized application workloads using integrated snapshots, clones and replication of data volumes. Synchronously replicated with automated failover of container data volumes or asynchronously replicate container data volumes to secondary site.
Empower your Application and DevOps Teams with Self-service Storage Access for Containerized Apps
Dynamically provision storage on HPE 3PAR using Kubernetes StorageClass for policy-based storage management.
Avoid development and test teams using stale or synthetic data sets. Create instant snapshots or clones of production data volumes for developers and test teams to accelerate application development and delivery.
Automatic cleanup of snapshot copies used by development and test teams ensures no unnecessary storage space is consumed on storage.
Simplify Container Operations
Deliver right performance to right application with per volume QOS.
Deploy secure multiple multi-tenant Kubernetes clusters on a single HPE 3PAR platform with clear separation of tenant data.
Deploy containerized workloads across multiple HPE 3PAR arrays or across multiple domains within single array.
Ansible based automated plug-in installation on standalone Docker and Red Hat OpenShift environments simplifies management on day 0 and beyond.
Windows and Microsoft are either registered trademarks or trademarks of Microsoft Corporation in the United States and/or other countries. Linux is the registered trademark of Linus Torvalds in the U.S. and other countries. All other third-party trademark(s) is/are property of their respective owner(s).
* Prices may vary based on local reseller.
Find what you are looking for?
Need help locating the right product for your business?
Our product experts would love to chat with you to find products and services that enable opportunities and resolve your business problems.
Select country to get quote
Max 4 items can be added for comparison.