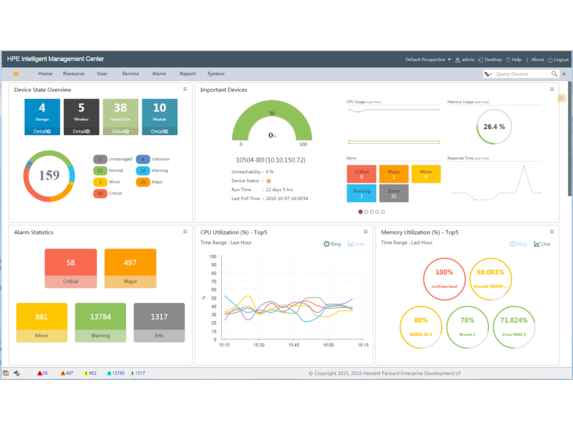 The HPE IMC Service Operation Manager (SOM) Software platform is an Intelligent Management Center (IMC) module that focuses on operations and management flow to provide full IT lifecycle management adhering to ITIL v3.0 including services like policy design, operation, and configuration improvement.

The IMC SOM Software provides controls, measures, and audit capabilities for configuration changes, fault identification, and recovery, reducing IT manual involvement and cost by allowing end users to recognize known network issues and track service requests.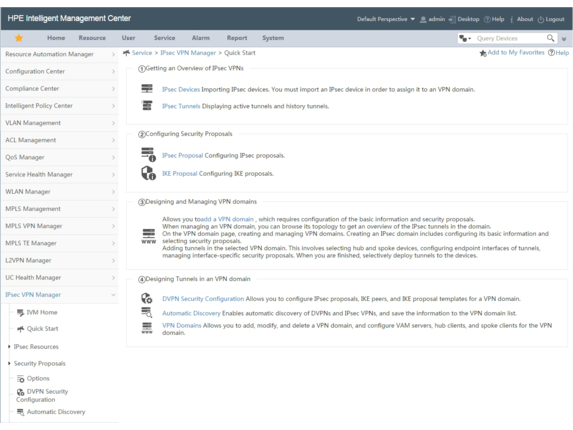 HPE IMC IPSec/VPN Manager (IVM) Software manages IPSec VPN set-up and traffic. It delivers a total VPN solution, which allows you to construct an IPSec VPN network and effectively monitor the operation and performance of it with a graphical VPN topology in real time to troubleshoot VPN issues quickly.

IMC IVM Software expedites IPSec VPN deployments with easy to use wizards to drive consistency among large scale deployments. It is also critical to deploying Dynamic VPNs by pushing VPN configurations in a consistent manner to reduce errors and accelerate deployment.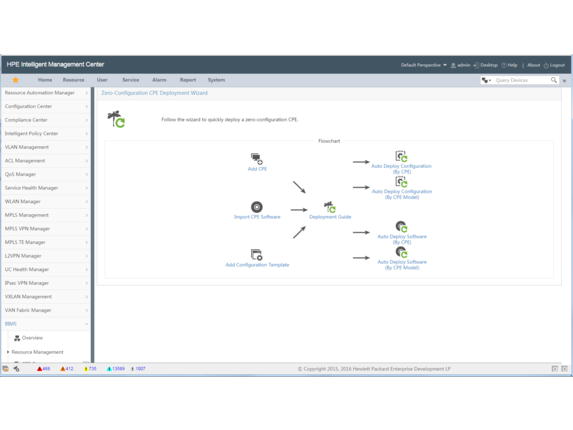 HPE IMC Branch Intelligent Management System (BIMS) Software is an Intelligent Management Center (IMC) optional module designed to remotely manage network infrastructure using the TR-069 protocol. IMC BIM Software can manage a large number of branch networking equipment without the limitations posed by traditional remote network management methods such as Telnet, SSH, SNMP, or Web remote login.

Branch network devices can be remotely deployed, configured and serviced. IMC BIMS further simplifies the experience of managing remote networks and lowers the operating costs of network managements.
HPE Intelligent Management Center (IMC) Software, with the optional HPE IMC Virtual Application Networking Fabric Manager Software, includes added functionality called HPE FlexFabric Network Analytics. When HPE FlexFabric Network Analytics is combined with the HPE FlexFabric 5940 or 5950 Switch it delivers real time visibility of microburst network congestion which negatively impacts overall network operations and performance.
Microbursts last only for sub seconds making its detection difficult by today's network monitoring tools such as SNMP. HPE FlexFabric Network Analytics enables the network operator to pinpoint these microburst congestion points and their sources. This gives the network operator granular visibility into these spontaneous congestion points. With this information operators will be able to analyze in more detail their network configuration and make the necessary adjustments as needed for optimal network performance.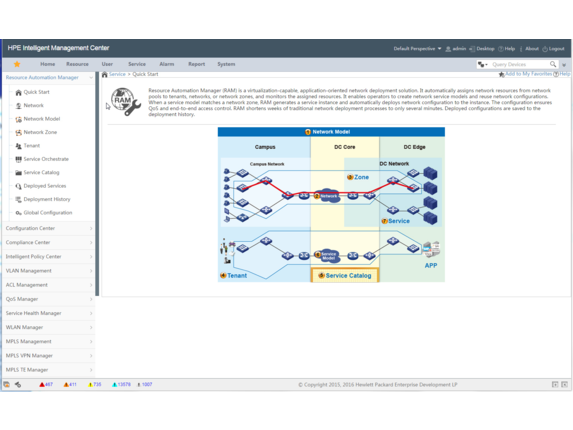 HPE IMC Virtual Application Networking (VAN) Resource Automation Manager Software is an Intelligent Management Center (IMC) Software Platform optional module that provides network fabric orchestration tools for service application delivery. This optimizes network resource utilization for specific cloud-based or virtualized applications or tenants while accelerating the deployment of applications.

Converged Infrastructure (CI) and cloud management becomes more robust with the end-to-end infrastructure provisioning and monitoring afforded through IMC VAN Resource Automation Manager Software.
The HPE Network Discovery Tool provides small and midsize businesses with fast visibility of HPE Networking and other devices on the network. This free, Windows-based tool makes it easier for organizations to complete device setup and simplify ongoing device management, reducing the need for paper-based systems.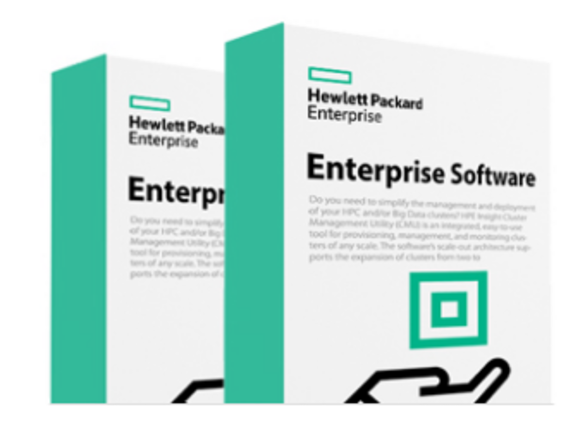 The HPE IMC Business Service Performance (BSP) Software is an Intelligent Management Center (IMC) module, targeted at support of data centers and large campuses, or remote sites that rely on centralized services. IMC BSP Software creates a holistic service health score dashboard for activity, health, availability and other factors for each individual customer-defined service.

This score uses data from the IMC platform, and optionally from SHM, APM and NTA modules to reflect the status of the application, servers, VMs, and network hardware that make up the service, giving a overall service view.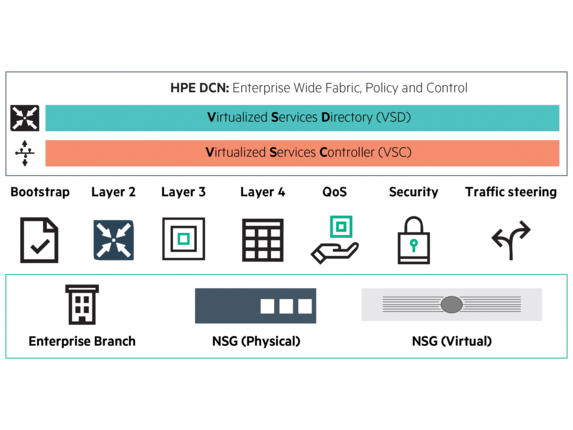 Software-defined networking has unleashed the true power of the cloud in data center networks. HPE Virtualized Network Services brings the same benefits to business connectivity by delivering a new wide area network service that provides you with the flexibility to adapt to your ever-changing business environment. Traditional VPN services are based on set functionality that can be deployed with little room for per-enterprise customization. With HPE Virtualized Network Services you can customize your branch networking to achieve network capabilities to match your specific business needs.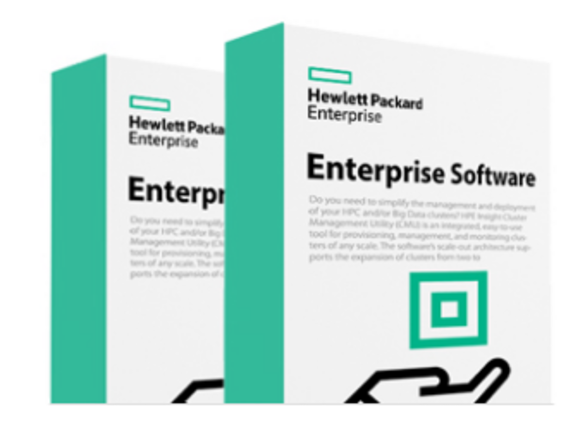 Aruba Virtual Mobility Master Software is the next generation of master controller that can be either deployed as a virtual machine (VM) or installed on an x86-based hardware appliance. The Mobility Master provides a better user experience, flexible deployment models, simplified operations and enhanced performance.

Aruba Mobility Master is deployed as a virtual machine (VM) for more memory and compute power to address today's technology needs for mobility and IoT. It provides automatic RF optimization for high density environments and enables hitless failover in an unlikely event of a controller outage.
Arista Extensible Operating System (EOS) is a fully programmable and highly modular, Linux-based network operation system that is core of Arista cloud networking solutions for enterprise data centers and cloud networks. Through its programmability, EOS enables a set of software applications that deliver workflow automation, high availability, unprecedented network visibility and analytics and rapid integration with a wide range of third-party applications for virtualization, management, automation and orchestration services.
Added to Your Shopping Cart
Product Availability by Store Location
Max 4 items can be added for comparison.