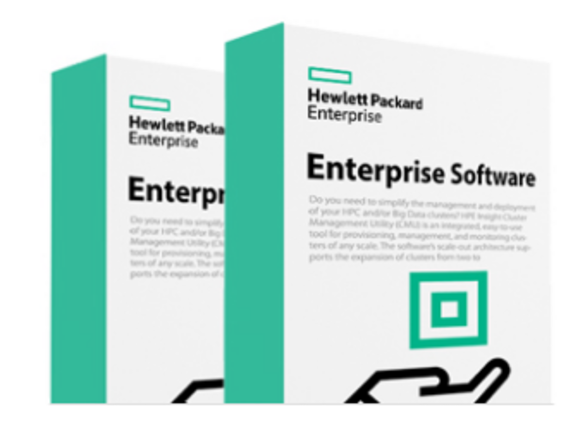 HPE IMC Application Performance Manager (APM) Software offers a view to application availability, allowing administrators to visualize and measure the health of critical business applications and their impact on network performance. It is easy to determine which business process is affected and which application issues to prioritize—all leading to quick and effective troubleshooting.

Provides one user interface offering fault management, and performance monitoring of applications, servers, and databases. It works with IMC Service Health Manager to provide a global assessment of network health.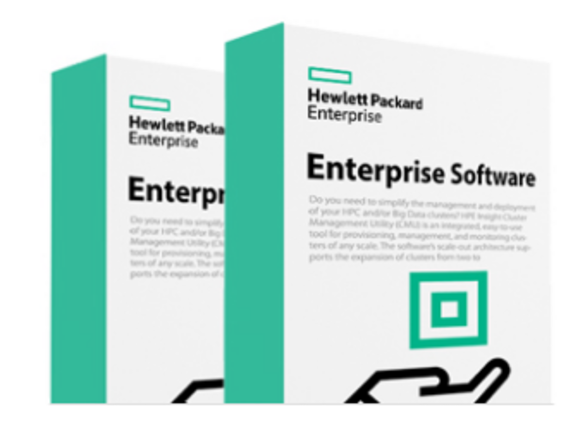 HPE IMC Service Health Manager (SHM) Software is an Intelligent Management Center (IMC) optional module providing end-to-end service monitoring and service through visualization of infrastructure or network variances in the service path. It leverages data derived from other IMC components to yield critical performance metrics and aggregates key performance indicators to generate key quality indicator metrics.

Key quality indicators (KQIs) provide a visual representation for network administrators on their defined services and take proactive measures to maintain service level agreements.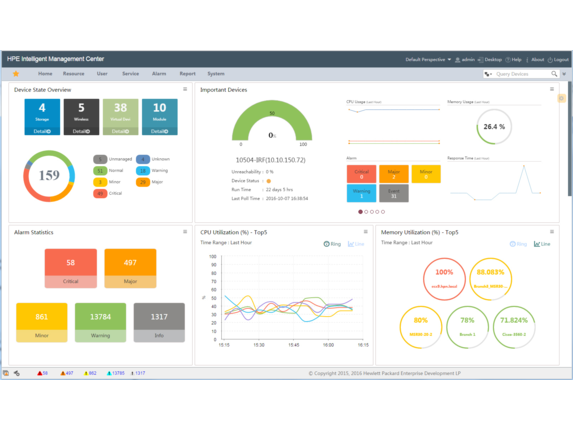 HPE IMC Remote Site Manager (RSM) Software is an HPE Intelligent Management Center (IMC) module that interacts with the hardware platform to deliver centralized management for branch networks regardless of their physical locations, presence of firewalls and Network Address Translations (NAT) devices.

In this model, IMC is deployed at the corporate headquarters and the IMC Remote Site Manager Software is deployed at branch networks, reducing the need for branch devices to support special protocols. IMC and IMC RSM communicate via either HTTP or HTTPS for higher security in your transmissions.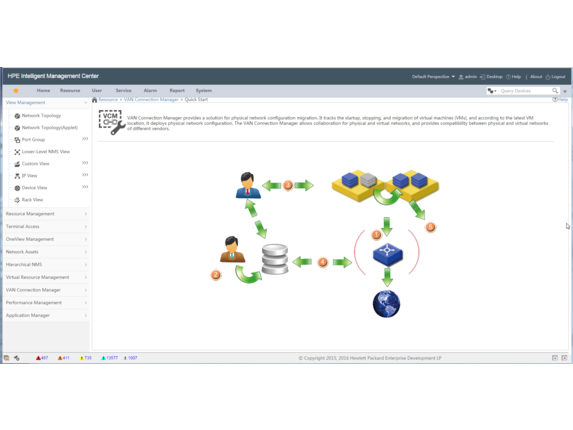 HPE IMC VAN Connection Manager Software is an Intelligent Management Center (IMC) optional module that delivers a template, profile-based approach for managing network configuration policies. Administrators define policies in a template which is then applied as a configuration policy to the edge switch associated with the virtual machine of interest.

Virtual machine network connectivity is automated and orchestrated by IMC VAN Connection Manager Software to accelerate application deployment and service rollout. There is also an additional plugin that supports the VMware hypervisor manager.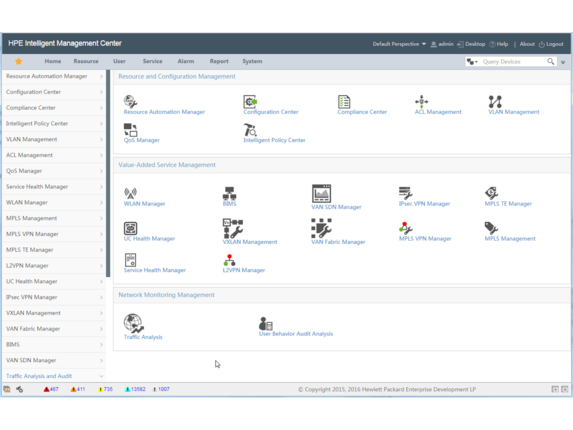 The HPE IMC TACACS+ Authentication Manager (TAM) Software is an Intelligent Management Center (IMC) optional module that provides basic authentication, authorization, and accounting functions for network devices or IT users in order to deliver network device management security.

The IMC TACACS+ TAM Software can assign users with different privileges, monitor login and command execution operations as well as simplify user management which work with devices that support the TACACS+ protocol.
HPE Intelligent Management Center (IMC) Software, with the optional HPE IMC Virtual Application Networking Fabric Manager Software, includes added functionality called HPE FlexFabric Network Analytics. When HPE FlexFabric Network Analytics is combined with the HPE FlexFabric 5940 or 5950 Switch it delivers real time visibility of microburst network congestion which negatively impacts overall network operations and performance.
Microbursts last only for sub seconds making its detection difficult by today's network monitoring tools such as SNMP. HPE FlexFabric Network Analytics enables the network operator to pinpoint these microburst congestion points and their sources. This gives the network operator granular visibility into these spontaneous congestion points. With this information operators will be able to analyze in more detail their network configuration and make the necessary adjustments as needed for optimal network performance.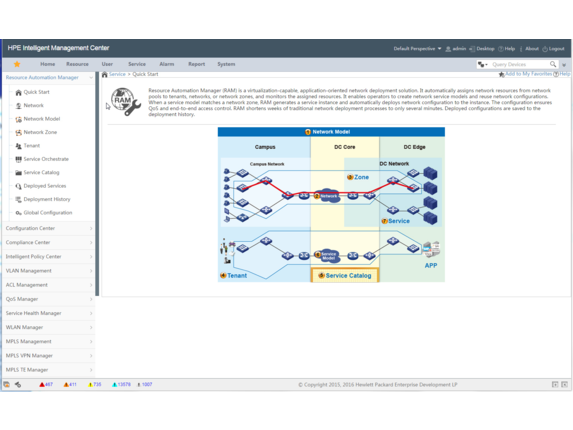 HPE IMC Virtual Application Networking (VAN) Resource Automation Manager Software is an Intelligent Management Center (IMC) Software Platform optional module that provides network fabric orchestration tools for service application delivery. This optimizes network resource utilization for specific cloud-based or virtualized applications or tenants while accelerating the deployment of applications.

Converged Infrastructure (CI) and cloud management becomes more robust with the end-to-end infrastructure provisioning and monitoring afforded through IMC VAN Resource Automation Manager Software.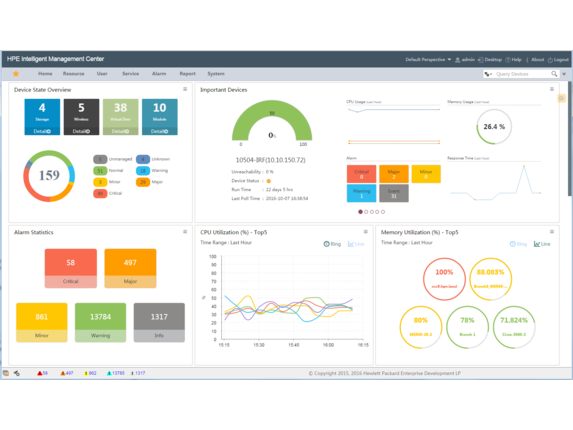 HPE IMC Intelligent Analysis Reporter (IAR) Software extends the reporting capabilities within HPE Intelligent Management Center (IMC) to include customized reporting. These reporting capabilities enable network administrators to perform proper analysis of activities on the network such as network usage and topologies.

IMC IAR Software makes customization easy by including a report designer, which can save designs into templates making reporting easy and consistent. IMC IAR Software automates the process by generating reports when you need them and distributes them to key stakeholders.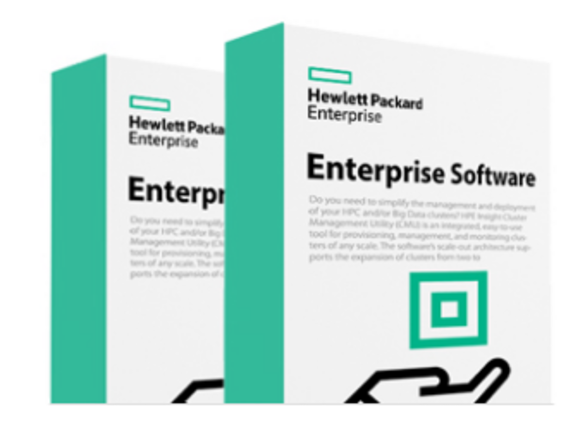 The HPE Intelligent Management Center (IMC) Basic Software Platform is a network management, software tool with unified resource and device management providing a lower total cost of ownership. The platform is designed for small- to medium-sized businesses with small network environments that need a single display screen to show their network infrastructures. It also provides information for trend analysis and capacity planning.
The Intelligent Management Center (IMC) Basic Software Platform supports Hewlett Packard Enterprise and third-party devices and has a fixed-device limit of 50 nodes.
Added to Your Shopping Cart
Product Availability by Store Location
Max 4 items can be added for comparison.