Intelligent Management Software
Intelligent Management Software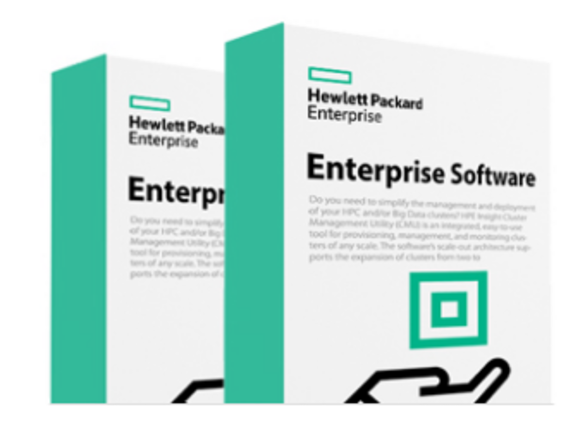 The HPE IMC Business Service Performance (BSP) Software is an Intelligent Management Center (IMC) module, targeted at support of data centers and large campuses, or remote sites that rely on centralized services. IMC BSP Software creates a holistic service health score dashboard for activity, health, availability and other factors for each individual customer-defined service.

This score uses data from the IMC platform, and optionally from SHM, APM and NTA modules to reflect the status of the application, servers, VMs, and network hardware that make up the service, giving a overall service view.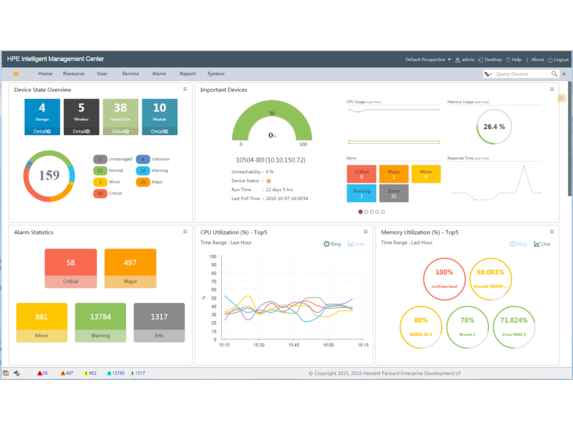 The HPE IMC Service Operation Manager (SOM) Software platform is an Intelligent Management Center (IMC) module that focuses on operations and management flow to provide full IT lifecycle management adhering to ITIL v3.0 including services like policy design, operation, and configuration improvement.

The IMC SOM Software provides controls, measures, and audit capabilities for configuration changes, fault identification, and recovery, reducing IT manual involvement and cost by allowing end users to recognize known network issues and track service requests.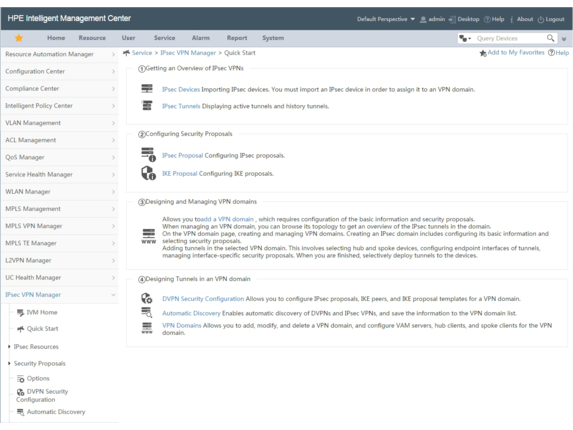 HPE IMC IPSec/VPN Manager (IVM) Software manages IPSec VPN set-up and traffic. It delivers a total VPN solution, which allows you to construct an IPSec VPN network and effectively monitor the operation and performance of it with a graphical VPN topology in real time to troubleshoot VPN issues quickly.

IMC IVM Software expedites IPSec VPN deployments with easy to use wizards to drive consistency among large scale deployments. It is also critical to deploying Dynamic VPNs by pushing VPN configurations in a consistent manner to reduce errors and accelerate deployment.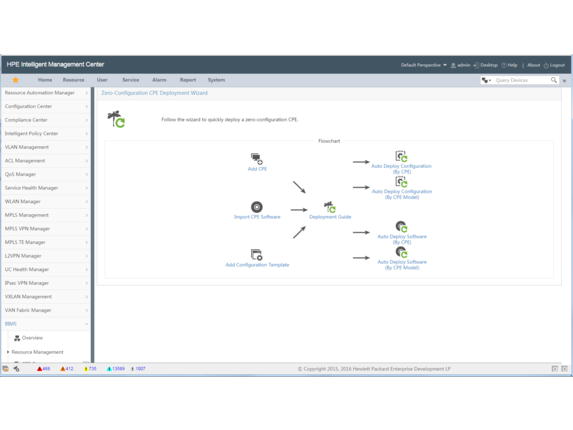 HPE IMC Branch Intelligent Management System (BIMS) Software is an Intelligent Management Center (IMC) optional module designed to remotely manage network infrastructure using the TR-069 protocol. IMC BIM Software can manage a large number of branch networking equipment without the limitations posed by traditional remote network management methods such as Telnet, SSH, SNMP, or Web remote login.

Branch network devices can be remotely deployed, configured and serviced. IMC BIMS further simplifies the experience of managing remote networks and lowers the operating costs of network managements.
HPE Intelligent Management Center (IMC) Software, with the optional HPE IMC Virtual Application Networking Fabric Manager Software, includes added functionality called HPE FlexFabric Network Analytics. When HPE FlexFabric Network Analytics is combined with the HPE FlexFabric 5940 or 5950 Switch it delivers real time visibility of microburst network congestion which negatively impacts overall network operations and performance.
Microbursts last only for sub seconds making its detection difficult by today's network monitoring tools such as SNMP. HPE FlexFabric Network Analytics enables the network operator to pinpoint these microburst congestion points and their sources. This gives the network operator granular visibility into these spontaneous congestion points. With this information operators will be able to analyze in more detail their network configuration and make the necessary adjustments as needed for optimal network performance.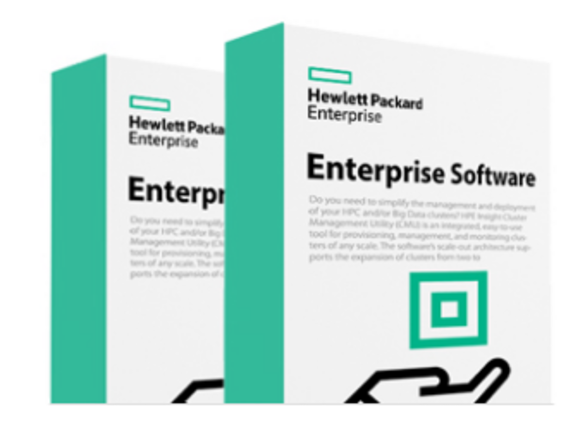 HPE IMC Application Performance Manager (APM) Software offers a view to application availability, allowing administrators to visualize and measure the health of critical business applications and their impact on network performance. It is easy to determine which business process is affected and which application issues to prioritize—all leading to quick and effective troubleshooting.

Provides one user interface offering fault management, and performance monitoring of applications, servers, and databases. It works with IMC Service Health Manager to provide a global assessment of network health.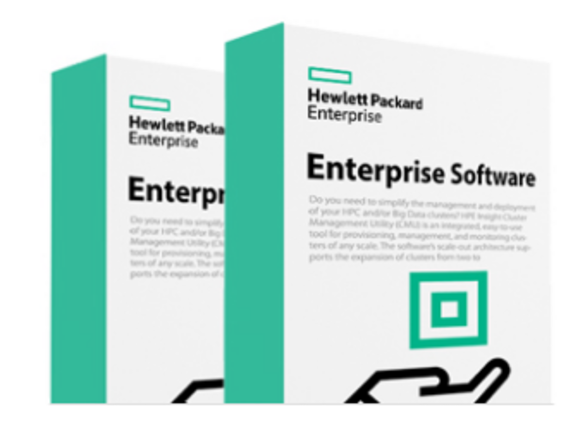 HPE IMC Service Health Manager (SHM) Software is an Intelligent Management Center (IMC) optional module providing end-to-end service monitoring and service through visualization of infrastructure or network variances in the service path. It leverages data derived from other IMC components to yield critical performance metrics and aggregates key performance indicators to generate key quality indicator metrics.

Key quality indicators (KQIs) provide a visual representation for network administrators on their defined services and take proactive measures to maintain service level agreements.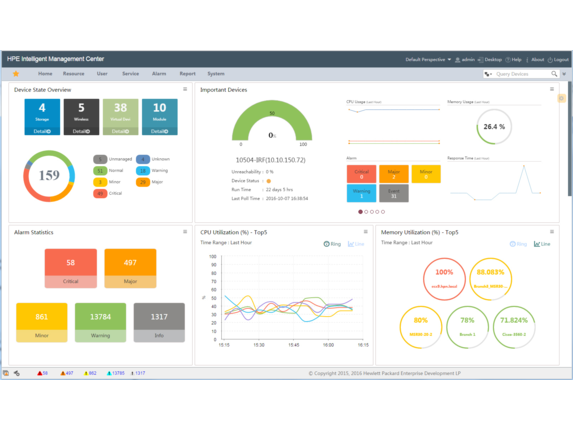 HPE IMC Remote Site Manager (RSM) Software is an HPE Intelligent Management Center (IMC) module that interacts with the hardware platform to deliver centralized management for branch networks regardless of their physical locations, presence of firewalls and Network Address Translations (NAT) devices.

In this model, IMC is deployed at the corporate headquarters and the IMC Remote Site Manager Software is deployed at branch networks, reducing the need for branch devices to support special protocols. IMC and IMC RSM communicate via either HTTP or HTTPS for higher security in your transmissions.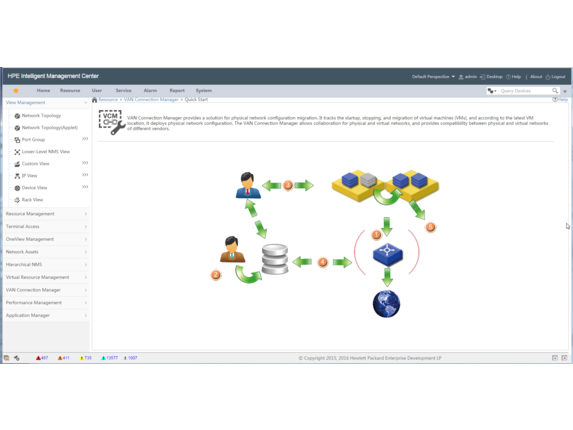 HPE IMC VAN Connection Manager Software is an Intelligent Management Center (IMC) optional module that delivers a template, profile-based approach for managing network configuration policies. Administrators define policies in a template which is then applied as a configuration policy to the edge switch associated with the virtual machine of interest.

Virtual machine network connectivity is automated and orchestrated by IMC VAN Connection Manager Software to accelerate application deployment and service rollout. There is also an additional plugin that supports the VMware hypervisor manager.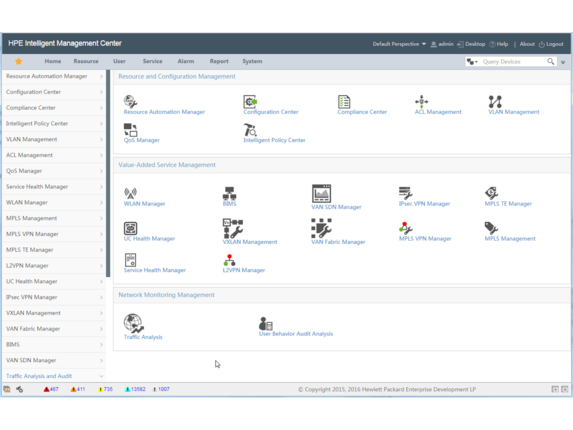 The HPE IMC TACACS+ Authentication Manager (TAM) Software is an Intelligent Management Center (IMC) optional module that provides basic authentication, authorization, and accounting functions for network devices or IT users in order to deliver network device management security.

The IMC TACACS+ TAM Software can assign users with different privileges, monitor login and command execution operations as well as simplify user management which work with devices that support the TACACS+ protocol.
Added to Your Shopping Cart
Product Availability by Store Location
Max 4 items can be added for comparison.