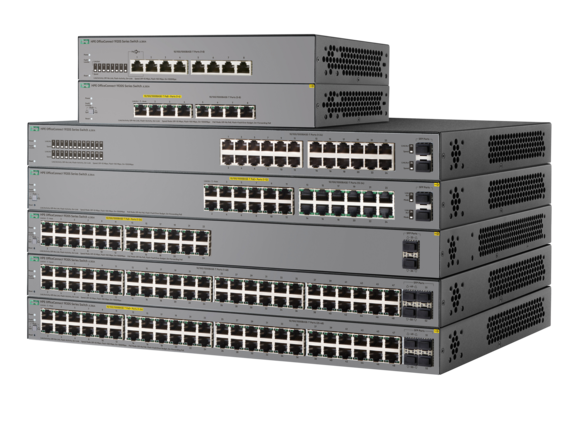 The HPE OfficeConnect 1920S Switch Series, is designed for small businesses that require enhanced performance to support bandwidth-demanding applications. They are ideal for environments that require advanced features for granular control and where smart-managed flexibility is a must for easy network configuration and management. The switches are advanced smart-managed fixed configuration Gigabit switches that are optimized for small business price/performance. They offer 8-, 24- and 48-port configurations, choice of PoE+ and non-PoE+ models, some include SFP slots for fiber connectivity
The HPE OfficeConnect 1405 Switch Series is a plug-and-play unmanaged fixed-port Layer 2 switch designed for small offices. These switches are preconfigured with connections using low-cost Ethernet copper cabling. They are Class B certified, energy efficient and quiet. They support administration-friendly features such as auto-negotiation. Designed for high reliability, long life, and low power consumption, they are ideal for businesses concerned with total cost of ownership.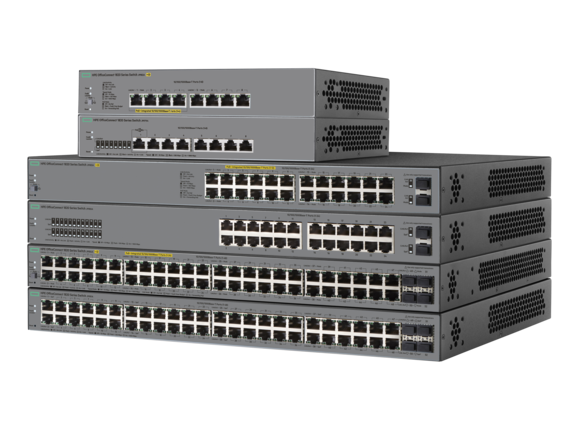 The HPE 1820 Switch Series offers more choice and flexibility for smaller organizations that require ease of use and lower Total Cost of Ownership (TCO), while delivering better network performance. They are smart-managed, fixed configuration, Gigabit Ethernet Layer 2 switches in an easy-to-administer solution that have the latest energy-saving capabilities. These switches are plug-and-play out of the box, where network operation can be fine-tuned through features available from a simple Web browser-based GUI, when needed.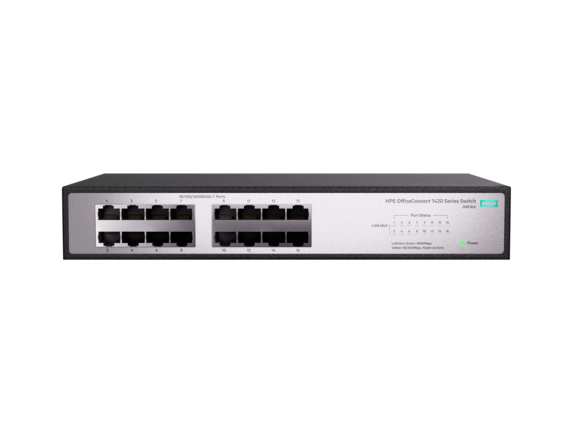 The HPE OfficeConnect 1420 Switch Series delivers cost effective gigabit Ethernet (1GbE) connectivity offering small businesses 10 times the performance of Fast Ethernet with unmanaged plug-and-play simplicity. The series includes nine models, all with gigabit performance and a choice of key features including PoE+ for powering IP devices, Fiber and 10G uplinks for connectivity to servers and storage.

All models support silent fanless operation, automated features for hands off operation and low power consumption. They come with limited lifetime warranty and 24X7 phone support for 90 days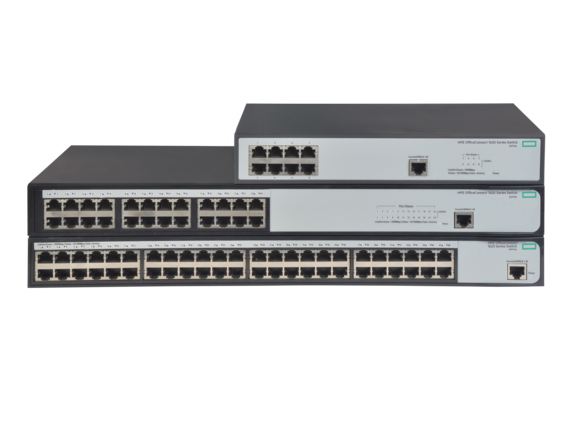 The HPE 1620 Gigabit Switch Series is an entry-level, smart-managed switch ideal for small businesses looking for basic network features to enhance network performance but without the added complexity and cost of more advanced switches. Part of the HPE OfficeConnect portfolio, these switches are plug-and-play out of the box. An intuitive Web GUI provides ease of access to fine tune switch operation, if necessary.

The HPE 1620 Gigabit Switch Series consists of 8-, 24-, and 48-port models that can be rack mounted. Customizable features include VLANs, IEEE802.1p QoS and IGPM Snooping.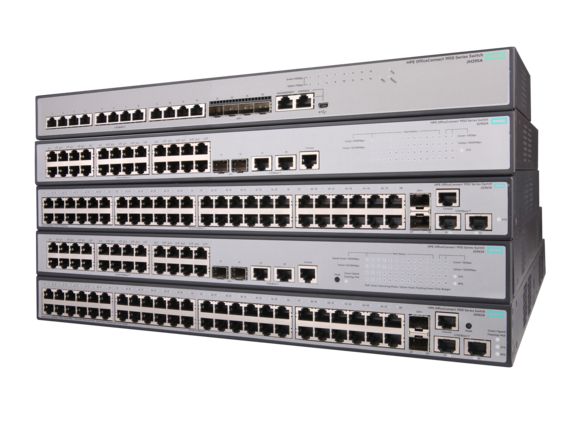 The HPE 1950 Switch Series is a family of smart web-managed Gigabit switches with 10GbE uplinks for small business customers needing advanced high-performance connections. The series has 2 standard and 2 PoE+ models, 24- and 48-GbE ports, each with 2 10GBASE-T and 2 10G SFP+ high-bandwidth ports.

True stacking of as many as 4 devices allows them to be logically administered as a single entity. The switches support Layer 3 static routing on IPv4 and IPv6. Other advanced features include ACLs, 802.1X, STP, RSTP, and MSTP. Limited lifetime warranty covers unit, fans and power supplies.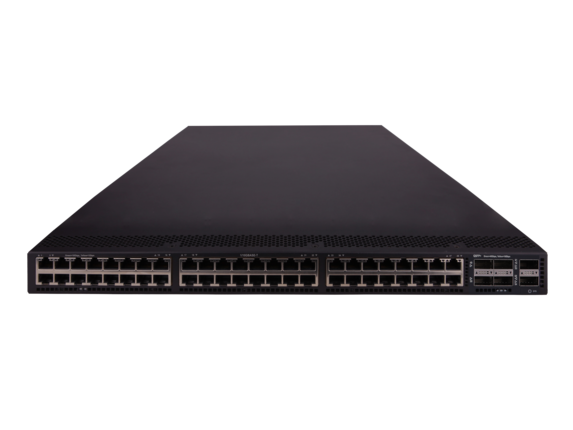 The HPE FlexFabric 5940 Switch Series is a family of high-performance and low-latency 10GbE and 40GbE top-of-rack (ToR) data center switches. The 5940 Switch includes 100G uplink technology which is part of the HPE FlexFabric data center solution and is a cornerstone of the FlexNetwork architecture.
The 5940 Switch is suited for deployment at the aggregation or server access layer of large enterprise data centers or at the core layer of medium-sized enterprises. It is optimized for high-performance server connectivity, convergence of Ethernet and storage traffic, and virtual environments.
The HPE FlexFabric 5700 Switch Series provides an open door for expanding your enterprise network by adding capacity with local switching and L2/Light L3 support. Take advantage of IRF enhancements for spine/leaf configurations, to simplify network management and expand server connectivity.
Resilience and ease of management come hand–in-hand with the FlexFabric 5700.While IRF reduces management complexities by up to 88%, it also delivers <50msec convergence time. You can rely on the FlexFabric 5700 to lower TCO with up to a 25% lower cost than competing devices.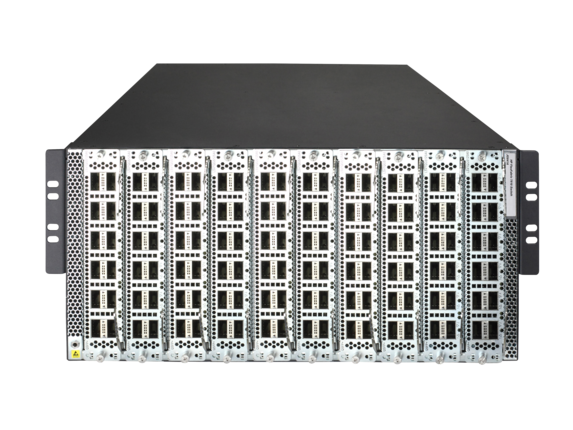 The HPE FlexFabric 7900 Modular Core Switch is a compact modular data center core switch supporting virtualized data centers and evolutionary needs of private and public clouds deployments. Delivering unprecedented levels of performance, buffering, scale, and availability with high density 10GbE, 40GbE and 100GbE interfaces, using only a fraction of the footprint used by traditional chassis.

The switch supports full Layer 2 and 3 features, including advanced features such as TRILL and HPE Intelligent Resilient Fabric (IRF), which enable scale-out, two-tier leaf-spine architecture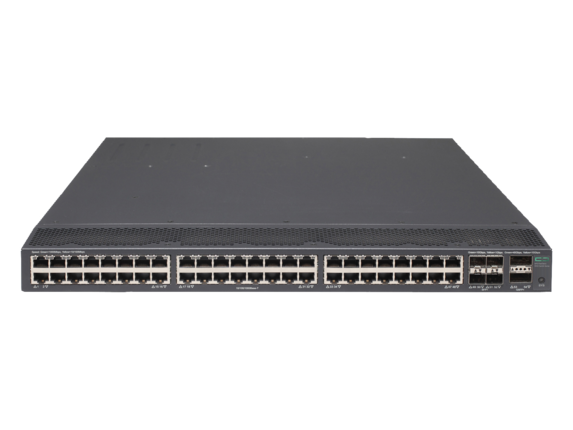 The HPE 5900 Switch Series are low-latency 1/10GbE data center top-of-rack (ToR) switches. Perfect for deployment at server access layer in large and medium sized enterprises. These switches may also be used in campus core/distribution layers where higher performance 40GbE connectivity is required with 10GbE links. Virtualized applications and server-to-server traffic require ToR switches that meet the needs for higher-performance server connectivity, convergence, virtual environment support, and low-latency. Optional Intelligent Management Center (IMC) Software Platform for network management.
Added to Your Shopping Cart
Product Availability by Store Location
Max 4 items can be added for comparison.