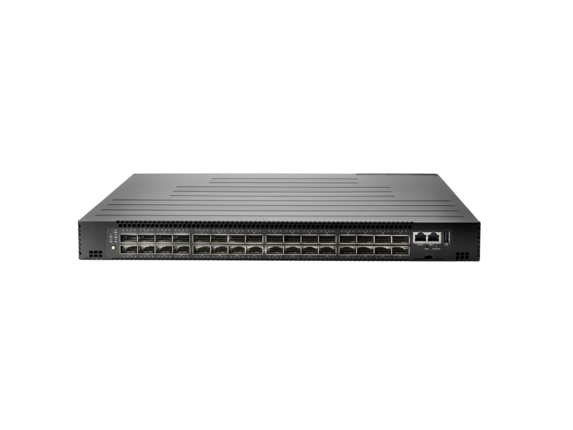 The HPE Altoline 6960 Switch Series is an open-networking, disaggregated family of low latency 100/50/25GbE data center switches in a 1U form factor. Perfect for deployment in data center environments as 25GbE server access, or 100/50GbE spine switches.
It is optimized for data center hot/cold aisle deployments with reversible airflow. The hardware support for VXLAN makes the Altoline 6960 ideal for deployment in multi-tenancy and overlay environments. You have the freedom to select the management and orchestration tools that best fit your IT environments and applications.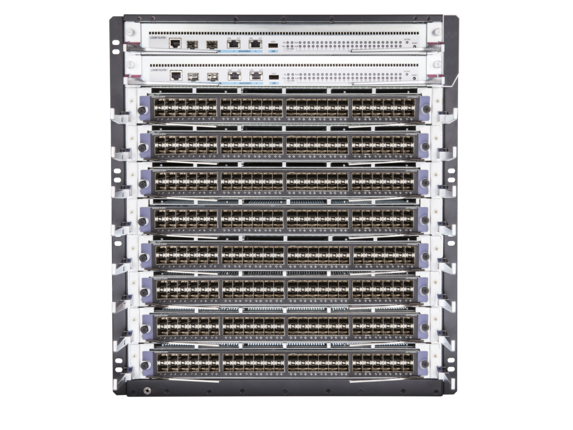 The HPE FlexFabric 12900E Switch Series is a next-generation modular data center core switch designed to support virtualized data centers and the evolving needs of private and public cloud deployments. It offers unprecedented levels of performance, buffering, scale, and availability with high-density GbE, 10GbE, 40GbE and 100GbE connectivity. The switch series includes 1-, 2-, 4-, 8- and 16-slot chassis. Ready for software-defined networking (SDN), the HPE FlexFabric 12900E Switch supports a full Layer 2 and 3 feature set as well as advanced data center features to build resilient scalable fabrics and deliver outstanding convergence times.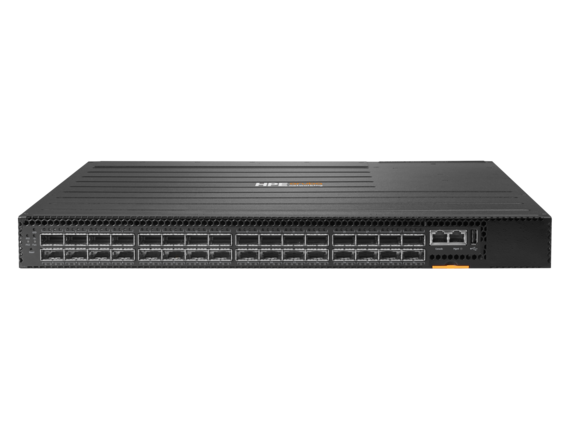 The past several decades in networking have been defined by static, closed networking solutions designed for the client-server era. The Aruba 8320 Switch Series, a campus core and aggregation switch, is a game-changing solution that offers an innovative approach to dealing with the demands of the mobile, cloud and IoT era. The Aruba 8320 is based on ArubaOS-CX, a modern software system that automates and simplifies critical and complex network tasks, delivers enhanced fault tolerance and facilitates zero-service disruption during planned or unplanned control-plane events. The key innovations in ArubaOS-CX are its micro-services style modular architecture, REST APIs, Python scripting capabilities and the Aruba Network Analytics Engine. The Aruba 8320 Switch Series provides line rate 10GbE and 40GbE in a compact 1U form factor and together with the modular Aruba 8400 Switch, rounds out the Aruba Mobile First switching portfolio with an enterprise core and aggregation solution.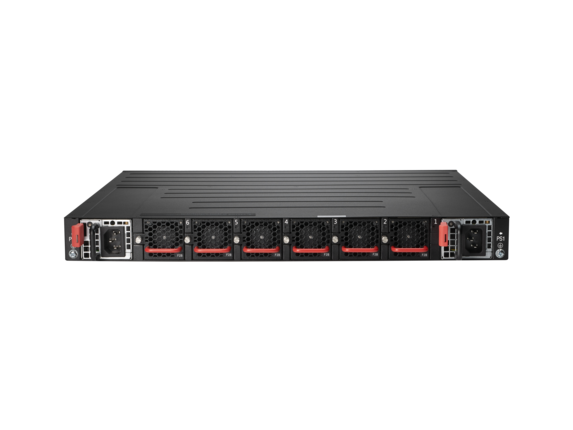 The HPE Altoline 6822 Switch Series is a top-of-rack (ToR), large buffer leaf switch for high-performance cloud data centers in a compact 1RU form factor. The switch provides line-rate L2 and L3 switching across up to 48 GbE SFP+ ports, with 6 x 100GbE QSFP28 uplinks. The switch can also be deployed as a WAN router connecting data centers.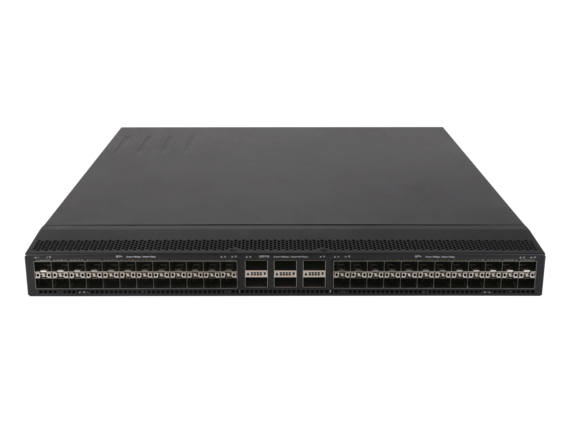 The HPE FlexFabric 5980 Switch Series is a high-performance and low-latency 10 GbE top-of-rack, data center switch designed to meet the increasing requirements for higher-performance server connectivity, convergence of Ethernet and storage traffic, the capability to handle virtual environments, and low latency. The switch includes 100Gbps uplink technology and is ideally suited for deployment at the aggregation or server access layer of large enterprise data centers or at the core layer of medium-sized enterprises.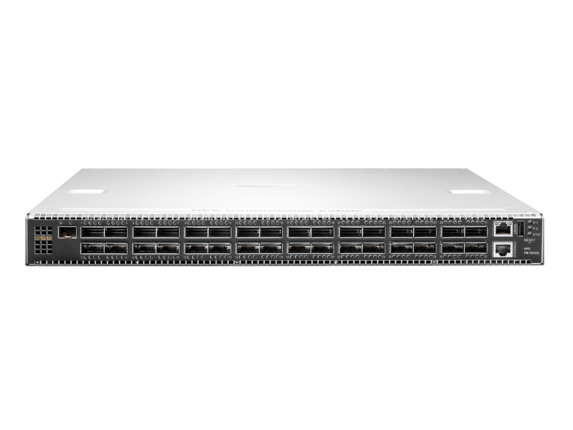 The HPE Composable Fabric FM 3032Q switch is a top-of-rack (TOR) connectivity module that empowers IT to support cloud-native workloads with high-performance east/west traffic needs. With flat, wire-once, top-of-rack 25GbE and 100GbE server connectivity, programmatic control, easy rack-to-rack scaling, and broad compatibility with existing data center networks, the HPE Composable Fabric FM 3032Q helps minimize complexity and operational overhead. The HPE Composable Fabric FM 3032Q is an integral part of the HPE Composable Fabric networking solution, is built on industry standards, and provides a cost effective 1U solution for intensive big data and agile IT workload environments. The complete solution scales easily and nondisruptively within and across racks, and between data centers. In addition, it supports multiple, mixed workloads securely on a single network fabric to support better performance while also reducing costs.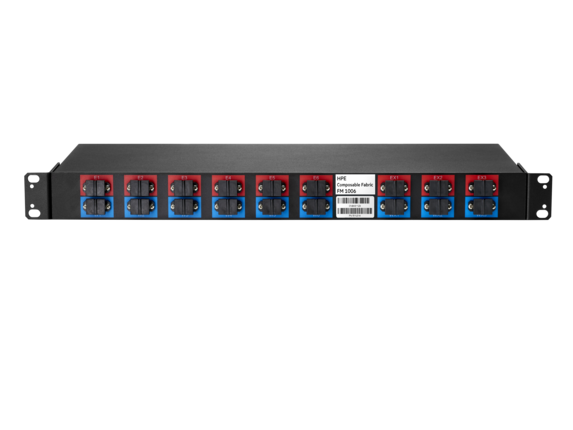 The HPE Composable Fabric FM 1006 Switch, a passive optical interconnect module, uses fabric and extender interfaces to connect Top-of-Rack Fabric Modules into a meshed network while maintaining all the photonic switching capabilities of the traditional Composable Fabric solution. The interconnect module provides 12 fabric module port connections that interconnect up to 6 Hewlett Packard Enterprise rack connectivity modules. The module also has extender ports to connect multiple modules together to build larger fabrics. The mesh architecture enables linear scaling, with each additional switch adding fabric capacity, resiliency and multi-path options.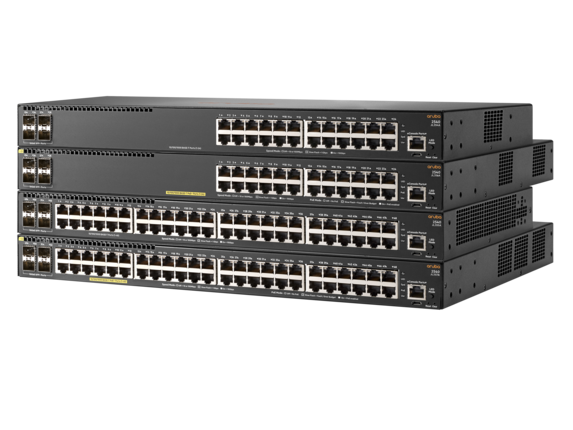 Designed for the digital workplace, the Aruba 2540 Switch Series is optimized for mobile users. With advanced security and network management tools — Aruba ClearPass Policy Manager and Aruba AirWave — this Layer 2 access switch is easy to deploy and manage. With support from cloud-based Aruba Central, you can quickly set up remote branch sites with little or no IT support. The 2540 delivers entry level features for the enterprise campus, SMB and branch offices. It provides built-in 10GbE uplinks, robust QoS, static and RIP routing, IPv6, PoE+ models and requires no software licensing.
The HPE 3600 SI Switch Series delivers resiliency, security, and reliability at the enterprise edge. This Basic Layer 3 Fast Ethernet switch series supports IRF stacking, Static & RIP Routing, ACLs, IPv6, and PoE+.

The 3600 SI Switch Series can be managed with the optional HPE Intelligent Management Center (IMC) Software Platform for a single view of your entire network.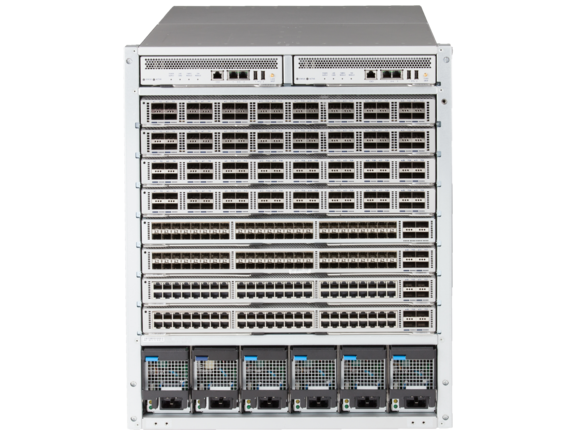 The Arista 7320X 10/25/40/50/100G Data Center Switch Series are modular switches delivering over 50Tbps of switching with up to 256 wire speed 100GbE ports to give you scalable high performance for software-defined cloud networking. With two modular systems, either a 4-slot or 8-slot, they support comprehensive features for network monitoring, precision timing and network virtualization. All Arista switches run on the same Arista EOS modular switch operating system with a unique state sharing architecture that cleanly separates switch state from protocol processing and application logic.
Added to Your Shopping Cart
Product Availability by Store Location
Max 4 items can be added for comparison.