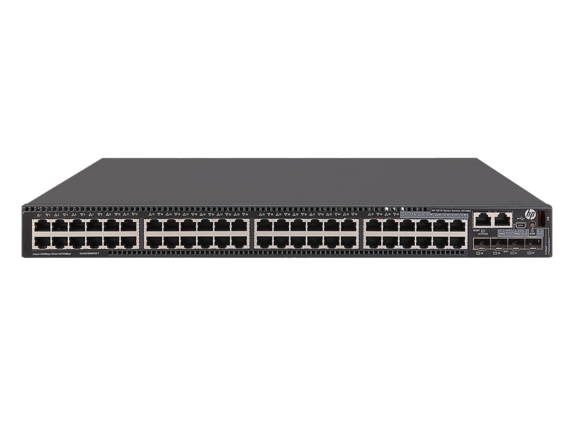 The HPE FlexNetwork 5510 HI Switch Series delivers outstanding resiliency, security, and multiservice support for medium and large enterprise networks. This switch includes enterprise-class QoS, dual, redundant power supplies with support for PoE+, 10GbE and 40GbE uplinks, 9 chassis IRF stacking, Static & RIP Routing, MACsec, OSPF, IPv6 and Energy Efficient Ethernet. The 5510 HI offers advanced technologies including OAM, CFD, multi-level QoS, MPLS, and VPLS. It can be managed with the HPE Intelligent Management Center (IMC) Software for a single view of your entire network.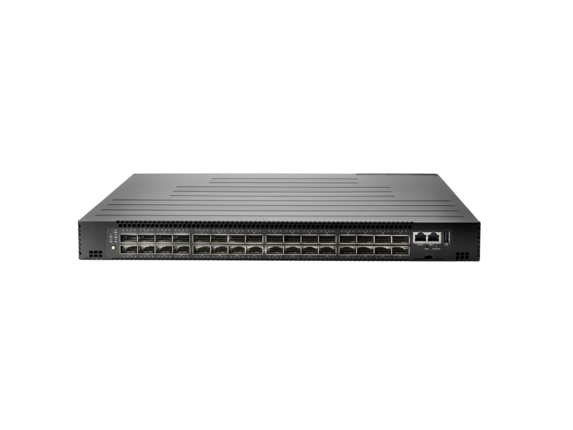 The HPE Altoline 6960 Switch Series is an open-networking, disaggregated family of low latency 100/50/25GbE data center switches in a 1U form factor. Perfect for deployment in data center environments as 25GbE server access, or 100/50GbE spine switches.
It is optimized for data center hot/cold aisle deployments with reversible airflow. The hardware support for VXLAN makes the Altoline 6960 ideal for deployment in multi-tenancy and overlay environments. You have the freedom to select the management and orchestration tools that best fit your IT environments and applications.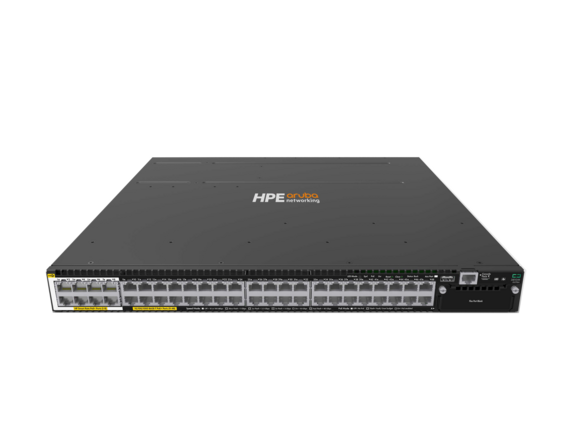 The Aruba 3810 Switch Series provides performance and resiliency for enterprises, SMBs, and branch office networks. With HPE Smart Rate multi-gigabit ports for high-speed 802.11ac devices, this advanced Layer 3 switch delivers a better application experience with low latency, virtualization with resilient stacking technology, and line rate 40GbE for plenty of back haul capacity. The Aruba 3810 is easy to deploy and manage with advanced security and network management tools like Aruba ClearPass Policy Manager, Aruba AirWave and cloud-based Aruba Central.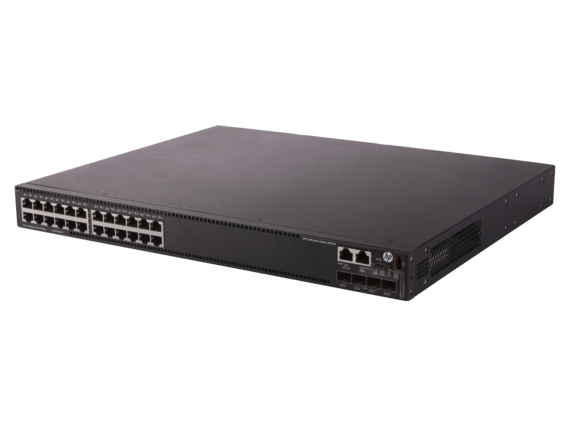 The HPE FlexNetwork 5130 HI Switch Series delivers scalability and resiliency at the access layer of medium and large enterprise campus networks. This FlexNetwork switch supports enterprise class QoS and security, HPE Intelligent Resilient Framework (IRF) stacking, static Layer 3 routing and RIP, dual redundant power supplies, fixed and modular 10GbE uplinks ports, PoE+, ACLs, IPv6 and delivers energy savings with Energy Efficient Ethernet.

The 5130 HI Switch Series can be managed with HPE Intelligent Management Center (IMC) Software for a single view of your entire network.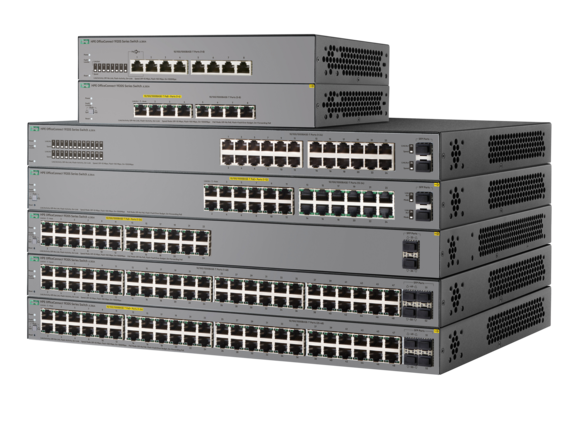 The HPE OfficeConnect 1920S Switch Series, is designed for small businesses that require enhanced performance to support bandwidth-demanding applications. They are ideal for environments that require advanced features for granular control and where smart-managed flexibility is a must for easy network configuration and management. The switches are advanced smart-managed fixed configuration Gigabit switches that are optimized for small business price/performance. They offer 8-, 24- and 48-port configurations, choice of PoE+ and non-PoE+ models, some include SFP slots for fiber connectivity.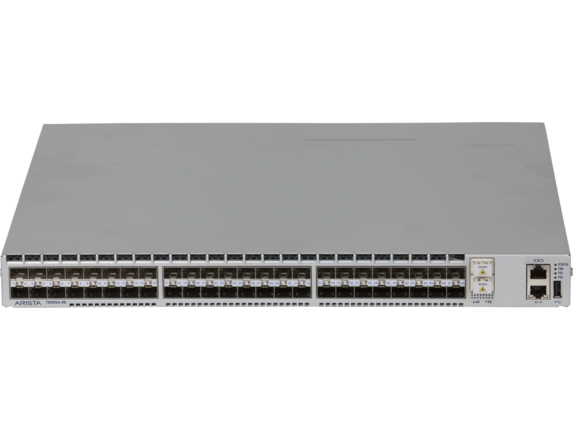 The Arista 7050SX 10/40 Data Center Switch Series offer 1RU and 2RU purpose-built 10/40GbE switches supporting wirespeed Layer 2, Layer 3, and Layer 4 performance combined with low latency and advanced features for software driven cloud networking, Big Data, cloud, virtualized and traditional deployments. This solution provides flexible options for scalable two-tier network designs and incorporates traffic control, monitoring and provisioning features that support ease of use. These switches offer wirespeed 10GbE and 40GbE versatility, plus flexibility for connecting servers and storage running business critical applications, high performance computing (HPC) and highly virtualized cloud infrastructures.
The Aruba 2620 Switch Series provides cost-effectiveness, flexibility, and ease of use for enterprise edge, SMB, and branch office access layer deployments. This Fast Ethernet switch has a robust Basic Layer 3 feature set with static and RIP routing, PoE+, ACLs, sFlow, IPv6, and requires no software licensing.

The Aruba 2620 Switch Series is easy to use and deploy, and delivers consistent wired/wireless user experience with unified management tools such as Aruba ClearPass Policy Manager and Aruba Airwave.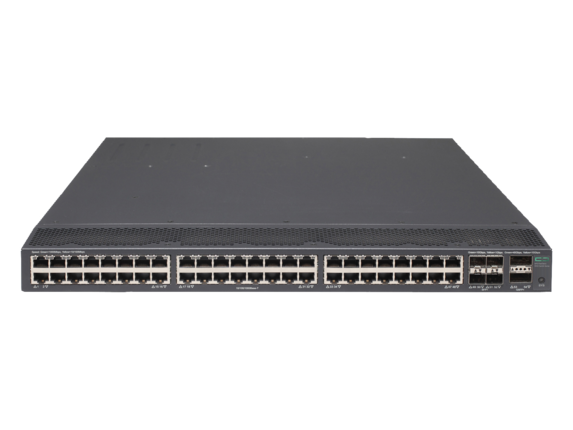 The HPE 5900 Switch Series are low-latency 1/10GbE data center top-of-rack (ToR) switches. Perfect for deployment at server access layer in large and medium sized enterprises. These switches may also be used in campus core/distribution layers where higher performance 40GbE connectivity is required with 10GbE links. Virtualized applications and server-to-server traffic require ToR switches that meet the needs for higher-performance server connectivity, convergence, virtual environment support, and low-latency. Optional Intelligent Management Center (IMC) Software Platform for network management.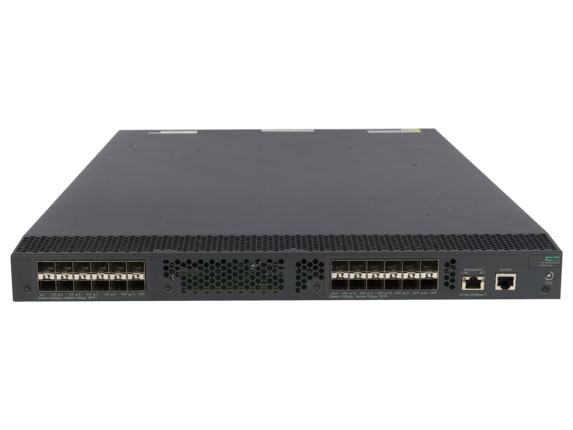 The HPE 5920 Switch Series is a family of low-latency 10GbE data center, top-of-rack (ToR) switches with large deep packet buffers for loss-sensitive applications. Perfect for deployment at the access layer in large and medium sized enterprises.
The HPE 5920 Switch Series is great for content delivery, especially to reduce network I/O congestion. Customers will benefit from HPE enhanced IRF capabilities to build robust spine-and-leaf networks supporting server-to-server traffic and network virtualization.
Optional Intelligent Management Center (IMC) Software Platform for network management.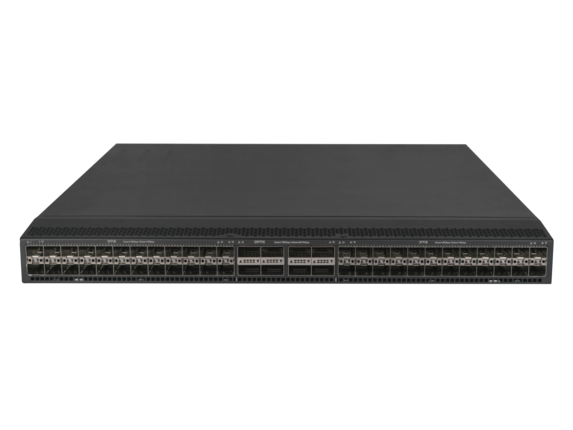 The HPE FlexFabric 5945 Switch Series are high-density, ultra-low-latency, and top-of-rack (ToR) switches ideally suited for deployment at the aggregation or server access layer of large enterprise data centers, the HPE 5945 is also powerful enough for deployment at the core layer of medium-sized enterprises. With the increase in virtualized applications and server-to-server traffic, customers require spine and ToR switches that can meet their throughput requirements. With the HPE 5945, data centers can now support up to 100GbE per port, allowing high performance server connectivity and the capabilities to handle virtual environments. The HPE FlexFabric 5945 Switch Series provides choices that fit your budget and IT environment by cut-through with ultra-low–latency and wire speed, offering different port density and speeds 100GbE/40GbE/25GbE/10GbE spine/ ToR connectivity.
Added to Your Shopping Cart
Product Availability by Store Location
Max 4 items can be added for comparison.