The HPE 1Gb Ethernet Pass-Thru Module for c-Class BladeSystem is designed for those customers desiring an unmanaged direct connection between each server blade within the enclosure and an external network device such as a switch, router or hub. Ideal for datacenters with existing network infrastructure, the HPE 1Gb Ethernet Pass-Thru Module delivers sixteen internal 1Gb downlinks and sixteen external 1Gb RJ-45 copper uplinks, providing a 1:1 non-switched, non-blocking path between the server and the network. Designed to fit into a single I/O bay of the c-Class enclosure, the Ethernet Pass-Thru Module should be installed in pairs to provide redundant uplink paths to your network.
The 4Gb Fibre Channel Pass-Thru Module for HPE c-Class BladeSystem is designed for those customers desiring a direct connection between each server blade within the enclosure and external Fibre Channel SAN switches, directors, or SAN controllers.

Ideal investment protection for datacenters with existing storage networking infrastructure, the HPE Fibre Channel Pass-Thru Module delivers up to sixteen 4Gb Fiber Optic IO connections providing a 1:1 non-switched, non-blocking paths between the server blade and the SAN. The modular design is hot pluggable and easily installs into the I/O bays of the c-Class enclosure. Installing a pair of Fibre Channel Pass-Thru Modules provides redundant paths for connection to your SAN.
HPE 10GbE Ethernet Pass-Thru Module for c-Class BladeSystem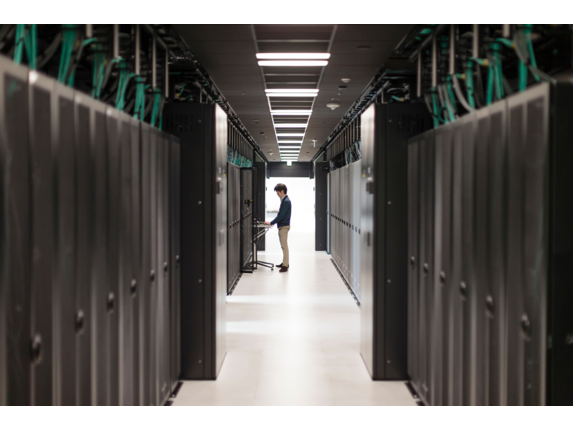 The Cisco Fabric Extender for HPE BladeSystem (Model B22HP) provides an extension of the Cisco Nexus switch fabric to the HPE server edge. Logically, it behaves like a remote line card to a parent Cisco Nexus 5000 series switch, with the Fabric Extender and the parent Nexus together forming a distributed modular system. The Cisco Fabric Extender for HPE BladeSystem forwards traffic to the parent Cisco Nexus switch over eight 10 Gigabit Ethernet uplinks.

Low-cost uplink connections up to 10 meters can be made with copper Twin-ax cable, and longer connections up to 100 meters can use optional Fabric Extender Transceivers. Standard 10Gb SFP+ optics are also supported.

Downlinks to each server are auto-negotiating and work with all HPE Ethernet and CNA modules allowing a choice of Ethernet, FCoE or iSCSI connections. Passing all traffic seamlessly to the Nexus 5000 allows traffic to be shaped according to policies established by the Nexus 5000 Series Switch with a single point of management.
The Mellanox SX1018HPE Ethernet Switch is the highest-performing Ethernet fabric solution in a blade switch form factor. It delivers up to 1.36 Tb/s of non-blocking throughput perfect for High-Performance Computing, Storage/Hadoop applications, Telecommunications/Carrier, Oil/Gas, Service Providers, Financial Services, and Cloud/Hyperscale environments

The SX1018HPE is an ultra-low latency switch that is ideally suited as an access switch providing InfiniBand like performance with sixteen 10 Gb/40 Gb server side downlinks and eighteen 40 Gb QSFP+ uplinks to the core with port to port latency as low as 220 ns.

Mellanox SX1018HPE Ethernet Switch has a rich set of Layer 2 networking and security features and supports faster application performance and enhanced server CPU utilization with RDMA over Converged Ethernet (RoCE), making this switch the perfect solution for any high performance Ethernet network.
The HPE 6125XLG Ethernet Blade Switch is the next generation blade switching technology for data center environments that delivers a high-performance, feature-rich, and low-latency 10/40 GbE switch. HPE 6125XLG provides a converged fabric solution that supports Ethernet, Fibre Channel over Ethernet (FCoE), and Fibre Channel Forwarder (FCF) protocols that enables connectivity for FCoE storage solutions. The HPE 6125XLG is protected by HPE Services 3-Years Next Business Day 9x5 Hardware Support.
Do you need a 1Gb switch that increases your data center efficiency and capability?

Designed for the c-Class BladeSystem enclosure, the HPE 6125G Ethernet Blade Switch appeals to budget-conscious data centers that need 1Gb switching and routing with the resiliency of Intelligent Resilient Networking (IRF), stacking, and the stability of Comware. It is ideal for remote office applications, or wherever IPv6, full Layer 3 routing and distributed trunking are required for 1Gb applications.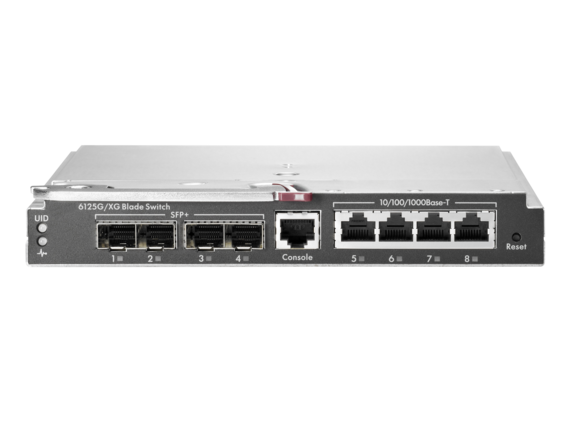 The HPE 6125G/XG Ethernet Blade Switch brings the rich features of the HPE Comware network operating system, that delivers a common level of features, service and security levels from edge to core. Intelligent Resilient Framework (IRF) improves the performance and resiliency of the network while simplifying network deployment and management. Intelligent Management Center (IMC) is comprehensive management platform that provides one management application for all networking resources, manages 3rd party devices, unifies physical & virtual networks.

With sixteen 1G downlink ports, a combination of 1G and 10G uplink ports supporting both copper and fiber media, the HPE 6125G/XG reduces network costs while increasing data center efficiency and capability.

The HPE 6125G/XG is perfect for low cost edge aggregation, virtualization, scale-out, and hyper-scale environments that require a 1G/10G connectivity and cost effective solution.
Added to Your Shopping Cart
Product Availability by Store Location
Max 4 items can be added for comparison.