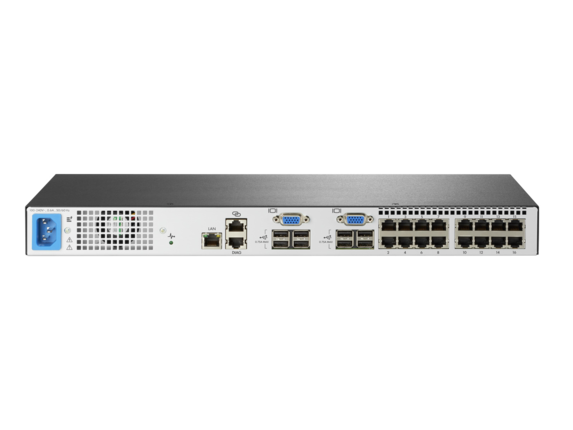 Looking for a simple and intuitive solution that allows you to access and manage servers in your data center? HPE Advanced Analog KVM console switches allow you to view and manage up to 256 rackmount servers through a single user interface. They utilize a local On-Screen Display (OSD) interface, accessed through a rack console such as the HPE LCD8500, that provides intuitive menus for accessing each attached server or serial managed device. HPE Advanced Analog KVM console switches support an optional USB Remote Access Key that allow you to upgrade to KVM-over-IP functionality, providing remote access and management via the On-Board Web Interface (OBWI). Standard rack mounting of the console switch will share 1U (1.75-inch) of front panel rack space with the rack console. However, each model can also be mounted in a ""zero U"" profile by mounting in the side rails of the rack.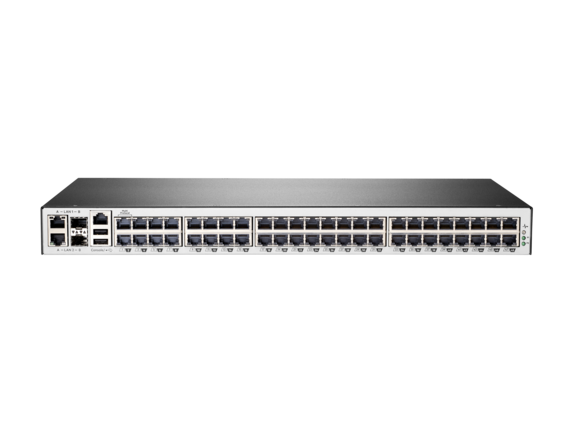 Need remote access to servers and other serial managed devices in the rack?

HPE Enterprise Serial Console Servers provide remote access to headless servers such as those running Linux or UNIX, as well as serial managed devices such as network switches and routers. Available options support either 16 or 48 devices through a single IP address using any SSH or telnet client. With its powerful user access control and streamline management from the Virtual Media option, the HPE Serial Console Server grants access to specified users or even implements Lightweight Directory Access Protocol (LDAP) directory authentication while allowing servers to access storage media. Security for servers is controlled by user names, passwords, access rights configured and stored in non-volatile memory in the Serial Console Server for up to 64 users or through RADIUS. The HPE Serial Console Servers offer the security, flexibility, and efficiency that meets the needs of the most demanding IT environments.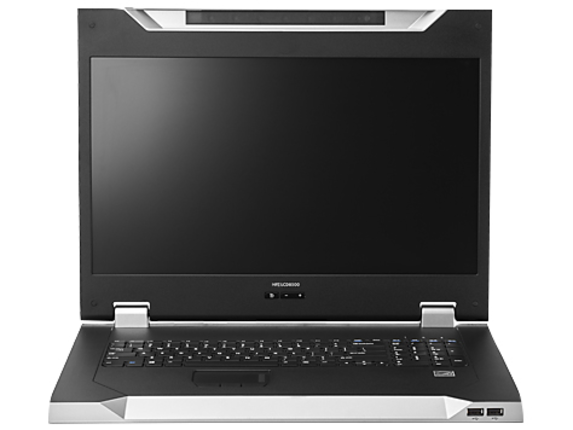 Need a console with the latest in KVM technology to manage the servers in your rack?

Knowledge is power – know what's going on right at the rack with the HPE Enterprise LCD Consoles. HPE Enterprise LCD Consoles provides a high-performance display panel and keyboard with touch pad in a 1U form factor. The 1U rackmount form factor allows for a KVM console switch to be mounted directly behind it. The HPE LCD8500 with 18.5-inch WXGA TFT LCD Brightview display supports most common video resolutions, up to 1600 x 1200 at 60 to 75 Hz refresh rates. The LCD8500 features a silver enclosure making identification in the rack easier. The integrated keyboard includes a three-button touch pad with four (4) scroll keys and Windows shortcut keys. Also included, is a new Lid Switch display management feature that shuts off the display backlight when the console is closed and repowers to its current state when opened again, helping to prolong the life of the display panel.
Want a switch for remote management of all your servers, network devices, and technology infrastructure?

HPE Enterprise IP KVM switches can allow an administrator to manage up to 1024 servers across two tiers from a single local console in cascaded environments. When tiered with additional HPE switches application installations and upgrades can be pushed to any server from the local console or remotely. HPE IP KVM switches along with the IP Console Viewer allows remote access to multiple servers running various operating systems. Virtual Media allows a removable drive or ISO image to be remotely mapped to an attached server or a remote office. An intuitive Local Console User Interface provides menus for configuration, virtual media, display, security and upgrades that is the same as the On Board Web Interface (OBWI) used for remote management. Implement two-factor authentication to increase security in the data center with CAC compatibility.
Added to Your Shopping Cart
Product Availability by Store Location
Max 4 items can be added for comparison.