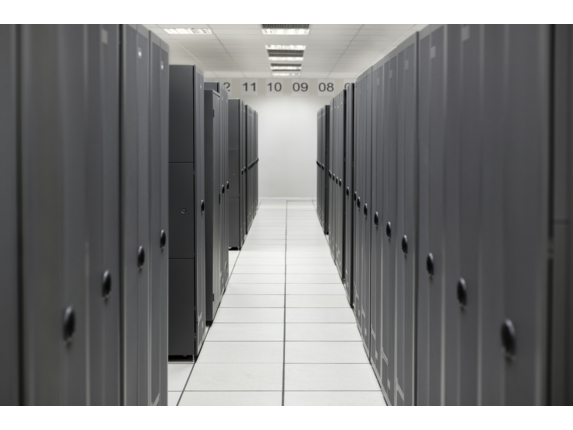 How do you build a private cloud? You know a private cloud offers security, compliance, and performance features that may not be available from a public cloud. You also know that enabling end users to provision resources on demand will save you time and money.

But setting up an OpenStack® private cloud is complex. Are you ready? HPE Helion Rack is a hardened HPE ProLiant for Private Cloud solution delivered in a single rack.

Combined with HPE Helion OpenStack® and the support, services, and training of HP, your private cloud will be up and running in no time.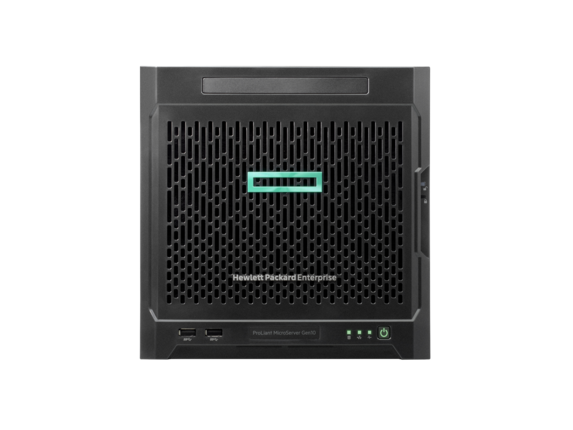 Are you a small office, home office, or small business that needs a compact affordable entry level server?

The HPE ProLiant MicroServer Gen10 delivers an affordable compact entry level server specifically designed for small offices, home offices, or small business environments. This compact and easy to use server can be placed almost anywhere. Simple access to hard drives, memory and PCIe slots allow easy management, installation and upgrades. HPE ProLiant MicroServer Gen10 is available with ClearOS Software from HPE delivering an intuitive Web based GUI and application marketplace that is pre-loaded on your hard drive, making it ready to use right out of the box. It utilizes the AMD® accelerated processing unit (APU) with graphics cores embedded to improve graphic software performance without installing an additional PCIe graphics adapter.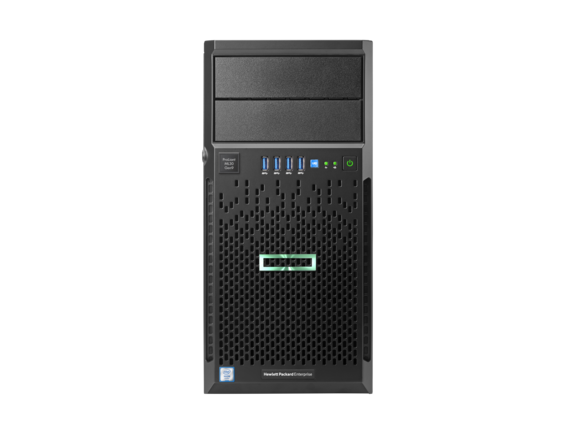 Does your remote or branch office need a server that delivers the essential availability and expansion to accommodate your changing business needs? The HPE ProLiant ML30 Gen9 server is an affordable single-socket tower server that features value performance, expansion, and growth that is ideal for small businesses and remote branch offices.
Are you looking for a compact 1U server that works in a variety of environments?

The dense and compact HPE ProLiant DL20 Gen9 server powered by Intel® Pentium®, Core i3 and E3-1200 v5/v6 processors provides a unique blend of enterprise-class capabilities at a great value—making it an ideal rack server platform for growing businesses and service providers. It offers outstanding configuration flexibility to cater to a wide variety of business requirements at an affordable price point. The ProLiant DL20 Gen9 server offers a range of HPE Qualified Options to fit most needs like affordable drives for light workloads, solid state drives for the demanding requirements, from a single non-hot plug power supply to an efficient HPE hot plug redundant power supply, from multiple storage controllers to the HPE FlexibleLOM networking cards—helping customers find the right configuration for their workloads.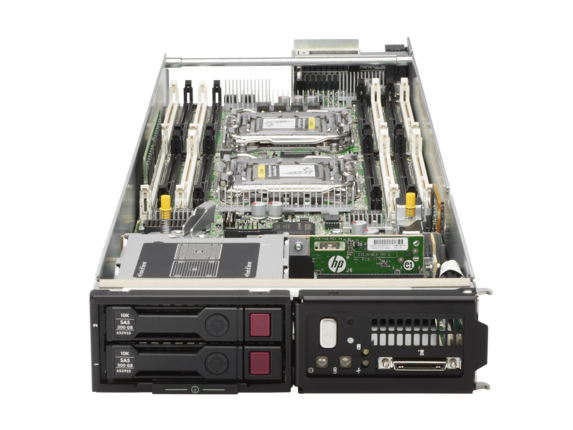 In your scale-out deployment, do your servers allow you to leverage the full potential of your Big Data?

The HPE ProLiant XL450 Gen9 Server gives you the power to optimize your performance requirements for Hadoop or object storage workloads using up to 2 Intel Xeon E5-2600v3 processors, and up to 512 GB (in 16 DIMMs) of memory per server. For ideal performance in analytics workloads, the HPE ProLiant XL450 Gen9 Server offers up to 16 cores per processor and up to 135W. Each server also features up to 4 PCIe Gen3 slots and a FlexibleLOM, enabling you to adapt to the I/O requirements of your workloads now and into the future.

In addition, the HPE ProLiant XL450 Gen9 Server offers HPE ProLiant management software like HPE Integrated Lights-Out 4 (iLO4) to deploy, manage, and utilize valuable data center resources. Whether you are running object storage, Hadoop, or other data intensive applications, you can deploy your scale-out XL450 architecture with confidence.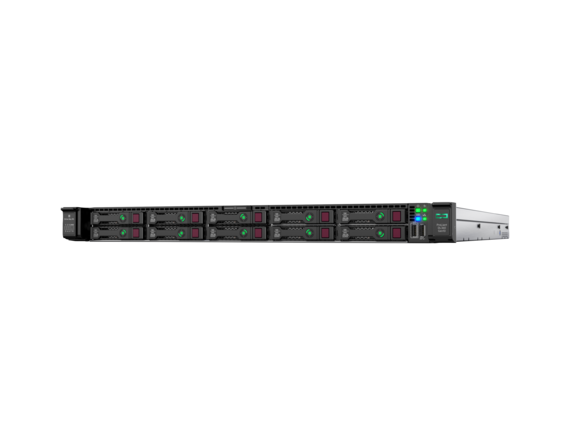 Does your data center need a secure, performance driven dense server that you can confidently deploy for virtualization, database, or high-performance computing?

The HPE ProLiant DL360 Gen10 server delivers security, agility and flexibility without compromise. It supports the Intel® Xeon® Scalable processor with up to a 60% performance gain [1] and 27% increase in cores [2], along with 2933 MT/s HPE DDR4 SmartMemory supporting up to 3.0 TB [2] with an increase in performance of up to 82% [3]. With the added performance that HPE Persistent Memory [6], HPE NVDIMMs [7] and 10 NVMe bring, the HPE ProLiant DL360 Gen10 means business. Deploy, update, monitor and maintain with ease by automating essential server life cycle management tasks with HPE OneView and HPE Integrated Lights Out 5 (iLO 5). Deploy this 2P secure platform for diverse workloads in space constrained environments.
What is your server bottleneck...storage, compute, expansion?

The HPE ProLiant DL380 Gen10 server delivers the latest in security, performance and expandability, backed by a comprehensive warranty. Standardize on the industry's most trusted compute platform. The HPE ProLiant DL380 Gen10 server is securely designed to reduce costs and complexity, featuring the First and Second Generation Intel® Xeon® Processor Scalable Family with up to a 60% performance gain [1] and 27% increase in cores [2], plus the HPE 2933 MT/s DDR4 SmartMemory supporting 3.0 TB. It supports 12 Gb/s SAS, and up to 20 NVMe drive plus a broad range of compute options. HPE Persistent Memory offers unprecedented levels of performance for databases and analytic workloads. Run everything from the most basic to mission-critical applications and deploy with confidence.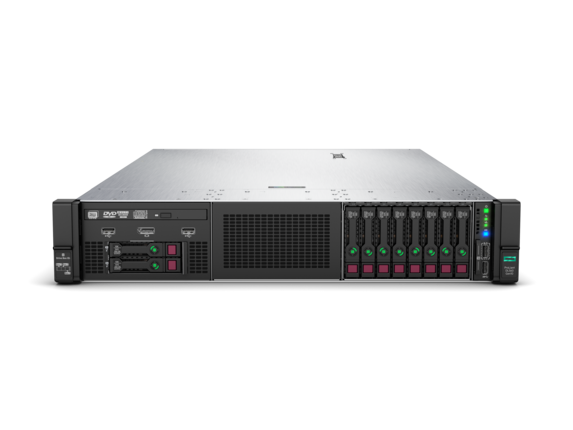 Looking for a dense but highly scalable server for your data center application and virtualization needs?

HPE ProLiant DL560 Gen10 server is a high-density, 4P server with high-performance, scalability, and reliability, in a 2U chassis. Supporting the Intel® Xeon® Scalable processors with up to a 61% performance gain [1], the HPE ProLiant DL560 Gen10 server offers greater processing power, up to 6 TB of faster memory, and I/O of up to eight PCIe 3.0 slots. HPE Persistent Memory offers unprecedented levels of performance for structured data management and analytics workloads. In addition, it offers the intelligence and simplicity of automated management with HPE OneView and HPE Integrated Lights Out 5 (iLO 5). The HPE ProLiant DL560 Gen10 server is the ideal server for business-critical workloads, virtualization, server consolidation, database, business processing, and general 4P data-intensive applications where data center space and the right performance are paramount.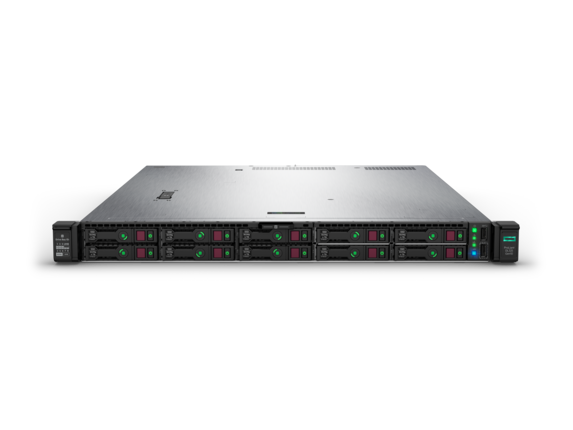 Do you need a dense platform with built-in security and flexibility that addresses key applications such as virtualization and software-defined storage (SDS)?

With the HPE ProLiant DL325 Gen10 server, Hewlett Packard Enterprise is extending the worlds' most secure industry standard servers [1] product families. This is a secure and versatile single socket (1P) 1U AMD EPYC™ based platform which offers an exceptional balance of processor, memory and I/O for virtualization and data intensive workloads. With up to 32 cores, up to 16 DIMMs, 2 TB memory capacity and support for up to 10 NVMe drives, this server delivers 2P performance with 1P economics.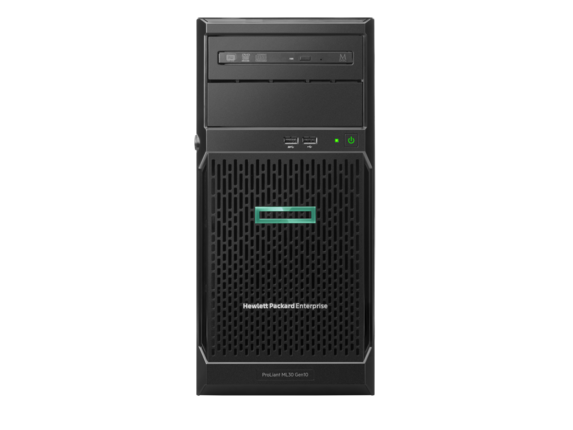 Do you know that a reliable enterprise-class server can easily meet your budget? The HPE ProLiant ML30 Gen10 server is a powerful yet affordable tower server designed for small offices, remote and branch offices to run on-premise and Hybrid Cloud solutions, delivering enterprise-class performance, security, reliability, and expandability at a lower cost. Just a small change can give you an extra edge. Hewlett Packard Enterprise builds security right into the server with HPE iLO silicon root of trust, making the HPE ProLiant ML30 Gen10 server one of the world's most secure industry-standard servers. Redundant power supply option and up to 4 LFF or 8 SFF hot-plug HDDs provide availability and flexibility. The enhanced expansion capability allows you to upgrade with SAS controllers, networking cards, or graphics cards as your business grows. You will be surprised at how much benefit you can get with HPE ProLiant ML30 Gen10 server.
Added to Your Shopping Cart
Product Availability by Store Location
Max 4 items can be added for comparison.