Server Management Software
Server Management Software
Need to secure your server and remotely manage it? The HPE iLO Advanced license offers security and smart remote functionality without compromise for HPE ProLiant Servers. This license includes the full suite of HPE iLO server management capabilities that offer users enhanced security, improved efficiency and ease of server management. The Integrated Remote Console feature unlocked by this license lets you operate on your server from anywhere, anytime increasing productivity. It also unlocks all marque security features offered by HPE ProLiant servers such as directory integration and 2-factor authentication that complement the security features which are part of the base server offering. This license enables the complete group management capabilities provided by the iLO Federation feature. HPE iLO Advanced is available for HPE ProLiant, HPE Apollo and HPE Edgeline Servers. HPE Synergy Compute Modules include iLO Advanced capabilities, no license is needed.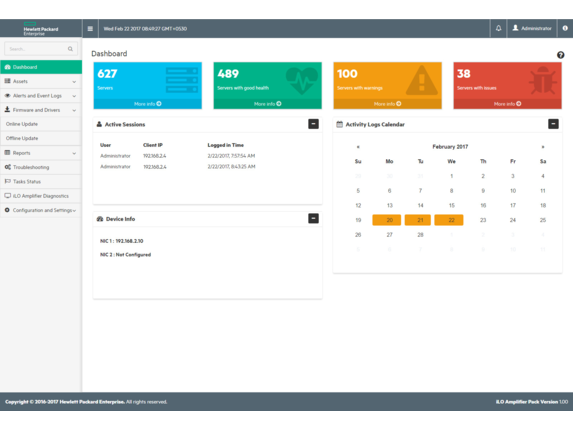 iLO Amplifier Pack (Integrated Lights-Out) is an at scale inventory and update management tool which enables customers with large Gen8, Gen9 and Gen10 Hewlett Packard Enterprise server deployments to get rapid up-to-date inventory and automate firmware and driver updates. It also assists in manual and automated recovery of systems with corrupt firmware. It scales to thousands of servers reducing personnel and downtime. It is a pre-tested solution which allows maintenance to come from the administrator at a console with a browser-based GUI versus having to physically touch each unit or create and manage customized scripts. It has an integrated discovery engine that identifies components that need to be updated on servers and take care of inter-dependency issues. Current version of iLO Amplifier Pack available for download is v1.40.
Need More Security? HPE iLO Advanced Premium Security Edition provides all of the management features of HPE iLO Advanced (e.g., remote system console, virtual media, etc.) plus premium security capabilities.

HPE iLO Advanced Premium Security Edition builds on the Silicon Root of Trust that enables the World's Most Secure Industry Standard Servers. With this license, you enable premium security features like Automatic Secure Recovery, Runtime Firmware Validation, Secure Erase of NAND Data, and CNSA mode.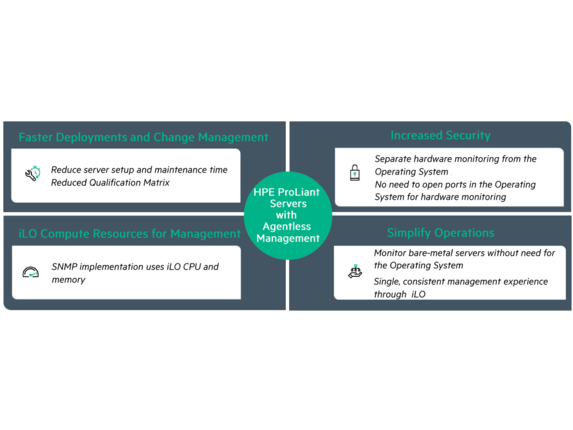 Tired of installing agents on your servers to monitor them? With the HPE Agentless Management solution, the management software (SNMP and Redfish) operate within the HPE Integrated Lights-Out (iLO) firmware instead of the host's Operating System (OS) freeing up memory and processor resources on the host's OS for use by server applications. No agents in the OS means no opening up networks ports reducing security threats, especially for those platforms that may interface directly to the Internet. With HPE Agentless Management in addition to monitoring all key internal subsystems (such as thermal, power, and memory), iLO sends SNMP management alerts directly to any Datacenter Information Management system such as HPE OneView, HPE System Insight Manager (SIM) etc., even with no host OS installed or running.

The optional HPE Agentless Management Service can collect and send specific OS and device information that cannot communicate with the iLO, to the iLO via the PCIe bus.
Troubleshooting server hardware issues taking too much time and information that could assist you in troubleshooting not captured? Myriad of tools and log files driving you crazy?

HPE Active Health System is an essential component of the iLO Management Engine portfolio. It is an industry-first technology that provides continuous, proactive health monitoring of over 1600 system parameters. 100% of configuration changes are logged for more accurate problem resolution. SmartMemory and SmartDrive devices log failure information to accurately document events and avoid inadvertent re-use of failed components. This enables customers to start problem analysis faster and spend less time reproducing or describing errors.

Support is easy, just hand off the Active Health System log file to HPE support and get your issue resolution started. You can also view the error information contained in the Active Health System Viewer by uploading your Active Health System file to www.hpe.com/servers/ahsv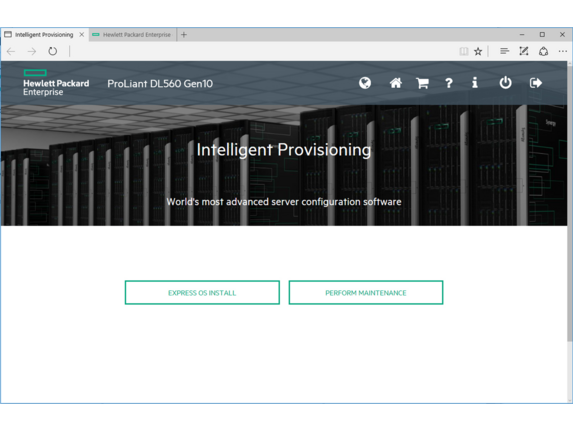 Are you looking for a solution that guides you through your server deployment? Intelligent Provisioning is a server assistance tool that is simple to use, offers fast deployment, and provides flexibility on how to deploy servers. Intelligent Provisioning is an embedded solution in most HPE ProLiant server that provides system configuration through an easy-to-use wizard. Intelligent Provisioning increases simplicity because there is no need for media (no SmartStart CDs required). You can access it by pressing F10 during server boot process, or you can access Always On Intelligent Provisioning from the iLO browser user interface. All needed firmware, drivers, and tools are available on the system so the server is immediately ready for provisioning. This fully integrated system and OS configuration tool reduces server installation and set-up steps to deploy servers faster.
Added to Your Shopping Cart
Product Availability by Store Location
Max 4 items can be added for comparison.