Data Protection and Archive Storage
Data Protection and Archive Storage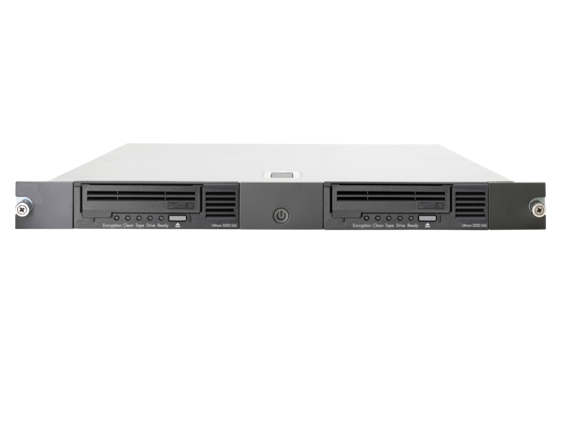 The HPE StoreEver Rack-mount Kit provides a high-density, rack-mountable tape drive and Removable Disk Backup System solution for both direct-attach USB or SAS backup and archiving applications, or a combination of both LTO drives and RDX docks in the same 1U rack-mount kit. Available in a generic format supporting both SAS and USB interfaces, the 1U HPE StoreEver Rack-mount Kit accommodates up to two half-height internal tape drives with a maximum capacity of 60 TB (compressed) using two HPE LTO-8 Ultrium 30750 drives. The 1U enclosure also supports up to two internal HPE RDX docks with a maximum capacity of 8 TB per backup session when using two HPE RDX 4 TB USB removable hard disk drives.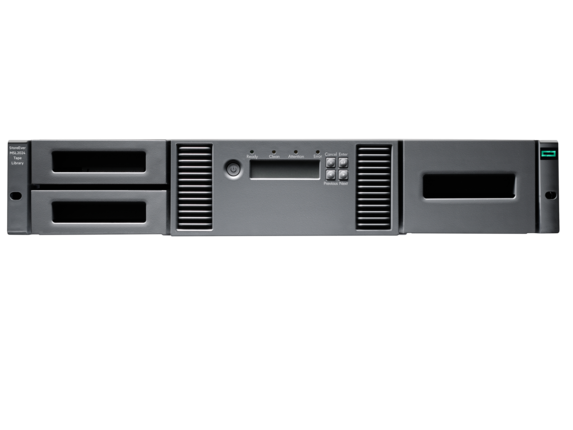 The HPE StoreEver MSL Tape Libraries meet demanding storage requirement of businesses needing unattended tape backup, disaster recovery, or low cost long-term archive capability. The MSL Libraries offer a broad choice of storage capacities and technology including LTO-8, LTO-7, LTO-6 or LTO-5 Ultrium tape drives. Web-based remote management makes the MSL Libraries easily managed from across the room or across the globe. Quickly manage tape media both in and out of the library with the standard bar code reader, configurable mail slots, and multiple 12-slot removable magazines. Protect important business data from unauthorized access with several data encryption options. MSL library investment protection and uncertain data growth are easily managed within the MSL library portfolio. Quickly increase capacity and/or performance with tool-free drive upgrades in the MSL2024/MSL4048, or move tape drive kits to an MSL3040/ MSL6480 for scalability and additional enterprise class features.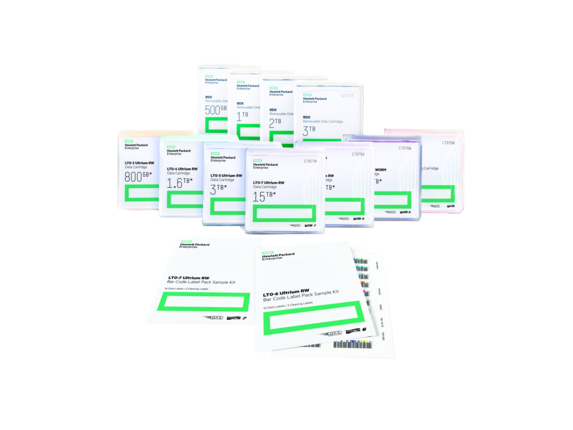 HPE LTO Ultrium, Super DLT and DLTtape IV Bar Code Label Packs provide an easy-to-use solution to the aggravation of bar coding.

Under constant pressure to deliver quality of service with limited resources, the last thing IT managers should be worrying about is why their in-house bar code labels aren't working properly or whose turn it is to operate (or run) the departmental label printer. Each HPE label pack of consecutively numbered bar codes contains 100 data labels and 10 cleaning cartridge labels. No two pack sequences are ever identical to avoid data integrity issues in archives. HPE Bar Code Label Packs will be available from most resellers that stock HPE brand media.

Finally, HPE Bar Code Label Packs have been fully tested to guarantee performance in demanding automation environments, so unlike cheaper alternatives, users can be certain that their backups will never be disrupted by bar code quality issues.
The HPE StoreEver 1/8 G2 Tape Autoloader provides cost-effective, easy-to-install, unattended automated tape storage ideal for archiving and for entry-level or remote office automated data backup. The autoloader combines incredible storage density and features into a compact 1U form factor. Capable of storing up to 240 TB [1] in a 1U form factor, the HPE StoreEver 1/8 G2 Tape Autoloader is well equipped to offer solutions for data growth. Web-based remote management offers the capability to quickly and easily access, configure, monitor, and troubleshoot the autoloader that will reduce dependencies on local IT staff while allowing multiple sites to be supported centrally. Protect confidential business information with native encryption, ensuring that if a tape is lost or stolen your data is protected from unauthorized access. Proactively monitor utilization, operational performance, as well as life and health information for both the drive and media with HPE TapeAssure Advanced.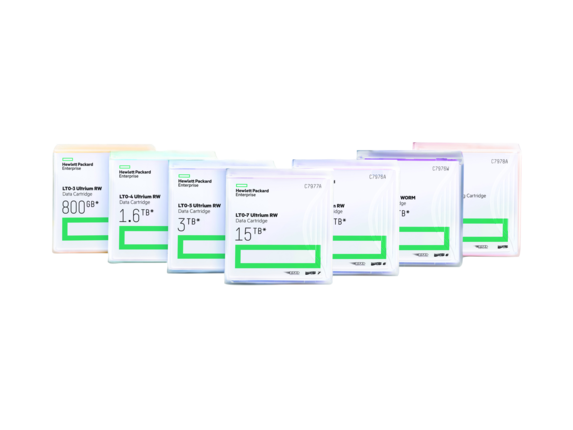 Exhaustively tested, HPE LTO Ultrium cartridges meet all your demands for maximum reliability when restoring data, offering high storage density, ease of management and scalable storage and backup performance. Covering eight generations of capacity - LTO-1 (200 GB), LTO-2 (400 GB), LTO-3 (800 GB), LTO-4 (1.6 TB), LTO-5 (3 TB), LTO-6 (6.25 TB), LTO-7 (15 TB) and LTO-8 (30 TB) – and with transfer speeds of up to 2.7 TB/hr for LTO-8, there is a platform for every need and budget. From LTO-3 onwards, LTO Ultrium WORM cartridges enable the creation of compliant, permanent and tamper-proof archives. From LTO-4 onwards, secure AES-256 encryption provides even higher levels of data security and compliance with the most stringent industry regulations to prevent unauthorized data access. From LTO-5 onwards, HPE LTO Ultrium Linear Tape File System makes using tape as easy, flexible, portable and intuitive as using other removable and shareable media, such as a USB drive.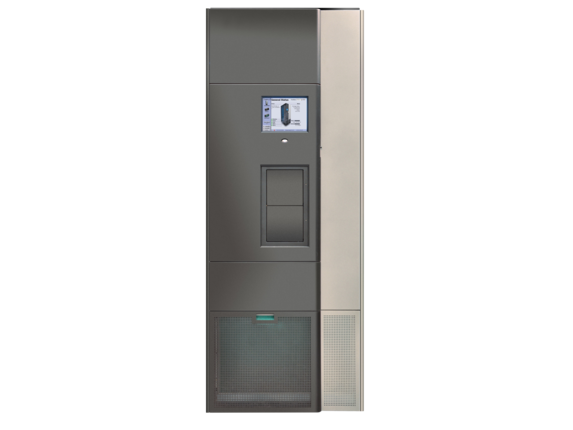 Does your data storage capacity outstrip your backup, disaster-recovery, and archive capability? The HPE T950 Tape Library combines field-proven reliability with storage innovation and gives you access to a full suite of enterprise storage capabilities. It delivers powerful library management, superior and proactive data integrity administration, and the outstanding total cost of ownership (TCO) of any tape solution. Once data expands beyond the limits of your initial HPE T950 Tape Library configurations, you simply add expansion frames to keep growing. Storage can expand up to 120 drives and 10,020 LTO slots (7,614 enterprise slots) in eight frames. With versatile built-in BlueScale software interface you have intelligent command, control, and data integrity functionality at the touch of a screen. HPE T950 Tape Library, with its compact footprint, is installed in many organizations world-wide to meet their backup, archive, and deep storage requirements.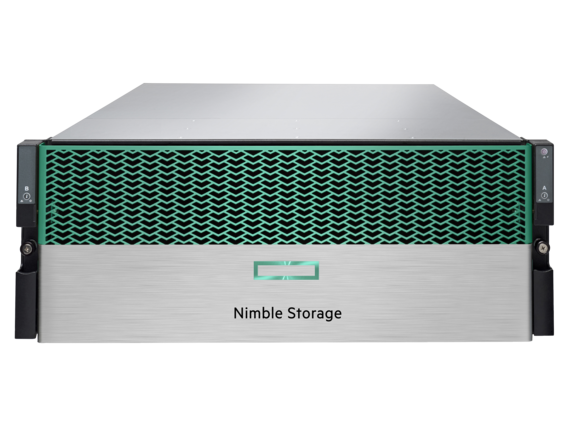 Struggling to find cost effective flash storage for your primary, secondary, and backup/DR workloads? The HPE Nimble Storage Adaptive Flash Arrays are like having two flash arrays in one. The array is truly adaptive – designed for both primary and secondary flash workloads. It is a hybrid flash array for mixed, primary workloads where cost-efficient flash performance is important. It can also serve as a secondary flash array for backup and disaster recover (DR) while allowing you to put your backup data to work. The flash-enhanced architecture is combined with HPE InfoSight predictive analytics for fast, reliable access to data and 99.9999% guaranteed availability [1]. Radically simple to deploy and use, the arrays are cloud-ready – providing data mobility to the cloud through HPE Cloud Volumes. Your storage investment made today will support you well into the future, thanks to our technology and business-model innovations.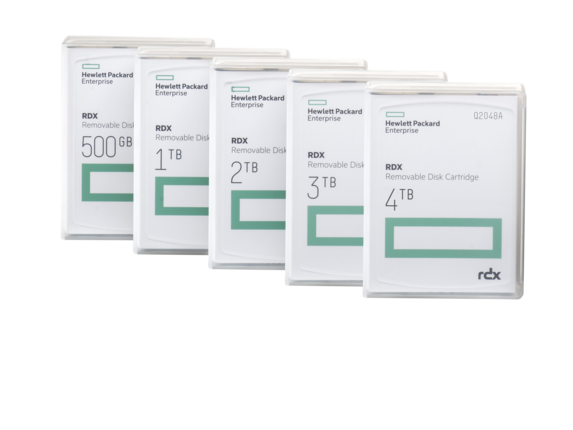 Do you need a fast disk-based backup and recovery solution that can grow with your business? The HPE RDX Removable Disk Cartridge is a rugged cartridge style hard disk drive. When paired with an internal or external docking station to provide easy off-site data protection and quick access to your most critical data. Backups are simple with drag and drop file access and fast disk based performance (up to 360 GB/hr). There is a choice of disk capacities ranging from 500 GB, 1 TB, 2 TB, 3 TB and 4 TB of data in a single cartridge. These long lasting removable disk cartridges are forward and backward compatible with all the HPE RDX USB 3.0 Internal and External Docking Stations, lowering your overall cost of ownership.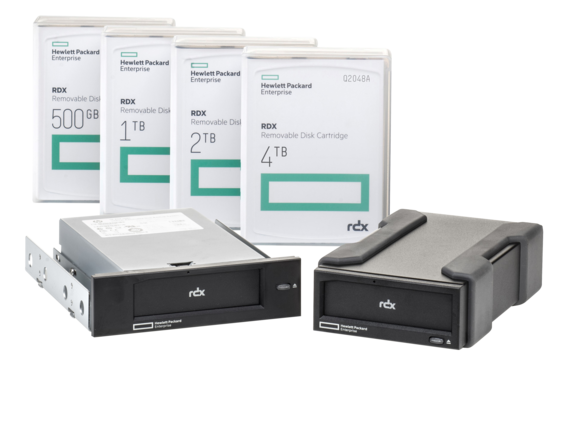 Do you need a fast disk-based backup and recovery solution that can be installed in a single server or branch office? The HPE RDX Removable Disk Backup System is a reliable disk-based backup and recovery solution with unmatched portability, fast recovery and easy integration into a single server or branch office environment. It is rugged, removable, easy-to-use, and cost-effective for small offices or home offices with little or no IT resources. The HPE RDX Removable Disk Backup System is designed for harsh work environments where businesses need to protect, manage, transport or capture large amounts of data in less than ideal locations.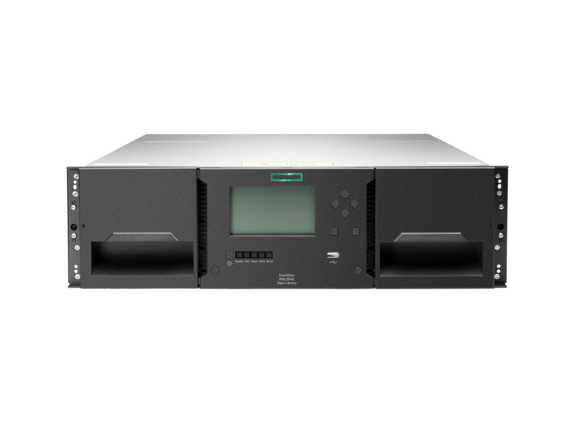 Is the global trend of exponential data growth affecting your business? The highly scalable HPE StoreEver MSL3040 Tape Library provides small to mid-sized organizations with flexibility for long-term data protection and retention of data storage assets. With its modular design and ability to reuse existing HPE MSL LTO upgrade drive kits, you can cost-effectively store up to 8.4PB [1] of data. The HPE StoreEver MSL3040 Tape Library offers exceptional enterprise features and functionality as standard providing advanced security features and reliability. It delivers a tape storage solution that addresses backup and long-term data management challenges such as storing medical records, video surveillance files or for business compliance.
Added to Your Shopping Cart
Product Availability by Store Location
Max 4 items can be added for comparison.