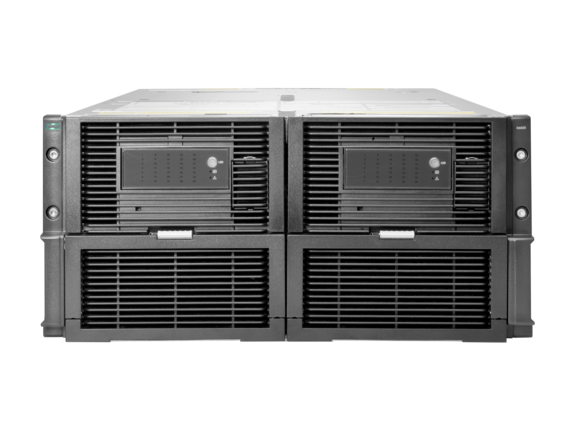 Finding it difficult to keep up with the growth in unstructured data? Looking for a cost-effective high capacity direct attach storage (DAS) option?

The HPE D6020 Disk Enclosure with 12 Gb/s SAS architecture extends and redefines DAS for ProLiant servers and BladeSystems, The D6020 Enclosure, designed for data-intensive environments, is a storage enclosure for dense, cost-effective external storage expansion for massive data capacity applications, at low $/GB. The D6020 Enclosure can be used not only as a standalone DAS enclosure, but can also be used for expansion in storage applications like Microsoft Storage Spaces, Lustre, Cloud backup, data protection or big data environments.

The zoned direct-attach capabilities of the D6020 Enclosure allows server administrators to build local storage on the fly according to their configuration requirements.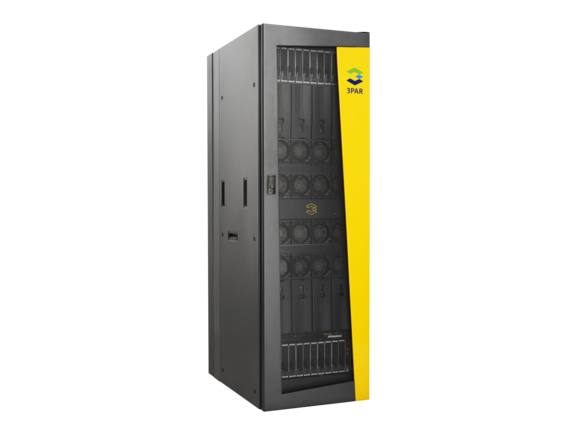 Have Cloud and IT as a Service (ITaaS) environments forced you to settle for Tier 1 storage that compromise agility and efficiency?

HPE 3PAR StoreServ 10000 Storage is the platinum standard for Tier 1 storage to meet the need of hybrid and private cloud and ITaaS environments delivering autonomic, efficient,
multi-tenant, and federated storage. Achieve six nines availability with the same trusted and proven architecture chosen by 3 out of 4 of the world's largest managed service providers (MSPs). Double VM density on your physical servers through a flash-optimized architecture designed to deliver the necessary I/O performance and workload agility to remove storage as a bottleneck in virtualized environments. Deliver uncompromising QoS for even the most demanding workloads. Use of unique thin technologies reduces acquisition and operational costs by up to 50% while autonomic management features improve administrative efficiency by up to tenfold.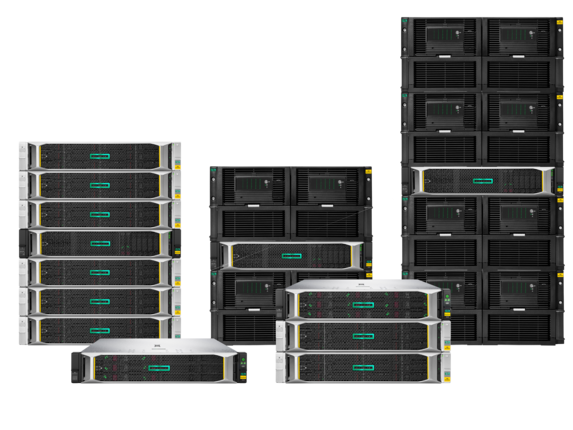 Is data growth resulting in increased backup times, missed SLAs and more management resources? Are you concerned about the threat from ransomware?

HPE StoreOnce Systems with StoreOnce Catalyst provide a single, high-performance backup architecture that spans the entire enterprise. You can reduce the amount of backup data you need to store by 95% and choose between powerful dedicated appliances for larger offices and data centers, and flexible virtual appliances for smaller and remote offices. Industry leading backup and restore speeds mean that you can meet shrinking backup windows and recovery SLAs. StoreOnce Catalyst prevents exposure of backup copies to ransomware.

With StoreOnce you can dedupe anywhere and control the movement of deduplicated data across the enterprise using your backup application. Using Cloud Bank Storage to cloud-enable your current backup and business applications, StoreOnce Systems provide even more flexibility to reduce your cost, risk and complexity.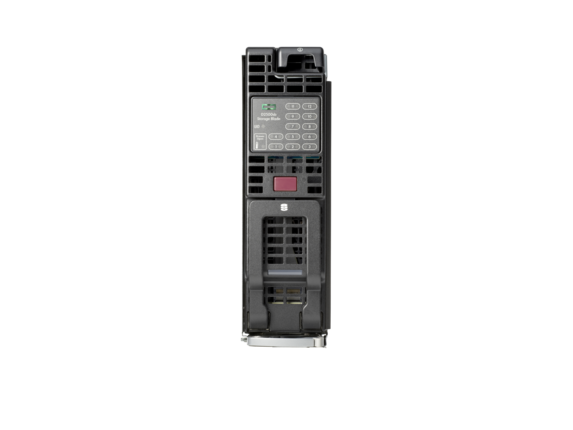 Do you need to add direct-attached storage to your HPE ProLiant BL460c Gen10 server blade? The HPE D2500sb Storage blade delivers direct-attached storage (DAS) to the HPE ProLiant BL460c Gen10 server blade, with support for up to 12 hot plug small form factor (SFF) SAS- or SATA-based hard disk drives (HDDs) or SAS-/SATA-based solid state disks (SSDs). The enclosure backplane provides a PCI Express (PCIe) connection to the adjacent HPE BladeSystem c-Class enclosure and enables high-performance storage access without any additional cables. The HPE D2500sb Storage blade includes an internal HPE Smart Array controller with 2 GB flash-backed write cache (FBWC), for increased performance and data protection. Up to eight HPE D2500sb Storage blade devices can be supported in a single HPE BladeSystem c7000 enclosure.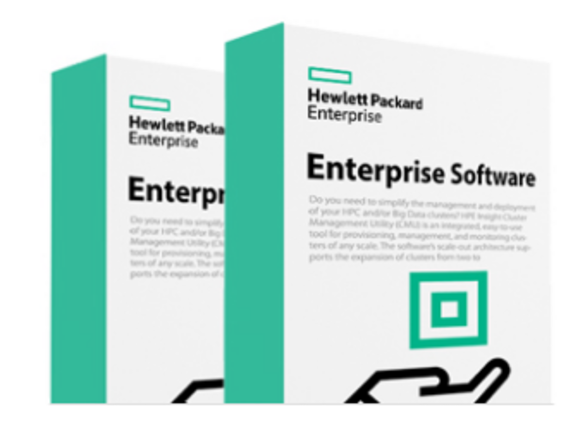 Are you looking for the storage efficiency of a deduplicating storage without the constraints of a purpose built appliance? If so, the HPE StoreOnce VSA meets your needs with the flexibility of a virtual appliance. You get all the features of purpose built StoreOnce Systems deployed as a software defined backup target. In addition the portability and availability features of vSphere and Hyper-V provide added flexibility and resiliency. Up to 500 TB of usable capacity can be configured in 1 TB increment. A StoreOnce VSA license server simplifies license management for large or dynamic VSA deployments. Intelligent Federated Management further simplifies the operations with multiple StoreOnce VSA instances managed through a single console. HPE StoreOnce VSA provides a flexible and a cost effective backup target for virtualized server environments as part of a pure software defined data protection solution or in conjunction with StoreOnce purpose-built appliances for mixed environments.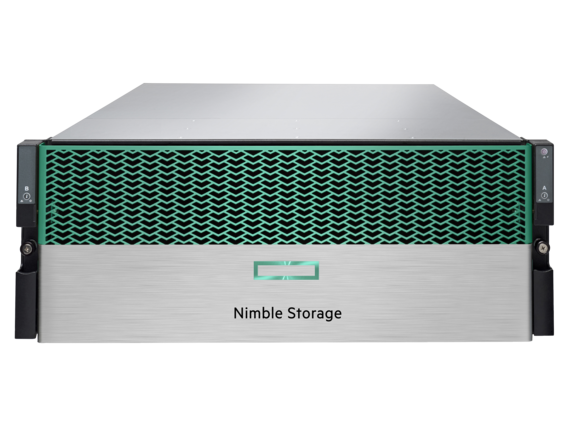 Want to accomplish real work with your backup data? HPE Nimble Storage Secondary Flash Arrays let you put your backup data to work. The systems provide a single platform for backup and disaster recovery, and with flash-optimized performance can also run real workloads like development/test and analytics. They deliver significant data efficiency savings through always-on deduplication and compression, and are a third of the cost for backup and DR when used with all-flash. Secondary Flash Arrays integrate with Veeam availability software to both simplify and improve data management, making array capabilities accessible through the Veeam GUI, and accelerating backup verification.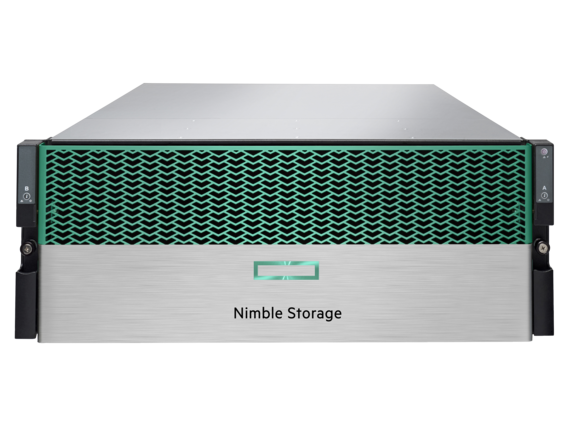 Struggling to find cost effective flash storage for your primary, secondary, and backup/DR workloads? The HPE Nimble Storage Adaptive Flash Arrays are like having two flash arrays in one. The array is truly adaptive – designed for both primary and secondary flash workloads. It is a hybrid flash array for mixed, primary workloads where cost-efficient flash performance is important. It can also serve as a secondary flash array for backup and disaster recover (DR) while allowing you to put your backup data to work. The flash-enhanced architecture is combined with HPE InfoSight predictive analytics for fast, reliable access to data and 99.9999% guaranteed availability [1]. Radically simple to deploy and use, the arrays are cloud-ready – providing data mobility to the cloud through HPE Cloud Volumes. Your storage investment made today will support you well into the future, thanks to our technology and business-model innovations.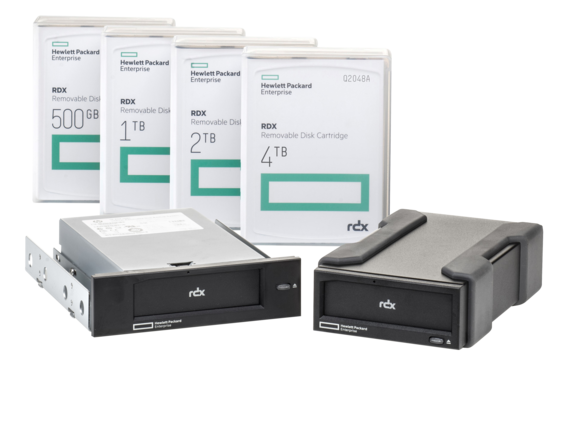 Do you need a fast disk-based backup and recovery solution that can be installed in a single server or branch office? The HPE RDX Removable Disk Backup System is a reliable disk-based backup and recovery solution with unmatched portability, fast recovery and easy integration into a single server or branch office environment. It is rugged, removable, easy-to-use, and cost-effective for small offices or home offices with little or no IT resources. The HPE RDX Removable Disk Backup System is designed for harsh work environments where businesses need to protect, manage, transport or capture large amounts of data in less than ideal locations.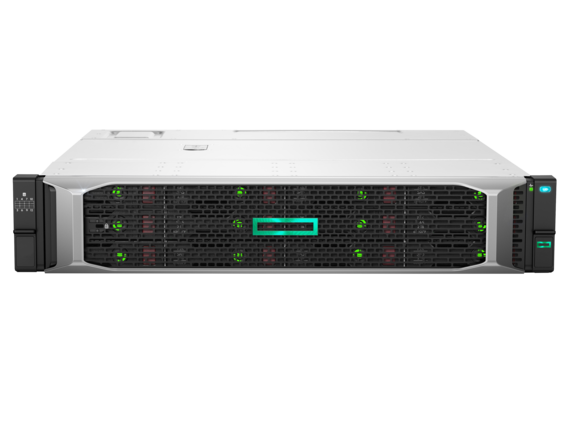 Has your business exceeded your storage capacity? Manage your small and midrange business' growing storage needs by deploying the HPE D3000 Enclosures, the next generation 12 Gb SAS low-cost, high-capacity, tiered external storage system. The HPE D3000 Enclosures are ideal for your small application environments, remote offices and departmental locations. The 12 Gb SAS enclosures - large form factor (LFF) D3600/D3610 with 12 drive bays and small form factor (SFF) D3700/D3710 with 25 drive bays—offer flexible, modular solutions to simplify capacity expansion of HPE ProLiant server and HPE BladeSystem environments to external storage without having to make the full move to SAN or NAS. This allows you to buy what is needed today and purchase additional capacity as data storage needs grow. HPE D3000 enclosures support HPE SmartDrive Carriers. Buy and maintain a common set of HPE ProLiant drives for Gen8 and Gen9 ProLiant Servers. Total support can grow up to 96 LFF or 200 SFF drives.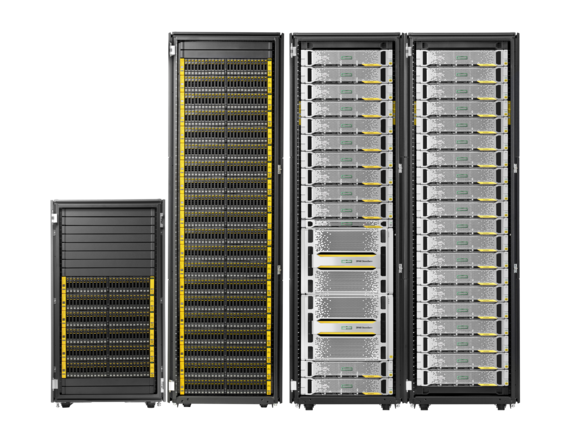 Have Cloud or IT-as-a-Service (ITaaS) environments forced you to settle for Tier-1 storage that compromises your data center? HPE 3PAR StoreServ 20000 Storage is an enterprise flash array with more than 3.8M IOPS, sub-millisecond latencies, a 16x density advantage over the competition [1], and scalability of over 20 PB of usable capacity for massive consolidation – for block and file workloads as well as object access – with Quality of Service (QoS). The flash-optimized architecture features the HPE 3PAR Gen5 ASIC for silicon-based hardware acceleration, including inline deduplication, compression, data packing, thin technologies and other compaction technologies that can reduce acquisition and operational costs without compromising performance. Configuration options are available for all-flash models and combined flash and HDD models. HPE 3PAR StoreServ 20000 also includes at no extra charge data protection with HPE Recovery Manager Central.
Added to Your Shopping Cart
Product Availability by Store Location
Max 4 items can be added for comparison.