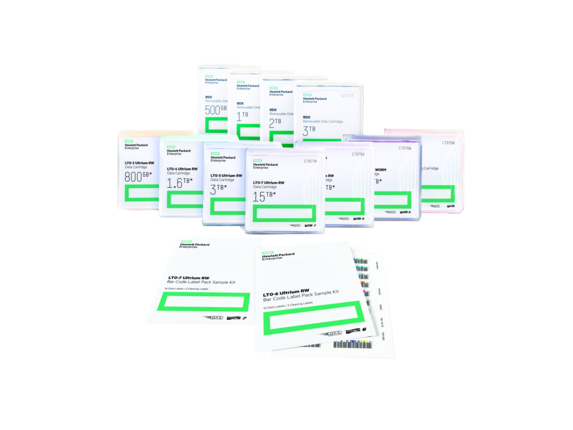 HPE LTO Ultrium, Super DLT and DLTtape IV Bar Code Label Packs provide an easy-to-use solution to the aggravation of bar coding.

Under constant pressure to deliver quality of service with limited resources, the last thing IT managers should be worrying about is why their in-house bar code labels aren't working properly or whose turn it is to operate (or run) the departmental label printer. Each HPE label pack of consecutively numbered bar codes contains 100 data labels and 10 cleaning cartridge labels. No two pack sequences are ever identical to avoid data integrity issues in archives. HPE Bar Code Label Packs will be available from most resellers that stock HPE brand media.

Finally, HPE Bar Code Label Packs have been fully tested to guarantee performance in demanding automation environments, so unlike cheaper alternatives, users can be certain that their backups will never be disrupted by bar code quality issues.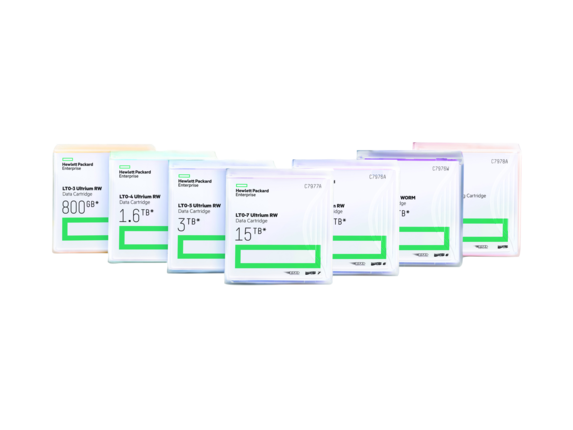 Exhaustively tested, HPE LTO Ultrium cartridges meet all your demands for maximum reliability when restoring data, offering high storage density, ease of management and scalable storage and backup performance. Covering eight generations of capacity - LTO-1 (200 GB), LTO-2 (400 GB), LTO-3 (800 GB), LTO-4 (1.6 TB), LTO-5 (3 TB), LTO-6 (6.25 TB), LTO-7 (15 TB) and LTO-8 (30 TB) – and with transfer speeds of up to 2.7 TB/hr for LTO-8, there is a platform for every need and budget. From LTO-3 onwards, LTO Ultrium WORM cartridges enable the creation of compliant, permanent and tamper-proof archives. From LTO-4 onwards, secure AES-256 encryption provides even higher levels of data security and compliance with the most stringent industry regulations to prevent unauthorized data access. From LTO-5 onwards, HPE LTO Ultrium Linear Tape File System makes using tape as easy, flexible, portable and intuitive as using other removable and shareable media, such as a USB drive.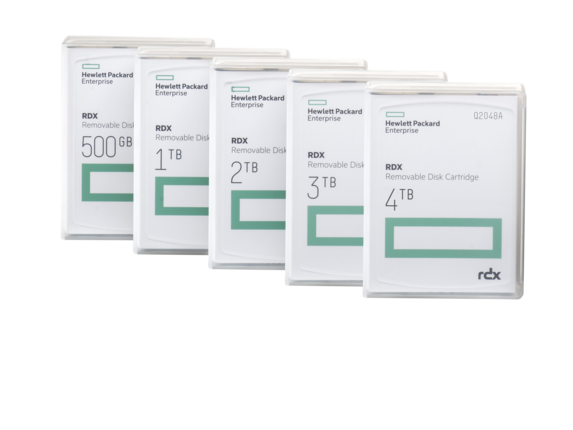 Do you need a fast disk-based backup and recovery solution that can grow with your business? The HPE RDX Removable Disk Cartridge is a rugged cartridge style hard disk drive. When paired with an internal or external docking station to provide easy off-site data protection and quick access to your most critical data. Backups are simple with drag and drop file access and fast disk based performance (up to 360 GB/hr). There is a choice of disk capacities ranging from 500 GB, 1 TB, 2 TB, 3 TB and 4 TB of data in a single cartridge. These long lasting removable disk cartridges are forward and backward compatible with all the HPE RDX USB 3.0 Internal and External Docking Stations, lowering your overall cost of ownership.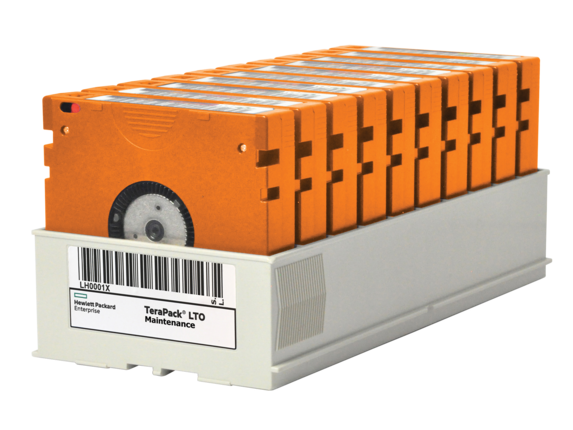 Because HPE offers a comprehensive data protection portfolio for Hybrid IT, it understands the requirements for current and next generation LTO Ultrium tape solutions. In particular, the importance of media reliability in providing a long term home for archive data, as well as a final safeguard against natural disasters, network or power outages, human error, or malicious acts. HPE TeraPack Media is designed to make certain that customers have the most reliable and automated tape storage solution available. Our approach places the emphasis on ongoing enhancements and features that simplify virtually all aspects of the media management process.
Added to Your Shopping Cart
Product Availability by Store Location
Max 4 items can be added for comparison.