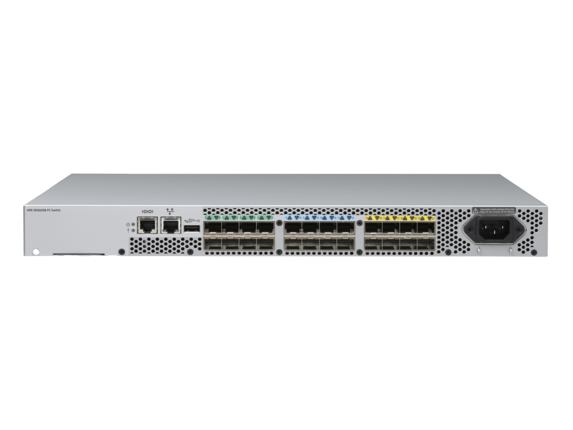 Are you struggling to meet the I/O demands of hyperscale virtualization, cloud, or growing flash-based SANs? HPE StoreFabric SN3600B Fibre Channel Switch provides Gen6 32 Gb Fibre Channel (FC) in an ultra-dense 1U format from 8-ports up to 24-ports, and is affordable for limited budgets. It is capable of replacing three generations of FC with its backward compatibility with 4, 8, and 16 Gb FC for your investment protection. Designed to build a flash-ready infrastructure, it specifically adapts to business application needs. Applications requiring more throughput and lower latency can take advantage of NVMe over FC ready support as well. SAN simplicity is achieved with a simple 3-step install process and SAN deployments with HPE 3PAR all-flash storage are automated using HPE Smart SAN for 3PAR software. Data reliability is enhanced with forward error correction (FEC) by automatically detecting and recovering bit error along with the HPE Power Pack+ software maintains efficient SAN-health.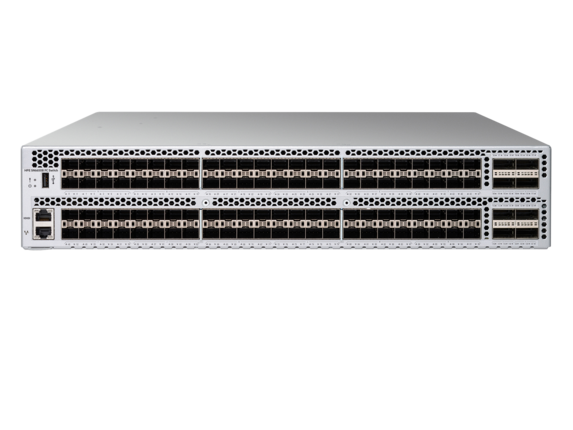 Is there a need to modernize your storage network? The all-flash data center and emerging NVMe storage requires a modern storage network that can keep up with pace of innovation seen with compute and storage resources. The HPE StoreFabric SN6650B 32Gb FC switch is a high-port density building block with 128 Fibre Channel ports that provides the tools to optimize NVMe storage and automate SAN management tasks. It provides 32 Gb SAN connectivity with up to 4 Tbps total system bandwidth for data center consolidation and one of the most demanding all-flash workloads. New automation capabilities enable DevOps resources to automate operations to increase productivity with simple and open automation through open APIs and the Ansible automation engine. The HPE StoreFabric SN6650B enables new insight into NVMe storage fabrics with modern I/O traffic visibility and VM-level granularity to validate and fine-tune performance for better efficiency.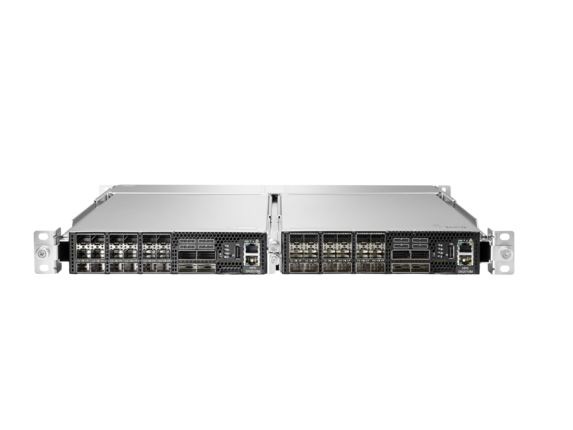 How can you provide fast, reliable, and cost-effective connectivity in the data center with predictable performance and investment protection? HPE StoreFabric SN2010M Switch is ideal for modern server and storage networks. Supporting port speeds of 1, 10, 25, 40, 50, and 100 GbE, they deliver predictable performance and zero packet loss at line-rate. Its unique port counts and half-width form factor allows up to two HPE StoreFabric SN2010M Switch units to be deployed side-by-side for increased density and high-availability in a single rack unit making it the perfect top-of-rack (ToR) switch. Storage-specific features combined with an efficient design provides enterprise-level performance with attractive economics and outstanding ROI. Networks built on Hewlett Packard Enterprise M-series switches are fast, reliable, and scalable while also being affordable. This makes these switches ideal for storage, hyperconverged, financial services, Big Data, and media and entertainment deployments.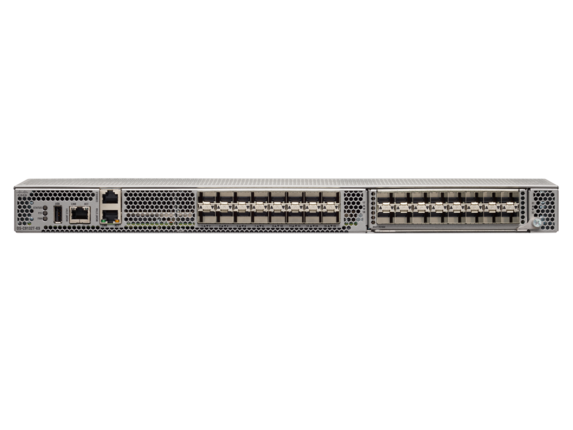 Are you looking for a high performance Fibre Channel switch for the modern storage area network? The HPE StoreFabric SN6610C Fibre Channel Switch delivers 32 Gbps Fibre Channel (FC) switching providing high-speed FC connectivity from the server rack to the SAN core. It empowers midsize, enterprise and large enterprises that are rapidly deploying cloud-scale applications using extremely dense virtualized servers, providing the dual benefits of greater bandwidth and consolidation. The switch offers state-of-art analytics and telemetry capability built into its ASIC platform. For increased flexibility, the HPE StoreFabric SN6610C Fibre Channel Switch scales from 8- to 32-ports. Additionally, investing in this switch for the lower-speed (8 or 16 Gbps) server rack gives you the flexibility to upgrade to 32 Gbps performance in the future.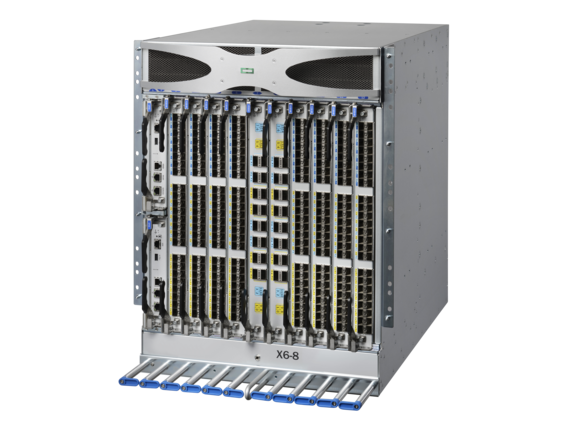 Are you looking to modernize your storage-networking infrastructure, massively scale in a smaller footprint, automate procedures to reduce human error, and deliver greater efficiency to meet the dynamic and growing demands of your business? The HPE StoreFabric SAN Director portfolio delivers a powerful and reliable Fibre Channel (FC) and multi-protocol switching infrastructure that can unleash the full performance of flash and emerging NVMe-based storage. It provides a mission-critical, scalable, and high-performance foundation for enterprise data centers with private and hybrid-cloud deployments and highly virtualized environments. The HPE SAN Director portfolio contains the HPE StoreFabric SN8600B 32 Gb FC Switch (Front and reverse air-flow) and the HPE StoreFabric SN8000B Switch 16 Gb FC Switch. The HPE StoreFabric SAN Director consists of an 8-slot and a 4-slot chassis providing up to 512 Gen6 32 Gb FC ports and up to 32 QSFP based ICLs which are equivalent to 128 FC ports.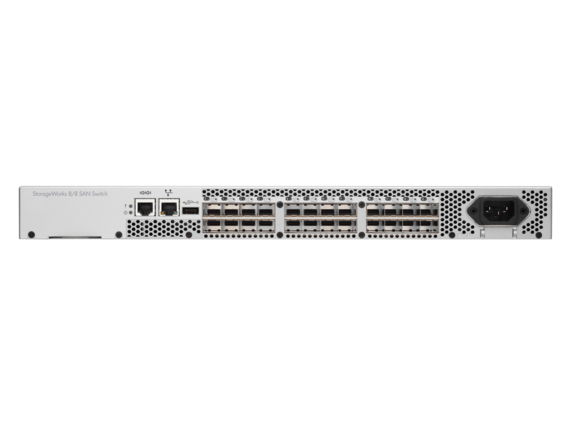 HPE 8/8 SAN Switch is targeted for SMB enterprises and is ideal for entry-level SANs, and as an edge switch for core-to-edge SAN environments. The 8/8 SAN Switch provides SAN connectivity that improves system performance, maximizes the value of virtual server deployments, and reduces overall storage costs.

The 8/8 Base SAN Switch provides an affordable single-switch solution for a new, small SAN installation and connects to storage and servers only. An optional Full Fabric SAN scaling license provides connectivity to other switches. This comes with a Full Fabric license and may be connected to multiple switches. Both 8 port switches provide growth options to non-disruptively scale to a max of 24 enabled ports.

The 8/8 SAN Switch provides auto-sensing 1, 2, 4, and 8 Gb full duplex performance to enable up to 128 Gb of throughput. For investment protection, the 8/8 SAN Switch may be populated with 4 Gb B-Series SFPs today and upgraded to 8 Gb B-Series SFPS when necessary.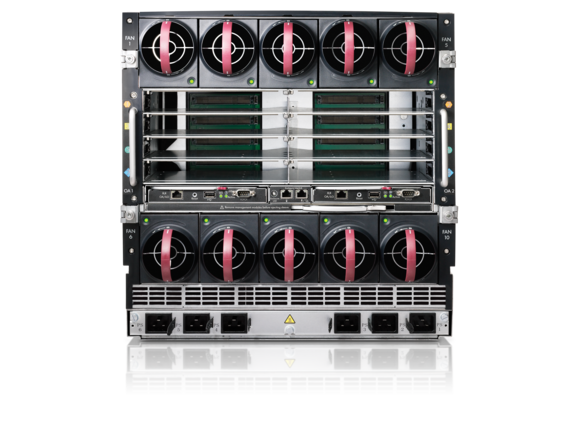 IT organizations continue to face unprecedented data growth as more platforms, applications, and users connect to the data center network. In turn, the storage network infrastructure must continue evolving to enable fast, continuous, and cost effective access to mission critical data from anywhere in the world.

To address this challenge, the HPE 1606 Extension SAN Switch helps provide fast, reliable, and cost-effective network infrastructure for remote data replication, backup, and migration. Leveraging next-generation Fibre Channel and advanced Fibre Channel over IP (FCIP) technology, the 1606 Extension SAN Switch provides a flexible and extensible platform to move more data faster and further than ever before.

The HPE 1606 Extension SAN Switch offers up to sixteen (16) 8 Gb Fibre Channel ports and six (6) 1 Gigabit Ethernet (GbE) ports to provide unmatched Fibre Channel and FCIP bandwidth, port density, and throughput for maximum application performance over WAN links.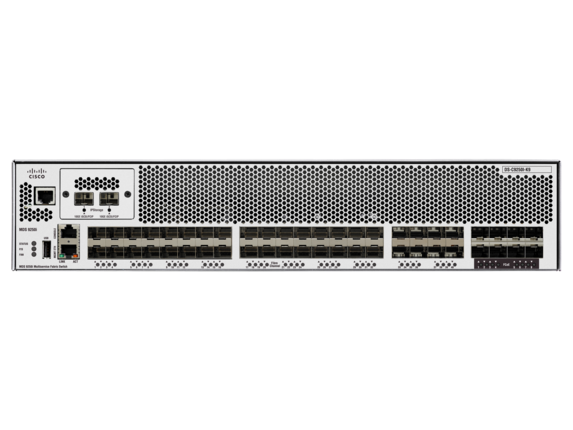 Do you need a multi-service switch that supports multiple protocols? The HPE StoreFabric SN6500C 16Gb FC/FCIP/FCoE Multi-service Switch (Cisco MDS 9250i) is a flexible switch for deploying SAN extension solutions, distributed intelligent fabric services and cost-effective multi-protocol connectivity for open systems. It offers advanced capabilities available only to director class switches. With up to forty 16 Gb Fibre Channel ports, two 10 Gigabit Ethernet IP storage services ports, and eight 10GbE FC over Ethernet (FCoE) ports in a fixed 2U form factor, it is an ideal multi-service switch for department or remote branch office SANs . It connects both existing FC networks and protects your current SAN switch investments. SAN Extension over IP is enabled on the two fixed 10GbE IP storage services ports, enabling FC over IP (FCIP) and compression without the need for additional licenses. Using the eight FCoE ports, the switch attaches directly to FCoE and FC storage devices.
The HPE 6Gb SAS BL Switch for HPE BladeSystem c-Class enclosures is an integral part of HPE direct connect SAS storage, enabling a shared SAS storage solution.

The SAS architecture combines a P711m, P712m (with cache module), P721m or P731m HPE Smart Array Controller in each server and the 6Gb SAS BL switches connected to supported HPE storage enclosures for SAS storage. The 6Gb SAS BL Switch contains an embedded Virtual SAS Manager (VSM) GUI & CLI interface used to zone, monitor, and update SAS fabric devices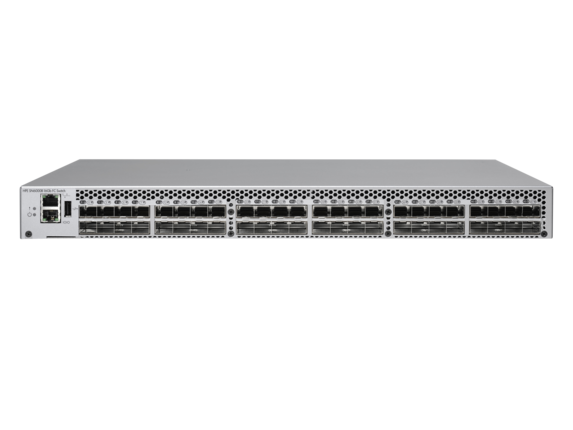 Are you struggling to keep pace with ever-increasing workloads on a never-increasing budget? While virtualization has provided some relief by enabling the benefits of faster deployment and consolidation, it tends to put additional stress on data center networks.

The HPE SN6000B Fibre Channel Switch meets the needs of hyper-scale, private cloud storage environments by delivering market-leading 16Gb Fibre Channel (FC) technology and capabilities that support highly virtualized environments. Designed to enable greater flexibility and investment protection, the SN6000B switch scales from 24 to 48 ports and supports 4, 8, 10, or 16 Gb/s speeds in an efficiently designed 1U package. It also provides a simplified deployment process and a point-and-click user interface making it powerful and easy to use. It offers low-cost access to SAN technology while providing ""pay-as-you-grow"" scalability to meet the needs of an evolving storage environment.
Added to Your Shopping Cart
Product Availability by Store Location
Max 4 items can be added for comparison.