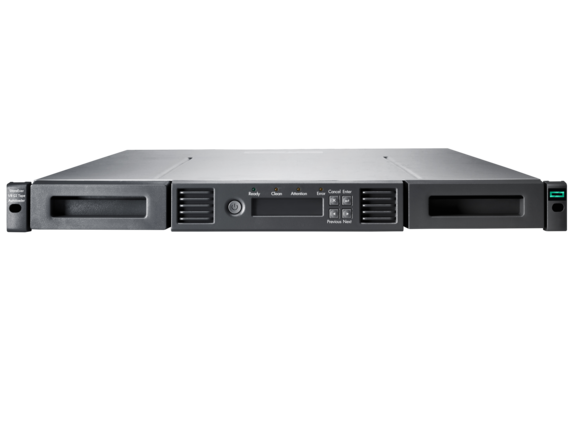 The HPE StoreEver 1/8 G2 Tape Autoloader provides cost-effective, easy-to-install, unattended automated tape storage ideal for archiving and for entry-level or remote office automated data backup. The autoloader combines incredible storage density and features into a compact 1U form factor. Capable of storing up to 240 TB [1] in a 1U form factor, the HPE StoreEver 1/8 G2 Tape Autoloader is well equipped to offer solutions for data growth. Web-based remote management offers the capability to quickly and easily access, configure, monitor, and troubleshoot the autoloader that will reduce dependencies on local IT staff while allowing multiple sites to be supported centrally. Protect confidential business information with native encryption, ensuring that if a tape is lost or stolen your data is protected from unauthorized access. Proactively monitor utilization, operational performance, as well as life and health information for both the drive and media with HPE TapeAssure Advanced.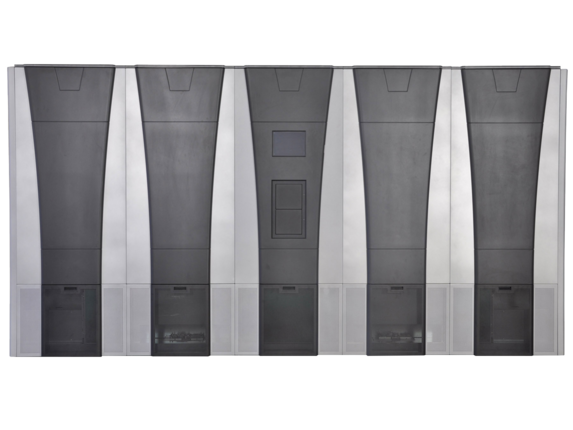 Does your data storage capacity outstrip your backup, disaster recovery and archive capability? The HPE TFinity ExaScale Tape Library delivers up to 1.6 exabytes (EB) of proven storage density packaged in a small footprint and offers scalability and speed to meet the requirements of the most demanding environments. Additional flexibility is provided through support of mixed media, both LTO Tape Technology and TS11xx technology, in the same library. Customers can also access and migrate data from legacy Oracle T10000 media to both technologies. Using LTO technology, it can expand from 50 to 53,460 slots for 1.6 EB of compressed data. Using TS1155 technology, the library can expand from 45 to 40,680 slots for 1.52 EB of compressed data. The tape library can support up to 144 drives with transfer rates of 186.6 TB/hr (362.9 TB/hr compressed) using LTO-8 or TS1155 technology.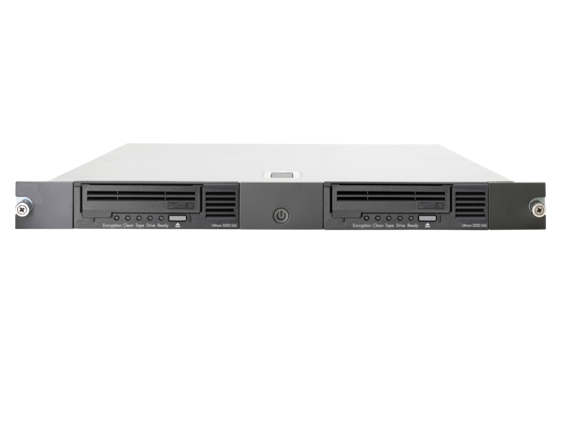 HPE StoreEver LTO Ultrium Tape Drives represent eight-generations of LTO technology capable of storing up to 30TB [1] per cartridge, with hardware data encryption, HPE StoreOpen with LTFS for ease of use at an unprecedented performance. Data hardware encryption using AES 256-bit provides easy-to-enable security to protect the most sensitive data and prevent unauthorized access of tape cartridges. Linear Tape File System (LTFS) is an open format for storing data on tape that makes LTO generation 5 and later tapes self-describing and file-based. Capable of data transfer rates up to 300 MB/s native, the Data Rate Matching further optimizes performance by matching host system speed to keep drives streaming, thus enabling a faster tape performance.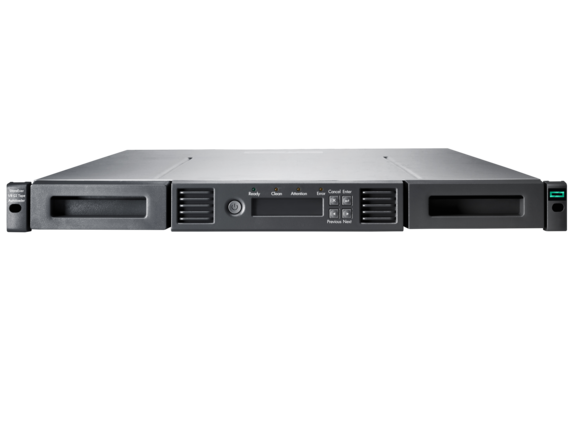 HPE StoreEver MSL Entry-level Tape Automation products meet demanding storage requirement of businesses needing unattended backup, disaster recovery, or archive capability. The 1/8 Tape Autoloader and MSL2024 tape library offer a broad choice of storage capacity including LTO-8, LTO-7, LTO-6 or LTO-5 Ultrium drives. Web-based remote management makes 1/8 Tape Autoloader and MSL2024 tape libraries easily manageable from across the room or across the globe, eliminating the need for remote office IT staff. Simply manage tape media in and out of the library with the standard bar code reader, configurable mail slots, and removable magazines. If a tape were lost or stolen, protect important business data from unauthorized access with data encryption. Quickly increase capacity and/or performance with tool-free drive upgrades in the 1/8 Tape Autoloader or MSL2024 tape library, or move tape drive kits to the MSL3040 or MSL6480 for library scalability and additional enterprise class features.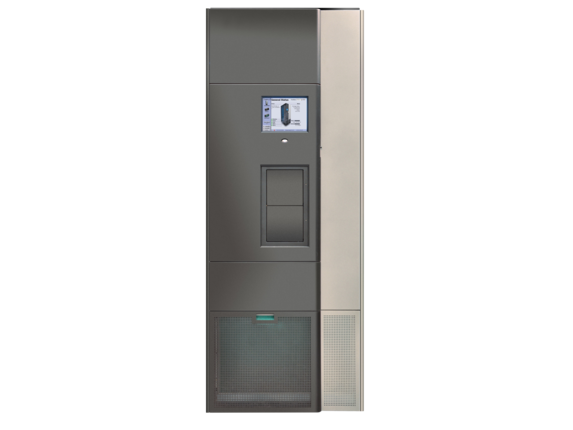 Does your data storage capacity outstrip your backup, disaster-recovery, and archive capability? The HPE T950 Tape Library combines field-proven reliability with storage innovation and gives you access to a full suite of enterprise storage capabilities. It delivers powerful library management, superior and proactive data integrity administration, and the outstanding total cost of ownership (TCO) of any tape solution. Once data expands beyond the limits of your initial HPE T950 Tape Library configurations, you simply add expansion frames to keep growing. Storage can expand up to 120 drives and 10,020 LTO slots (7,614 enterprise slots) in eight frames. With versatile built-in BlueScale software interface you have intelligent command, control, and data integrity functionality at the touch of a screen. HPE T950 Tape Library, with its compact footprint, is installed in many organizations world-wide to meet their backup, archive, and deep storage requirements.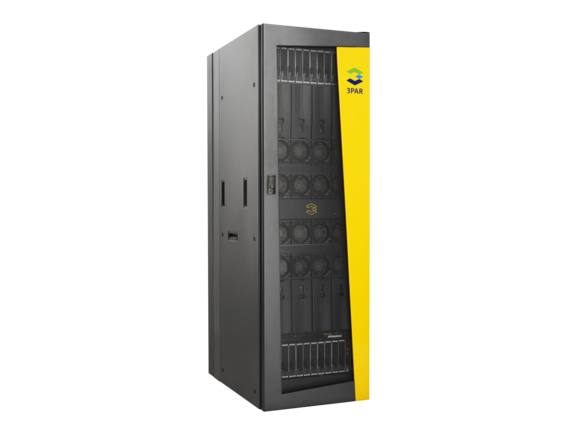 Have Cloud and IT as a Service (ITaaS) environments forced you to settle for Tier 1 storage that compromise agility and efficiency?

HPE 3PAR StoreServ 10000 Storage is the platinum standard for Tier 1 storage to meet the need of hybrid and private cloud and ITaaS environments delivering autonomic, efficient,
multi-tenant, and federated storage. Achieve six nines availability with the same trusted and proven architecture chosen by 3 out of 4 of the world's largest managed service providers (MSPs). Double VM density on your physical servers through a flash-optimized architecture designed to deliver the necessary I/O performance and workload agility to remove storage as a bottleneck in virtualized environments. Deliver uncompromising QoS for even the most demanding workloads. Use of unique thin technologies reduces acquisition and operational costs by up to 50% while autonomic management features improve administrative efficiency by up to tenfold.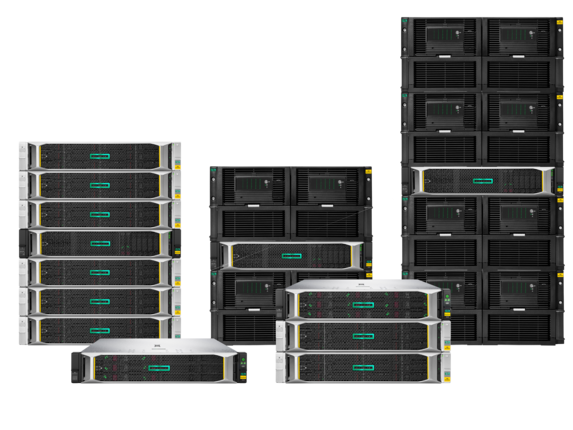 Is data growth resulting in increased backup times, missed SLAs and more management resources? Are you concerned about the threat from ransomware?

HPE StoreOnce Systems with StoreOnce Catalyst provide a single, high-performance backup architecture that spans the entire enterprise. You can reduce the amount of backup data you need to store by 95% and choose between powerful dedicated appliances for larger offices and data centers, and flexible virtual appliances for smaller and remote offices. Industry leading backup and restore speeds mean that you can meet shrinking backup windows and recovery SLAs. StoreOnce Catalyst prevents exposure of backup copies to ransomware.

With StoreOnce you can dedupe anywhere and control the movement of deduplicated data across the enterprise using your backup application. Using Cloud Bank Storage to cloud-enable your current backup and business applications, StoreOnce Systems provide even more flexibility to reduce your cost, risk and complexity.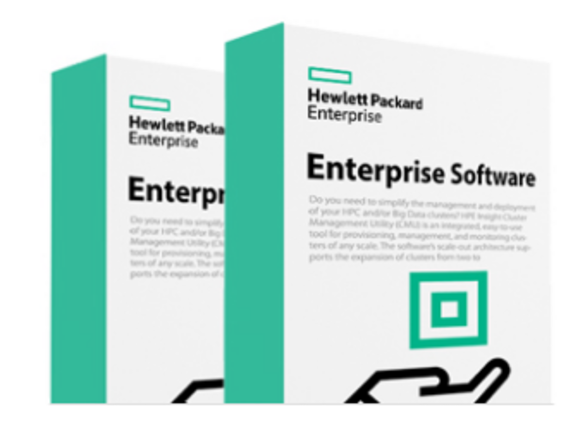 Are you looking for the storage efficiency of a deduplicating storage without the constraints of a purpose built appliance? If so, the HPE StoreOnce VSA meets your needs with the flexibility of a virtual appliance. You get all the features of purpose built StoreOnce Systems deployed as a software defined backup target. In addition the portability and availability features of vSphere and Hyper-V provide added flexibility and resiliency. Up to 500 TB of usable capacity can be configured in 1 TB increment. A StoreOnce VSA license server simplifies license management for large or dynamic VSA deployments. Intelligent Federated Management further simplifies the operations with multiple StoreOnce VSA instances managed through a single console. HPE StoreOnce VSA provides a flexible and a cost effective backup target for virtualized server environments as part of a pure software defined data protection solution or in conjunction with StoreOnce purpose-built appliances for mixed environments.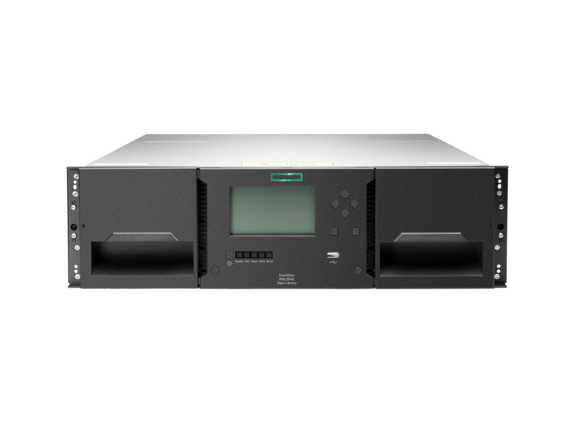 Is the global trend of exponential data growth affecting your business? The highly scalable HPE StoreEver MSL3040 Tape Library provides small to mid-sized organizations with flexibility for long-term data protection and retention of data storage assets. With its modular design and ability to reuse existing HPE MSL LTO upgrade drive kits, you can cost-effectively store up to 8.4PB [1] of data. The HPE StoreEver MSL3040 Tape Library offers exceptional enterprise features and functionality as standard providing advanced security features and reliability. It delivers a tape storage solution that addresses backup and long-term data management challenges such as storing medical records, video surveillance files or for business compliance.
Added to Your Shopping Cart
Product Availability by Store Location
Max 4 items can be added for comparison.