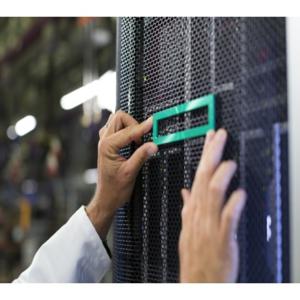 HPE FlexNetwork 7506 Switch Chassis
The HPE FlexNetwork 7500 Switch Series is a versatile, high-performance, modular switch designed for the evolving needs of integrated services networks. Deployed across verticals at the enterprise LAN core, aggregation layer and wiring closet edge it offers 40GbE connectivity, cost-effective wire-speed 10GbE ports, high-density PoE/PoE+, and advanced functionality with service modules.

With Hewlett Packard Enterprise Intelligent Resilient Fabric (IRF) technology, the 7500 Switch can be virtualized across four chassis with a single management interface—enabling flatter, more agile networks.
QuickSpecs
QuickSpecs
QuickSpecs (PDF)
QuickSpecs (HTML)
Select a solution / model
Need More Options in your configuration?
Existing selections will be lost. Click OK to proceed further.
More Information
What's New
Full Layer 3 networking, MPLS, and Layer 2/Layer 3 VXLAN in a campus network.
Powerful switching capacity of up to 4,160 Gbps.
Compact density with up to 480 ports of 10GbE.
Advanced security features include 802.1X, MAC Authentication, and MACsec.
Key Features
Versatile Switch Delivers Intelligent, Real-time Services for the Campus
The HPE FlexNetwork 7500 Switch Series is designed for the evolving network demands of campus LAN core, aggregation, and access layer.
This series offers up to 160 Gbps of switching capacity per slot using two switch and routing units (SRPUs) and up to 1440 W for PoE/PoE+ power per slot for mission-critical applications.
Broad offering of interfaces includes 40GbE connectivity, cost-effective high-density 10GbE ports and high-density PoE/PoE+ of up to 480 PoE/PoE+ ports for IP phones, cameras, and future high-density Internet of Things (IoT) deployments.
Includes advanced hardware feature sets such as VXLAN to build Layer 2 overlay networks using Layer 3 underlays, and MACsec for greater end-point or switch-to-switch security.
No hidden costs with the license-free Layer 2 and 3 feature set, including IPv6, MPLS functionality, and robust Quality of Service (QoS).
Architected for a High-performance Network
The HPE FlexNetwork 7500 Switch Series supports a maximum of 4,160 Gb/s switching capacity from a 2.4 Tbps ASIC, delivering enhanced performance and future expansion capability.
Delivers up to 2,380 Mpps of packet performance with dual fabrics performing all switching and routing functions in the I/O modules, meeting current and future demands of bandwidth-intensive applications.
HPE Intelligent Resilient Fabric (IRF) allows up to four 7500 Switch Series chassis to be virtualized into a single switching/routing fabric that improves network performance and resiliency, simplifying your deployment and management.
Robust Security and Quality of Service (QoS) Controls
The HPE FlexNetwork 7500 Switch Series includes a robust set of security and quality of service features to build a trusted network that meets your ever-changing corporate policies and compliances.
Flexible authentication options include 802.1X, MAC and Web Authentication, and Endpoint Admission Defense, delivering greater security and policy-driven application authentication.
Advanced distributed denial of service (DDOS) protection, such as DHCP Snooping, IP Source Guard, and ARP Protection, and flexible traffic controls, such as policy-based routing, QoS, and ACLs, are available to manage end-to-end application priorities.
The 7500 Switch Series includes a powerful set of multilevel-access security controls, such as varying security management login, RADIUS, SSH, TACACS/TACACS+, to protect and control change management access.
Single Management View of the Network
The HPE FlexNetwork 7500 Switch Series can be managed as a part of a larger network with HPE Intelligent Management Center (IMC) Software.
IMC provides end-to-end visibility and control of the wired network through comprehensive configuration, compliance and policy management.
IMC functions seamlessly in a multivendor network environment providing ease of management across the network edge to data center.
IMC supports port and traffic mirroring, RMON and sFlow.
* Prices may vary based on local reseller.
Find what you are looking for?
Need help locating the right product for your business?
Our product experts would love to chat with you to find products and services that enable opportunities and resolve your business problems.
Select country to get quote
Max 4 items can be added for comparison.