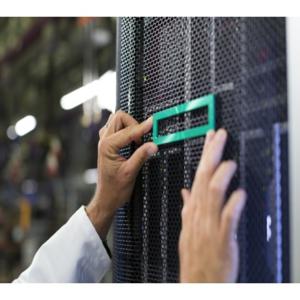 QLogic QMH2562 8Gb Fibre Channel Host Bus Adapter for HPE BladeSystem c-Class
The QMH2562 is a PCI Express based 8Gb Fibre Channel mezzanine card for the HPE c-Class BladeSystem that delivers twice the data throughput as the previous generation 4Gb mezzanine card. It is optimized for virtualization, low power usage, management, security, reliability, availability and serviceability. While providing leading edge 8Gb performance, it is also backward compatible with 4Gb and 2Gb Fibre Channel speeds.
Get Started
Financing available through HPEFS
Offered by HPE Reseller
More Information
What's New
Virtual Optimized
Power Optimized
Security Optimized
RAS Optimized
Key Features
Virtualization, power and security
QLogic QMH2562 8Gb Fibre Channel HBA for c-Class BladeSystem allows multiple logical (virtual) connections to share the same physical port. Each logical connection has its own resources and the ability to be managed independently.
QLogic QMH2562 8Gb Fibre Channel HBA for c-Class BladeSystem takes advantage of the QLogic StarPower technology ensuring a power efficient HBA. The QLogic StarPower technology offers features such as power and bandwidth intelligent PCIe link training and low-power switching power supplies.
QLogic QMH2562 8Gb Fibre Channel HBA for c-Class BladeSystem enables SAN-level authentication, fabric-level isolation, and end-to-end data integrity. Features include; authentication through FC-SP, data integrity through T10 CRC and access control in virtualized environments.
* Prices may vary based on local reseller.
Find what you are looking for?
Need help locating the right product for your business?
Our product experts would love to chat with you to find products and services that enable opportunities and resolve your business problems.
Select country to get quote
Max 4 items can be added for comparison.