HPE 1GB Ethernet Pass-Thru Module for c-Class BladeSystem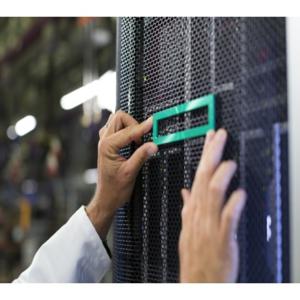 HPE 1GB Ethernet Pass-Thru Module for c-Class BladeSystem
The HPE 1Gb Ethernet Pass-Thru Module for c-Class BladeSystem is designed for those customers desiring an unmanaged direct connection between each server blade within the enclosure and an external network device such as a switch, router or hub. Ideal for datacenters with existing network infrastructure, the HPE 1Gb Ethernet Pass-Thru Module delivers sixteen internal 1Gb downlinks and sixteen external 1Gb RJ-45 copper uplinks, providing a 1:1 non-switched, non-blocking path between the server and the network. Designed to fit into a single I/O bay of the c-Class enclosure, the Ethernet Pass-Thru Module should be installed in pairs to provide redundant uplink paths to your network.
More Information
Key Features
Performance
Full Duplex 1G Ethernet only.
Sixteen RJ-45 ports in a single bay form factor.
1:1 non blocking architecture.
Wire speed
Management
No need for LAN management inside the enclosure.
Power, temperature and status can be monitored by the Onboard Administrator.
I2C communications support for iLO.
Options
The Ethernet Pass-Thru Module is shipped as a single unit and should be ordered in quantities of two.
406740-B21 Qty.1 HPE 1Gb Ethernet Pass-Through Module for c-Class BladeSystem
UE477E. Qty.1 HPE Support Services Enhanced 3-year Warranty
UE603E. Qty.1 BladeSystem Enhanced Network Configuration Service
* Prices may vary based on local reseller.
Find what you are looking for?
Need help locating the right product for your business?
Our product experts would love to chat with you to find products and services that enable opportunities and resolve your business problems.
Max 4 items can be added for comparison.