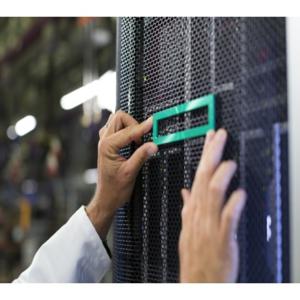 HPE XP Replication Manager Software
HPE XP Replication Manager Software enables you to create, manage, and maintain HPE XP Disk Array replication pairs. It provides centralized management of replication applications, decreases storage administration complexity, increases productivity, and improves service levels by providing a single enterprise view of the replication environment. It allows you to view replication status graphically in real time, improving your efficiency.

In addition to replication status, HPE XP Replication Manager Software also provides early warning of impending problems. It eliminates tedious data entry that can cause outages and simplifies difficult replication tasks. And it reduces costs and training expenses associated with replication management.
QuickSpecs
QuickSpecs
QuickSpecs (PDF)
QuickSpecs (HTML)
More Information
What's New
HPE XP Replication Manager Software replaces HPE XP Replication Monitor Software. HPE XP Replication Manager adds the ability to create and manage replication pairs.
HPE XP Replication Manager Software requires only the CLI/SMI-S portion of HPE XP Command View AE as a prerequisite. The full Command View AE implementation is not required.
Key Features
Accelerate Business Growth
Manage complicated replication environments from a single pane of glass using the graphical user interface that displays the status of HPE XP Business Copy and HPE XP Continuous Access replication pairs
Consolidate mainframe and open systems environments onto your HPE XP Disk Array and centrally monitor data replication status of both environments using the HPE XP Replication Manager link to Business Continuity Manager
Mitigate Risk
Early warning of impending problems
Create and manage three data center configurations, including delta resync pairs with a helpful wizard.
* Prices may vary based on local reseller.
Find what you are looking for?
Need help locating the right product for your business?
Our product experts would love to chat with you to find products and services that enable opportunities and resolve your business problems.
Select country to get quote
Max 4 items can be added for comparison.