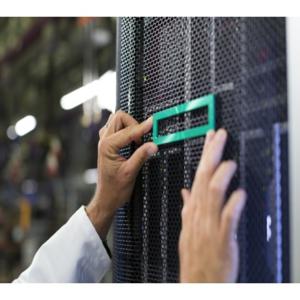 Can HPE Synergy provision physical servers at cloud-like speed? Using HPE Synergy Image Streamer, you can rapidly change images on multiple compute nodes in an automated manner. HPE Synergy Image Streamer works with HPE Synergy Composer to rapidly deploy and update multiple physical compute nodes. Operating environment images for bare-metal use might boot directly into a running OS, or VM hosts might perform quick image changeovers. This 'infrastructure-as-code' capability maximizes your return on your systems investment by quickly delivering applications and services and by enabling rapid workload switching (across Linux, ESX, or MS Windows). Enhanced profiles provide true stateless images, which are automatically integrated with server hardware configurations and operating environment images for simplicity of use. Programmatic access is also provided through the Unified API. Integrate, automate, and customize your operations using HPE Synergy Image Streamer.
Are your data centers struggling to consolidate large workloads without compromising performance? Delivering a truly agile and efficient IT infrastructure requires the transformation of traditionally rigid physical systems into flexible physical or virtual resource pools. HPE Synergy Composable Compute resources create a pool of flexible compute capacity that can be configured almost instantly to rapidly provision infrastructure for a broad range of applications. The HPE Synergy 660 Gen10 Compute Module delivers higher performance and scalability for your demanding, enterprise data-intensive workloads. The powerful Intel® Xeon® Scalable Family of processors (2 or 4 Socket), broad memory footprint (up to 6 TB of HPE DDR4 memory in 48 DIMM slots) and flexible I/O configuration give your large workloads, such as structured databases and business processing applications, the compute power and memory support they demand.
Added to Your Shopping Cart
Product Availability by Store Location
Max 4 items can be added for comparison.