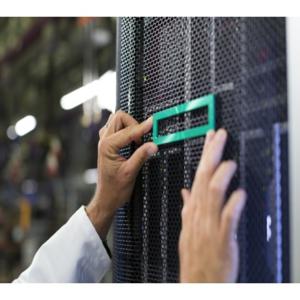 Red Hat OpenStack Platform Virtual Infrastructure Manager
HPE Red Hat® OpenStack® for network functions virtualization (NFV) is a carrier grade OpenStack platform that enables communications service providers (CSPs) to deploy NFV applications on open source software platforms. This platform combines the power of Red Hat® Enterprise Linux® (RHEL) with Red Hat OpenStack technology to deliver a scalable and secure foundation to build and manage the cloud. HPE helps to validate, create, deploy, scale, and manage a secure and reliable Red Hat OpenStack cloud architecture on HPE infrastructure for providers all over the world. HPE Red Hat® Ceph Storage's® highly available, software-defined storage along with HPE Red Hat OpenStack Platform is an integrated, optimized, and managed foundation for production-ready clouds. Both depend on Linux for system-wide performance, scalability, and security and as an operating system for the guest applications running in these virtual environments.
Get Started
Financing available through HPEFS
Offered by HPE Reseller
More Information
Key Features
Reliable Cloud Foundation
OpenStack relies on Linux and the HPE Red Hat® OpenStack® is co-engineered with Red Hat® Enterprise Linux®.
Fully redundant control plane with OpenStack controllers in quorum.
Ready-to-Use Cloud Storage
Pair OpenStack with Red Hat® Ceph Storage® for object, block, and file storage that improves cloud performance.
HPE allows for in-node, intra-rack and inter-rack scalability of Ceph Storage.
Red Hat Ceph Storage lets CSPs provision hundreds of virtual machines and build fully supported Red Hat OpenStack cloud platforms.
Granular 1TB storage licensing options available.
Deploy a Secure Private Cloud
With Red Hat Enterprise Linux at its core, HPE Red Hat OpenStack platform includes key security features such as Security-enhanced Linux.
HPE Red Hat OpenStack has earned some of the highest security credentials, including numerous federal certifications for deployments in government agencies.
Security Enhanced Linux (SELinux) military-grade security technologies prevent intrusions and protect data when running in public or private OpenStack clouds.
Extended Lifecycle
Standardize on a single version with at least 3 years of support, or add an additional support subscription for an extra 1 or 2 years for up to 5 years.
Use our integrated HPE Red Hat OpenStack director to deploy the latest features by updating with every new release.
OpenStack® is a trademark and/or registered trademark of the OpenStack® Foundation in the United States and other countries. Red Hat®, Red Hat® Enterprise Linux®, Red Hat® Ceph Storage® are registered trademarks of Red Hat, Inc. www.redhat.com in the U.S. and other countries. Linux® is a registered trademark of Linus Torvalds. All other trademarks are the property of their respective owners.® Linux® is a registered trademark of Linus Torvalds. Red Hat OpenStack Platform and Red Hat Ceph are a registered trademark of Red Hat Corporation
* Prices may vary based on local reseller.
Find what you are looking for?
Need help locating the right product for your business?
Our product experts would love to chat with you to find products and services that enable opportunities and resolve your business problems.
Select country to get quote
Max 4 items can be added for comparison.