Are you wondering how best to enable data access in today's work from home world?
Are you thinking about consolidating NAS and IT footprint across your remote sites when users return to the office?

HPE Solutions for CTERA solve enterprises' remote IT challenges for today and tomorrow. Organizations need solutions that enable remote IT when it's needed – such as during a global pandemic – and that also support a return to the office when the time comes. CTERA and HPE offer the fastest path to remote workforce enablement ("Remotifying IT") by extending the value of your existing infrastructure and remote IT file services delivery, improving the productivity of your workforce while lowering costs.

The joint solution allows enterprises to address the full continuum of global file services from edge locations to the HPE file and object storage and multicloud infrastructure of their choice – without breaking file access protocols, changing file structures, or compromising security.
Do you need edge-acceleration in your data center?
The Pensando Distributed Services Platform for Hewlett Packard Enterprise servers provides a powerful suite of software-defined services-like firewall, encryption, tunnelling, and VPN termination-directly to the server, dramatically boosting network and security performance by moving those services to the server edge, where the transition between network and server occurs
This revolutionary approach eliminates the need for an assortment of discrete appliances throughout the data center by integrating networking and security functions into a single device residing in a single server, tightly coupling policies to just that server and its users. No longer are server and user demands queuing behind unrelated demands on shared appliances. Coincidentally, because the functions are resourced at the server edge, performance and capacity scaling are incremental, observability is pervasive and granular, and latency is significantly reduced.
How can we manage data growth, as well as cut network attached storage (NAS) and backup costs while evolving to cloud and flash?

Drastically reduce NAS and backup costs by finding cold data and transparently archiving it to cost-efficient HPE storage. Analyze, move, and access data across any NAS and cloud with the industry leading Komprise solution from HPE Complete. In minutes, get much needed visibility into unstructured data across multi-vendor storage. Manage data at scale across on-premises and cloud without ever getting in front of hot data or metadata.

Komprise is delivered via the HPE Complete program, which provides a convenient one-stop purchasing experience with the security that the Komprise product is fully interoperability validated with HPE infrastructure, and easy-to-use integration guides and tools.

The Komprise Software provided by HPE Complete enables you to modernize your storage architecture and handle data growth with flat budgets.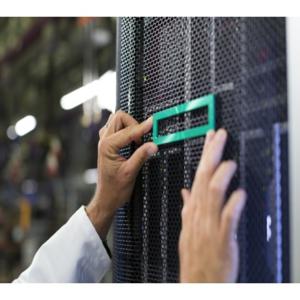 Increase stability and security in your data center
HPE Power Protector gives you the ability to establish power failure policies and automatically respond 24×7 to power faults or security risks without IT administrators present. Prioritize shutdowns in the event of a power failure to ensure that your data and hardware are fully protected. Delay restart based on defined load segments after a shutdown to sequence the startup of system components and perform UPS diagnostics to ensure the availability of adequate battery backup times.

Simplify management of UPS functions
Simple, effective management of environments, one UPS at a time. For users wanting ease of use, this is the tool to use. From load segmentation to power down prioritization and alert management, this tool offers everything needed from a single console. It even offers remote access via a web browser with secure SSL authentication. Simple, easy to read status ""gauges"" offer monitoring at a glance.

How can I simplify the complex storage deployments at my edge data centers?

StorMagic makes virtual SANs simple for edge computing to provide a lightweight alternative to overly complex storage deployments. The product, SvSAN, is designed for large organizations with thousands of sites and companies running small datacenters that require a highly available, two-server solution that is simple, cost-effective, and flexible.

StorMagic SvSAN removes the need for a physical SAN in some of the world's most demanding environments by converting the disk, flash, and memory of two servers into a virtual SAN. It is perfect for typical edge computing deployments such as remote or branch offices and small datacenters that require a small IT footprint.

Typical distributed IT operations using StorMagic are retail stores, factories, warehouses, wind farms, or oil rigs. In these deployments, SvSAN enables small hyperconverged clusters with a differentiated level of simplicity and affordability.
Added to Your Shopping Cart
Product Availability by Store Location
Max 4 items can be added for comparison.