HPE Apollo 8000 iCDU Rack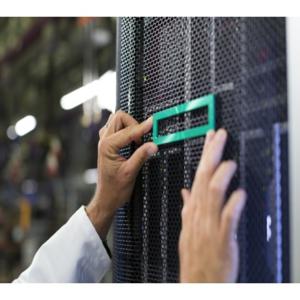 HPE Apollo 8000 iCDU Rack
The HPE Apollo 8000 Intelligent Cooling Distribution Unit (iCDU) Rack provides 320 kW of efficient and resilient cooling using the lower half of a standard rack footprint. The iCDU connects to a standard 2.5-inch facility water pipe and cools up to four HPE Apollo f8000 racks.

The iCDU serves as a heat exchanger between the primary facilities and the secondary IT cooling. It isolates the secondary IT cooling loop for consistent water quality, containment, pressure and flow. The secondary loop remains at sub-atmospheric temperatures and the water flowing from redundant iCDUs to HPE Apollo f8000 racks is pumped under vacuum keeping water in place, for operational resiliency and serviceability.
Smart sensors automatically track thermal activity, dynamically adjusting system components to enhance system cooling for optimum efficiency.

The iCDU comes with a modular plumbing kit with quick disconnect 2.5 inch stainless connectors and flexible hoses for fast and easy deployment.
QuickSpecs
QuickSpecs
QuickSpecs (PDF)
QuickSpecs (HTML)
* Prices may vary based on local reseller.
Find what you are looking for?
Need help locating the right product for your business?
Our product experts would love to chat with you to find products and services that enable opportunities and resolve your business problems.
Max 4 items can be added for comparison.