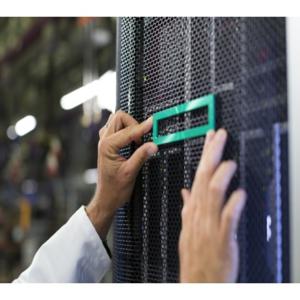 HPE Apollo f8000 Rack
With industry leading performance density, the HPE Apollo f8000 Rack holds up to 144 HPE ProLiant Servers with plenty of CPU, accelerator, memory and networking options in a standard rack footprint.
The HPE Apollo f8000 Rack powers HPC workloads with 3-phase high voltage AC, single stage power rectification and high voltage DC distribution. Smart sensors automatically track and dynamically adjust system components for optimum efficiency.

Water coming into the rack is distributed through manifolds that split out to thermal bus bars for heat transfer from the dry disconnect server trays. Water going out of the rack features isolation valves and is aggregated for energy recycling.

HPE Apollo 8000 System Manager provides real time data from hundreds of smart sensors and environmental controls, server data available with HPE Integrated Lights-Out, HPE Advanced Power Management, system monitoring, management and optimization.
QuickSpecs
QuickSpecs
QuickSpecs (PDF)
QuickSpecs (HTML)
* Prices may vary based on local reseller.
Find what you are looking for?
Need help locating the right product for your business?
Our product experts would love to chat with you to find products and services that enable opportunities and resolve your business problems.
Max 4 items can be added for comparison.