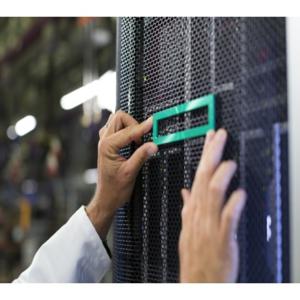 HPE XP P9000 Business Copy Software
HPE XP P9000 Business Copy Software is a local replication solution that provides data copies within a single HPE XP P9500 Storage, or in storage systems attached to a XP P9500 as external storage. XP P9000 Business Copy Software uses array-based replication technologies that do not interfere with host-level operations, allowing customers to spend time conducting business rather than worrying about how backup and testing operations will impact your systems.

Providing snapshots and mirrors, XP P9000 Business Copy Software reduces the cost of backups, accelerates recovery from failures, provides deployment flexibility, and simplifies application testing. Create full copies in physically separate locations within the array so that accesses to the copy will have no impact on the original production volume. Use the space-efficient snapshot capability to create frequent point-in-time copies of important volumes so that you can quickly restore data to an earlier version if necessary.
QuickSpecs
QuickSpecs
QuickSpecs (PDF)
QuickSpecs (HTML)
More Information
What's New
Significantly lower your IT expenditure with Meter-based Term licenses by purchasing software only for the period you use them
Key Features
Manage Data Availability Requirements for your Business without Compromising on Performance
Maintains multiple copies of critical data at local and remote sites, allowing recovery from planned and unplanned downtime. XP P9000 Business Copy integrates with XP P9000 Continuous Access Software to provide this extra measure of confidence that your data will be available when you need it.
You can create multiple copies of production data and make them available to backup applications. While the backup application utilizes the copy, the primary data remains available for the production application. Production applications continue with minimal impact from the backup process.
Both HPE Storage Data Protector Software and VERITAS NetBackup have been tightly integrated with HPE XP P9000 Business Copy Software to provide zero downtime and split-mirror backup solutions for HPE XP P9500 Storage in a variety of server environments.
With the snapshot feature you can create regular point-in-time copies of production data, permitting fast disk-based restores in the event of any problems with the primary data.
Manage Replication Across Internal or External Storage to Gain Cost Efficiency
Create separate copies of production data that can be independently accessed and modified without affecting production data. Copies can be used as source data to test new applications before introducing them to production.
One product provides multiple capabilities. You can mirror open systems volumes, mirror mainframe volumes, and you can create snapshots of open systems volumes, all in one convenient cost-effective product.
Quickly and easily understand complex data replication environments with HPE XP P9000 Replication Manager Software, a centralized web-based replication management tool.
You can use HPE XP P9000 Business Copy Software with external storage, providing flexibility to choose the performance and cost characteristics of data copies.
* Prices may vary based on local reseller.
Find what you are looking for?
Need help locating the right product for your business?
Our product experts would love to chat with you to find products and services that enable opportunities and resolve your business problems.
Select country to get quote
Max 4 items can be added for comparison.