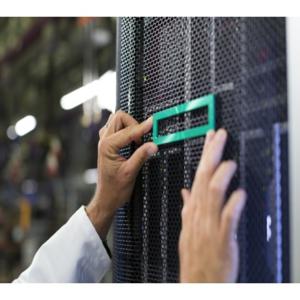 HPE Composable Rack
Are you looking to deploy an on-premises private cloud, built on HPE ProLiant DL360 Gen10, DL380 Gen10, DL560 Gen10 or HPE SimpliVity 380 servers, that is customized for cloud-native or bare metal workloads in a rack-scale environment?

HPE Composable Rack is an open private cloud platform, enabled by composability, that empowers IT to run mixed cloud-native virtual machine, container or bare-metal workloads in their data center. It provides a powerful integrated composable management experience across the included HPE ProLiant servers and HPE Composable Fabric.
The solution combines software-defined automation, compliance, and security to enable IT and developers to rapidly stand up and scale private cloud environments that are built on a fully programmable HPE infrastructure. With HPE Composable Rack, you can increase agility by reducing manual tasks while rapidly provisioning and scaling services. Do more, faster and easier.
QuickSpecs
QuickSpecs
QuickSpecs (PDF)
QuickSpecs (HTML)
More Information
What's New
Stand-alone license sales, including support for both new and previously deployed HPE servers that meet the HPE Composable Rack Support Matrix.
Support for HPE SimpliVity 380. Delivering the full features of HPE SimpliVity and based on the HPE ProLiant DL380 Gen10 server it delivers integrated server, storage, and storage networking services.
Support for HPE DL560 Gen10, optional Fiber-Channel storage HBAs, and HPE ProLiant DL380 Gen10 6126 2P 256GB 8SFF Server for All Flash 6 VMware vSAN Certified ReadyNode.
Increased solution scale to up to 240 HPE servers. With increased scale for up to 6 pairs of connected FM 3180 modules, the solution can now support up to 240 HPE servers in a single physical cluster.
Support for mixed use cases. The solution now allows multiple environments, such as HPE SimpliVity, VMware, Red Hat Openshift, and bare metal to be ordered within the same physical cluster.
Support for 640FLR-SFP28 FlexLOM Network Adapter. HPE ProLiant DL360 Gen10 and DL380 Gen10 servers may now be optionally ordered with the 640FLR-SFP28 or the 631FLR-SFP28 FlexLOM Network Adapter.
Key Features
Open for Flexibility and Choice
Open, unified API for flexible integration with toolsets across a broad partner ecosystem.
Supports HPE SimpliVity, VMWare®, Red Hat® OpenShift, and bare-metal use cases enabling customers to use preferred environments and tools, such as VMware vCenter®. Perfect for vSAN and other SDS options, with optional Fiber-Channel.
HPE ProLiant DL360 Gen10, DL380 Gen10, DL560 Gen10 and HPE SimpliVity 380 servers in the solution support broad configuration flexibility, including VMware vSAN™ ReadyNode configurations.
Build Cloud Environment and Apps Faster to Drive Business Innovation
The offering delivers an enhanced HPE OneView management experience with template-driven automation of the HPE ProLiant DL360 Gen10, DL380 Gen10, DL560 Gen10 and HPE SimpliVity 380 servers and HPE Composable Fabric.
Automate IT operations and deliver apps and services faster with HPE Composable Rack. The solution enables rapid deployment of your choice of HPE SimpliVity, VMware virtual machines, Red Hat OpenShift containers, or baremetal workloads for your new cloud-native workloads.
Included HPE Pointnext deployment services ensure a complete solution for quality and faster time-to-value, with the flexibility to support specific data center needs. Every solution includes HPE Proactive Care support.
Scale Seamlessly to Meet Changing Business Needs
Designed to enable large private clouds, HPE Composable Rack can scale up to 240 HPE SimpliVity 380, ProLiant DL360 Gen10, DL380 Gen10, or DL560 Gen10 servers. Buy a rack at a time and scale as you go.
HPE Composable Fabric provides flat, wire-once, and top-of-rack 25G server connectivity with programmatic control, easy rack-to-rack scaling, and broad compatibility with existing data center networks.
Shift Infrastructure Resources to Increase Business Agility
With network connections now included in server profile templates, it is fast and easy to deploy and redeploy compute and network resources either through HPE OneView or the complete API.
Modernize and transform IT with efficient and predictable consumption-based economics by deploying a validated, flexible, and scalable pre-engineered HPE solution. Solution may be optionally ordered with HPE GreenLake Flex Capacity.
QuickSpecs
Related Links
Hewlett Packard Enterprise Services
VMware, VMware vCenter, and VMware vSAN are registered trademarks or trademarks of VMware, Inc. in the United States and/or other jurisdictions.
Red Hat is a registered trademark of Red Hat, Inc. in the United States and other countries.
All other third-party marks are property of their respective owners.
* Prices may vary based on local reseller.
Find what you are looking for?
Need help locating the right product for your business?
Our product experts would love to chat with you to find products and services that enable opportunities and resolve your business problems.
Select country to get quote
Max 4 items can be added for comparison.