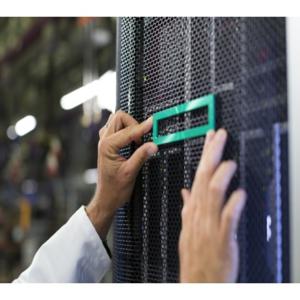 HPE FlexNetwork MSR95x Router Series
The HPE MSR95x Router Series delivers high-performance, small branch routing in a single, cost-optimized form factor. Featuring integrated routing, switching, wireless, security, and voice with no additional licensing, boost your service delivery while simplifying the management of the corporate wide area network (WAN). This series is flexible to deploy, with Zero Touch Provisioning and WAN options with LTE connectivity.

With Comware v7 and fiber connections, the MSR95x also brings the performance and advanced services available on modular routers, such as IPS and high encryption, to a fixed port form factor.
QuickSpecs
QuickSpecs
QuickSpecs (PDF)
QuickSpecs (HTML)
Select a solution / model
Existing selections will be lost. Click OK to proceed further.
More Information
What's New
Converged gigabit routing, 4-8 ports, wireless, and dual cellular WAN.
Comware v7 delivering enhanced security with IPS and high encryption.
Fiber connectivity with higher performance.
Single interface for configuration and management.
Support for OpenFlow and CPE WAN Management Protocol (CWMP).
Key Features
Reduces Complexity and Simplifies Your Network
The HPE MSR95x Router Series provides a Converged Infrastructure (CI) with integrated routing, switching, security, voice, and cellular WAN delivering high-performance small branch routing.
Makes administration easier when using the HPE Intelligent Management Center (IMC) Software.
Reduces management complexity with zero-touch deployment (ZTD) and Auto Discovery VPN (ADVPN).
Delivers increased flexibility in Comware v7 OS environments across multiple routers.
Enhances Time to Service and Branch Performance
The HPE MSR95x Router Series offers high-performance routing with up to 300 Kpps forwarding.
Simplifies your network with OpenFlow and Zero Touch Provisioning.
Deploys rich features with Comware v7 security, including IPS with high encryption, and dual gigabit WAN ports that support fiber and copper connections.
Supports branch services with a comprehensive feature set, including IPv4 and IPv6 routing, MPLS, QoS, NAT, and VPN services.
Increases Your Return on Your Investment
The HPE MSR95x Router Series offers an extensive range of models and accessories to enable the right design for your business, in a compact fixed-port platform.
Reduces your TCO through open standards, power and space savings, and energy-efficient hardware.
Deploy advanced features with no additional licensing.
Boost Agility and Resiliency.
The HPE MSR95x Router Series delivers branch service and business continuity with multiple network options including dual gigabit WAN, dual 3G/4G LTE WAN, and built-in WLAN.
With advanced hardware architecture, the MSR95X Router Series provides reliable, high-performance functionality
Gives you an open standards approach to your network infrastructure.
* Prices may vary based on local reseller.
Find what you are looking for?
Need help locating the right product for your business?
Our product experts would love to chat with you to find products and services that enable opportunities and resolve your business problems.
Select country to get quote
Max 4 items can be added for comparison.