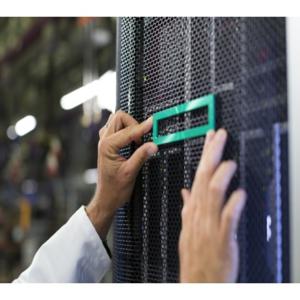 HPE Synergy Image Streamer
Can HPE Synergy provision physical servers at cloud-like speed? Using HPE Synergy Image Streamer, you can rapidly change images on multiple compute nodes in an automated manner. HPE Synergy Image Streamer works with HPE Synergy Composer to rapidly deploy and update multiple physical compute nodes. Operating environment images for bare-metal use might boot directly into a running OS, or virtual machine (VM) hosts might perform quick image changeovers. This 'infrastructure-as-code' capability maximizes your return on your systems investment by quickly delivering applications and services and by enabling rapid workload switching (across Linux, ESX, or MS Windows). Enhanced profiles provide true stateless images, which are automatically integrated with server hardware configurations and operating environment images for simplicity of use. Programmatic access is also provided through the Unified API. Integrate, automate, and customize your operations using HPE Synergy Image Streamer.
Get Started
Financing available through HPEFS
Offered by HPE Reseller
More Information
What's New
Certificate Manager user interface added for primary and secondary appliances.
VMware ESXi 6.7U1 support.
Support for Microsoft Windows Server 2019 and Microsoft Hyper-V Server 2019.
Key Features
One Infrastructure for Any Application
HPE Synergy Image Streamer can quickly provision an operating environment across a large number infrastructure blocks. It can deploy and update many systems quickly, possibly as fast of you can reboot servers, to quickly expand or change environments across Linux, VMware ESX, or Microsoft Windows.
This Synergy management capability is implemented using redundant physical appliances for production environments to maintain high availability in operations. These management appliances are automatically set up with active-active storage to control and protect your image repository.
Your image content might contain an OS or even a complete application stack. Your images can be quickly applied to multiple compute nodes to optimize your IT service deliveries.
Deploy at Cloud-like Speed and Scale
HPE Synergy Image Streamer enables true stateless operation by integrating your server profiles with your golden images (OE and I/O driver) and your personalities (OS and application). Stateless operation can be used to plan environments early for fast implementation onto available hardware later.
Deployments are rapidly executed from your library of images (using your tested operating environments and personalities) for quality and consistency. Reference architectures for software like Docker, Oracle, or VMware are available to help you to start quickly and scale to meet your requirements.
Updates can capture your golden image and re-deploy the revised boot image for use by multiple compute nodes. Server profile templates bring the power of 'infrastructure-as-code' to help you easily control multiple server profiles.
Automate Everyday Operations
Workload switching can increase your system utilization by changing workloads on the same Synergy system -- as fast as servers can be rebooted. (As a simple example, systems running VDI workloads during the day can run compute-intensive workloads at night, and switch back to VDI again the next day.)
HPE Synergy Image Streamer automatically sets up configurations and integrations with HPE Synergy Composer for server profile use. Access to HPE Synergy Image Streamer is implemented through the HPE Synergy Composer server profile or through the unified API.
Bare-metal HPE Synergy Compute Modules can be booted directly into a running OS to reduce operational efforts. If your golden image contains an application stack, then the bare-metal compute nodes would boot directly into the application stack. This can accelerate your time-to-service.
Develop Apps Faster and Smarter
The Unified API enables programmatic control of HPE Image Streamer by developers and users for integration, automation and customization. You can script these operations through modern RESTful interfaces using tools like Python, Powershell, Ruby or Java -- and optimize control using the Unified API.
The HPE Synergy Image Streamer boot environment uses deployment processes which do not involve the compute nodes. Security is enhanced by avoiding use of the PXE Boot utility. These protections ensure continued productivity.
Automation tool integrations for HPE Synergy Image Streamer are available from partners like Ansible, Chef, Puppet, and VMware. These tools enable a variety of automation operations to make your workloads run faster and smarter.
Tools for customizing your images and environment are provided, along with reference implementations. This enables you to use your specific OS images and versions. For some operations like capturing your golden images, you may also choose to use your own tools and edit existing images.
* Prices may vary based on local reseller.
Find what you are looking for?
Need help locating the right product for your business?
Our product experts would love to chat with you to find products and services that enable opportunities and resolve your business problems.
Select country to get quote
Max 4 items can be added for comparison.