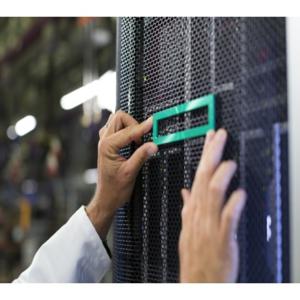 HPE StoreFront Analytics for VMware Software
The HPE StoreFront Analytics software provides customers using HPE 3PAR StoreServ/StoreVirtual storage with operational dashboards to gain deep insights and visibility into the health, risk and efficiency of the storage infrastructure's performance and capacity capabilities.

HPE StoreFront Analytics integrates directly into VMware vRealize Operations Manager through an additional dashboard specific to HPE storage. This dashboard allows VMware vSphere administrators to quickly view storage capacity, performance metrics, health information and allows to easier troubleshoot scenarios that span across virtual and physical layers, which includes the HPE 3PAR StoreServ and HPE StoreVirtual storage layer.
By actively analyzing and providing alerts on the health of the virtual machines, datastores and storage, the VMware vSphere administrator's productivity increases, as does the ability to rapidly identify and troubleshoot potential problems and ensure consistent, predictable quality of service.
Get Started
Financing available through HPEFS
Offered by HPE Reseller
More Information
What's New
Supports VMware vRealize Operations Manager 6.0
Key Features
Preconfigured Dashboards Highlight Key HPE Storage Information
Performance data is abstracted to health, risk and efficiency measures that allow IT to efficiently identify building performance problems with less effort.
HPE Storage Monitoring Dashboard: Provides summary and detailed information about the HPE storage system in the VMware vSphere environment, including HPE storage system health, capacity information, top resource utilization objects and HPE storage system alerts.
HPE Storage Troubleshooting Dashboard: Provides summary and detailed information about VMs and how they map to HPE storage volumes, pools, disks and ports. Includes graphs for key performance metrics such as IOPS and bandwidth, which are displayed in relation of the VMs to volume dependency graph.
HPE Storage Performance Dashboard: Lists the top 5 resources that are being heavily utilized among configured storage arrays. The user can tell which volumes are running out of space, which ports have high response time, or which disks are doing the maximum IOPS, or what the deduplication ratio is.
Visibility Across Physical Storage and Virtualized Applications for Rapid Problem Resolution
Provides a single pane of glass management of virtual and physical storage infrastructure to help visualize the relationships between physical and virtual physical storage resources.
Allows for easier troubleshooting of storage related problems and bottlenecks as VMs can be mapped back to the underlying physical storage infrastructure that they reside on.
Proactively avoid performance issues and gain deep insights into the health, risk and efficiency of your virtual and physical infrastructure, operating systems and applications.
Enables Optimal Resource Utilization to Maximize Storage Performance and Capacity Efficiency
Self-learning performance analytics and dynamic thresholds adapt to the environments to provide fewer and specific alerts of health degradations, performance bottlenecks and capacity shortfalls.
Automated capacity optimization reclaims over-provisioned resources and increases resource utilization, flexible capacity and cost reporting capabilities provide deep visibility into resource consumption trends.
VMware® is a registered trademark of VMware, Inc. in the United States and/or other jurisdictions.
vCenter™ is a trademark of VMware, Inc. in the United States and/or other jurisdictions.
vSphere® is a registered trademark of VMware, Inc. in the United States and/or other jurisdictions.
Intel® is a trademark of Intel Corporation in the U.S. and other countries.
* Prices may vary based on local reseller.
Find what you are looking for?
Need help locating the right product for your business?
Our product experts would love to chat with you to find products and services that enable opportunities and resolve your business problems.
Select country to get quote
Max 4 items can be added for comparison.