HPE Smart Array P840 Controller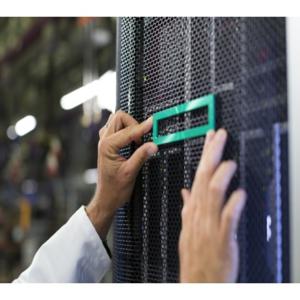 HPE Smart Array P840/4GB FBWC 12Gb 2-ports Int SAS Controller
Are you looking to add additional storage within the server or looking for advanced features for your server?

The HPE Smart Array P840 Controller is a full height, PCIe3 x8, 12 Gb/s SAS RAID controller that provides enterprise-class storage performance, increased internal scalability, and data protection for HPE ProLiant Gen9 rack and tower servers. It features 16 internal physical links and delivers increased server uptime by providing advanced storage functionality, including online RAID level migration between any RAID levels with FBWC, global online spare, and pre-failure warning. This controller supports 16 drives without need for the SAS Expander Card providing point to point connectivity to SSDs for lower latency. This controller has transportable FBWC allowing the data in the cache to be migrated to a new controller.

The Gen9 controllers support the HPE Smart Storage Battery that allows multiple Smart Array controllers to be supported, resulting in simple upgrade process.
*Image may differ from actual product
More Information
Increased Performance for Smoother Operations While Providing Lower Latency
The HPE Smart Array P840 Controller delivers 12 Gb/s SAS connectivity for HPE ProLiant Gen9 Servers when connected to 12 Gb/s internal storage devices for increased performance in messaging, database or general server applications.
Offers transportable 4 GB DDR3-1866 Flash Backed Write Cache (FBWC) providing up to 14.9 GB/s cache bandwidth to reduce latency in write-intensive applications that require heavy logging such as databases.
HPE SmartCache comes standard with this controller providing both read and write acceleration for workloads such as databases or web pages.
This controller supports up the 16 drives without need for the SAS Expander Card providing point to point connectivity to SSDs that provides the lowest latency.
Data Protection with Encryption Capability
The HPE Smart Array P840 Controller offers optional HPE Secure Encryption capability that protects data at rest on any bulk storage attached to the controller.
Long-term data retention with 4 GB Flash Backed Write Cache (FBWC) for improved data reliability.
Delivers predictive spare activation for improved rebuild and increased uptime even in a recovery mode.
Configuration Is Efficient and Simple
The HPE Smart Array P840 controller allows eight plus eight Small Form Factor (SFF) drives to be attached, configured and managed by the easy–to-use HPE Smart Storage Administrator software which is included in the intelligent provisioning of the server.
Data compatibility between the HPE Smart Array Controller family allows simple and easy migration at any time when needs for higher performance, capacity, or availability increase such as converting an existing storage volume to more advanced disk array configuration.
Max 4 items can be added for comparison.