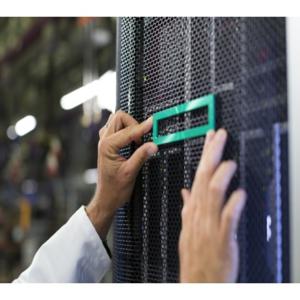 HPE Business Critical Hard Drives
Do your HPE servers and storage platforms need high capacity and proven performance hard drives to optimize your business critical data storage workloads?

HPE Business Critical Hard Drives are engineered to deliver the highest capacity, performance, reliability and data security across your data center applications. HPE Business Critical Hard Drives allow you to store more data without sacrificing performance or reliability. HPE Business Critical Hard Drives are available in both 3.5-inch Large Form Factor (LFF) and 2.5-inch Small Form Factor (SFF) and ship with a standard one-year warranty. All HPE hard drives pass a rigorous qualification process, which certify that every drive is proven to perform in your HPE server and storage environments. All HPE hard drives include digitally signed firmware which helps prevent unauthorized access to your data.
Get Started
Financing available through HPEFS
Offered by HPE Reseller
Select a Solution / Model
Existing selections will be lost. Click OK to proceed further.
More Information
What's New
Introducing the market-leading 20 TB SAS/SATA HDD, which is offering the highest capacity for more petabyte per rack.
Introducing 10 TB air-filled SAS/SATA HDD which provides lower price per GB in the same capacity, replacing the old Helium-filled 10 TB.
Offering more capacities in Basic Carrier (BC) to support the latest platforms.
Key Features
HPE Hard Drives Deliver High Performance and Reliability Across HPE Server and Storage Platforms
HPE Hard Disk Drives (HDDs) are enterprise-class drives for demanding 24x7 data center environments
HPE HDDs are validated and tested with on-going quality monitoring throughout their lifecycle
Enhance Total Server Storage Capacity for Business Critical Workloads with HPE HDDs
HPE offers highest capacity 20 TB hard drives that are ideal for digital content, bulk storage, cloud and web environments
HPE Business Critical Hard Drives offer high capacity for economic bulk storage
HPE HDDs are Engineered to Deliver High Capacity, Performance, Reliability and Data Security
HPE HDDs are engineered to maximize total server storage capacity within data center environments
HPE HDDs help prevent unauthorized access to your data with Digitally Signed Firmware
HPE HDDs help simplify the cost and complexity of re-purposing or disposing of drives while protecting data with Instant Secure Erase (ISE) technology
Simplify HDD planning and standardize HDDs across HPE server and storage solutions
Common HPE HDD carriers offer consistency and compatibility across HPE server and storage platforms
* Prices may vary based on local reseller.
Find what you are looking for?
Need help locating the right product for your business?
Our product experts would love to chat with you to find products and services that enable opportunities and resolve your business problems.
Select country to get quote
Max 4 items can be added for comparison.