HPE IMC Service Operation Management Software
HPE IMC Service Operation Management Software Module E-LTU
The HPE IMC Service Operation Manager (SOM) Software platform is an Intelligent Management Center (IMC) module that focuses on operations and management flow to provide full IT lifecycle management adhering to ITIL v3.0 including services like policy design, operation, and configuration improvement.

The IMC SOM Software provides controls, measures, and audit capabilities for configuration changes, fault identification, and recovery, reducing IT manual involvement and cost by allowing end users to recognize known network issues and track service requests.
Image may differ from actual product
More Information
0

items
Selected for comparison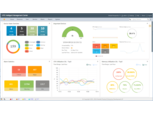 HPE IMC Service Operation Management Software Module E-LTU
Electronic license for HPE IMC Service Operation Management module
---
What's New
Real-time, accurate configuration database.
Integration with alarming and configuration center.
Centralized knowledge base for self-resolution of network issues.
Complete service operation flow management.
Key Features
Lifecycle Management of IT Network Operations
The HPE IMC Service Operation Manager (SOM) Software provides lifecycle management of IT network operations from ticket creation to status checks to execution and resolution.
End users can manage and recognize their own network issues and track service requests, reducing overall IT involvement.
Configuration management allows for the automated and manual setting of control mechanisms and audit configuration changes.
Integration with alarming reduces maintenance by enabling problem recognition, improving network efficiency, stability, and quality.
Customization of Networking Experience
The HPE IMC Service Operation Manager (SOM) Software tailors flow management to operations management based on predefined templates appropriate for an organization.
Leverage a centralized knowledgebase for issue resolution and problem identification.
Easily interfaces between end users and administrators to reduce IT time in both operations and management.
Related Links
Additional Resources
Download the module
Max 4 items can be added for comparison.