Brocade 8Gb SAN Switch for HPE BladeSystem c-Class
Brocade 8/24c Power Pack+ SAN Switch for BladeSystem c-Class
The Brocade 8Gb SAN Switch for HPE BladeSystem c-Class delivers an easy to manage embedded native Fibre Channel switch with 8 Gb/s performance. The affordable Brocade 8Gb SAN Switch hot-plugs into the back of the HPE BladeSystem c-Class Enclosure. The integrated design frees up rack space, enables shared power and cooling, and reduces cabling and the number of optics. Enhanced trunking support with external switches provides higher bandwidth to enable demanding applications such as server virtualization. New features in the Power Pack+ option enable you to manage data flow to maintain optimized application performance. The 12 or 24 auto-sensing ports support lower bandwidth components for investment protection and an upgrade license enables you to 'pay as you grow'. The Brocade 8Gb SAN Switch saves space and cost, significantly simplifies the SAN environment, enables easier deployment and management, and delivers the performance required for emerging higher throughput applications.
Image may differ from actual product
More Information
0

items
Selected for comparison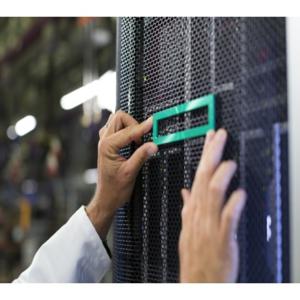 Brocade 8/24c Power Pack+ SAN Switch for BladeSystem c-Class
Brocade 8 Gb and 24-port power pack plus storage area network switch for HPE BladeSystem c-Class
---
What's New
Compliance with the Restriction of Hazardous Substances (RoHS) directive, new updates to comply with RoHS 2016 requirements.
Key Features
High Performance
Affordable 8Gb FC SAN Switch enables data center consolidation with HPE BladeSystem c-Class through a state-of-the-art zero-footprint design while lowering cost through shared power and cooling, fewer cables and SFPs, and a reduction in space.
Supports virtualized environments and other emerging technologies through high-speed technology that doubles the performance of the storage network. Both internal and external facing ports auto-sense lower bandwidth components for flexibility and investment protection (2, 4, or 8 Gb).
Includes connection speed support for all ports to provide a high-performance system with aggregate bandwidth of up to 384 Gb/s (24 ports x 8 Gb/s x 2 for full duplex).
Extensive Enterprise SAN Management software.
Scalable and Flexible SAN Extension
Providing support for up to a single trunk made up of all eight SAN ports for a total of up to 64 Gb/s balanced throughput. Trunking of the SAN-facing ports with external Brocade or HPE B-series Switches provides a high-bandwidth solution while lowering costs through fewer SFPs and cables.
Allows organizations to better manage data flows and meet service level agreements (SLAs) while maintaining optimized application performance in virtual environments with new Adaptive Networking services, including Adaptive Fabric Quality of Service, Traffic Isolation, and Ingress Rate Limiting.
Employs N Port ID Virtualization (NPIV), an ANSI T11 standard, to enable interoperability with other SAN fabrics and eliminate domain considerations while improving SAN scalability.
Integrated Architecture and Management
Integrates with HPE Onboard Administrator for BladeSystem, HPE Systems Insight Manager, and HPE Storage Essentials and leverages HPE B-series management and monitoring tools. An SMI-s API enables the use of industry standard interfaces to integrate management with other applications.
Available in 12-port, 24-port and 24-port Power Pack+ Full Fabric models. Choose the features and management options that make sense for your needs. In addition.
Enables 'pay as you grow' scalability for easy, scalable growth in dynamic business environments with a non-disruptive 12-port upgrade for the 12-port model.
Related Links
Downloads
Hewlett Packard Enterprise Services
Brocade® is a registered trademark of Brocade Communications System, Inc.
Max 4 items can be added for comparison.