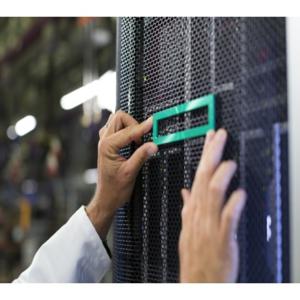 HPE XP P9000 External Storage Software
In today's business world, mergers, acquisitions, and technology changes have created IT environments where varieties of dissimilar servers and storage must co-exist. HPE XP P9000 External Storage Software decreases the stress and reduces the cost of owning heterogeneous data storage by simplifying and centralizing common SAN management tasks through storage virtualization. In addition it simplifies movement of data between dissimilar arrays. HPE XP P9000 External Storage Software provides these benefits by giving you the ability to access, monitor, and manage data residing on a variety of different disk arrays as if all of the data were residing on an HPE XP P9500 Storage.

Through advanced virtualization technology, HPE XP P9000 External Storage Software enables the hosting of HPE XP P9500 Storage data on externally attached disk arrays. Servers can see the capacity of the various arrays, but are insulated from the physical attributes.
Get Started
Financing available through HPEFS
Offered by HPE Reseller
More Information
What's New
Significantly lower your IT expenditure with Meter-based Term licenses by purchasing software only for the period you use them
Key Features
Simplify your Storage Environment with Storage Virtualization
Connect open systems and mainframes through a central location to multiple petabytes of data residing in dissimilar disk arrays, thus increasing the capacity that you can manage and easing the consolidation effort in environments that have a wide variety of storage and computing systems.
After external volumes have been provisioned and presented to the HPE XP P9500 Storage, External Storage allows you to manage the capacity of those volumes from the HPE XP P9500 centralized controller and management software as if it belonged to XP P9500 volumes - simplifying management.
Data contained within the HPE XP P9000 External Storage virtualized storage pool can be transparently migrated to any device within the pool without SAN or server reconfiguration. This provides flexibility and improved efficiency while reducing impact on users.
Manage your Legacy, Current and Future Storage as One Single Resource
When you use XP P9000 External Storage to connect your disk arrays to a XP P9500 Storage, the externally attached disk arrays appear to be part of the XP P9500 Storage. Therefore you can simplify your backup and restore environment by using a single backup agent for all of your diverse disk arrays.
Use HPE XP P9000 External Storage Software with confidence, knowing you can connect HPE disk arrays like the MSA, EVA and XP P9000 Storage families as well as disk arrays from IBM, EMC, HDS and SUN.
* Prices may vary based on local reseller.
Find what you are looking for?
Need help locating the right product for your business?
Our product experts would love to chat with you to find products and services that enable opportunities and resolve your business problems.
Select country to get quote
Max 4 items can be added for comparison.