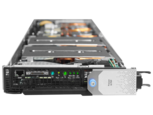 Fuel ground breaking research in science and engineering with leading edge technology, while going greener than ever before. The HPE ProLiant XL750f Gen9 Server supports NVIDIA® Tesla® K40 XL GPUs. Applications that benefit from GPUs include seismic processing, biochemistry simulations, weather and climate modeling, image, video and signal processing, computational finance, computational physics, CAE, CFD, and data analytics.

The HPE Apollo 8000 System reaches new heights of performance density, with 4x the teraflops per square foot and up to 40% more FLOPs per watt than comparable air cooled servers. [1] At the same time, the HPE Apollo 8000 System helps reduce your carbon footprint, saving up to 3,800 tons of CO2 per year. [2] That's about the same amount of CO2 produced per year by 790 cars!
Added to Your Shopping Cart
Product Availability by Store Location
Max 4 items can be added for comparison.