Rack and Power Infrastructure
Rack and Power Infrastructure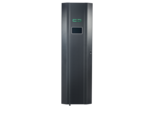 Is your IT power demand scaling faster than your cooling capacity? The HPE Adaptive Rack Cooling system allows for increased computing power without adding to the heat load in the data center. Using a closed-loop, room-agnostic design, the HPE Adaptive Rack Cooling system is capable of cooling fully populated racks, even with top bin processors. The horizontal airflow of the HPE Adaptive Rack Cooling system fully supports industry-standard front-to-back cooling designs and standard server dimensions. Additionally, the implementation of variable speed fans within the system, enables improved energy efficiencies by providing the right volume of airflow to all devices, regardless of the mounting position or workload. By increasing power density without the need for extensive cooling upgrades, the HPE Adaptive Rack Cooling system can economically extend the life of the data center.

Do you need consolidated server access, management, and control for desktop and rack-mount environments?
The ATEN G2 Standard Series Analog KVM Switch for HPE offers a cost-effective solution. Target device selection is easy with 3 options: port selection through push-buttons on the switch, hotkey combinations from the keyboard, or a menu-driven on-screen display. This switch easily connects servers with KVM consoles such as the HPE LCD8500 1U Rackmount Console kit, or other monitor, keyboard, and mouse configurations.The ATEN G2 switch combines multi-platform OS support with a selection of models featuring up to 16 ports and tiering support for up to 256 devices. This switch features two-level password security for authorized users to view and control connected devices, while supporting 4 user profiles and an administrator profile. All ATEN G2 KVM Switch models are backed by HPE Foundation Care extensions, which match the server's warranty and service levels at no additional cost.
Added to Your Shopping Cart
Product Availability by Store Location
Max 4 items can be added for comparison.