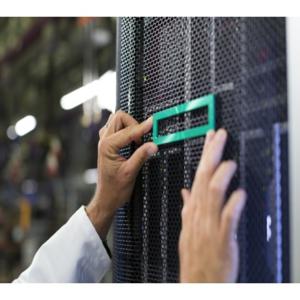 HPE FlexFabric 10Gb 2-port FLR-SFP+ 57810S Adapter
Are you looking for a 10Gb Ethernet adapter with configurable flexibility to prepare for the new hybrid server infrastructure?

Increased data center workload demands are putting pressure on server I/O. The HPE FlexFabric 10Gb 2-port FLR-SFP+ 57810S Adapter increases throughput for the HPE ProLiant DL and SL Server series by using the innovative HPE FlexibleLOM form factor to offer dual-ports in an SFP+ adapter configuration that includes new storage I/O functionality, making it a full Converged Network Adapter. This is the solution of choice for workload-intensive computing environments. If you are looking for a 10GbE Adapter, the HPE FlexFabric 10Gb 2-port FLR-SFP+ 57810S Adapter offers everything you need plus the advanced features included in the FlexFabric series to simplifying your network and storage topology.
Select a solution / model
Existing selections will be lost. Click OK to proceed further.
More Information
Key Features
Accelerates Server Performance
The HPE FlexFabric 10Gb 2-port FLR-SFP+ 57810S Adapter boosts network performance with full line-rate 10GbE throughput across all ports.
Provides increased server performance by delivering full hardware offload for storage traffic.
Robust Virtualization Capabilities
The HPE FlexFabric 10Gb 2-port FLR-SFP+ 57810S Adapter delivers Single Root I/O Virtualization (SR-IOV) support to allow multiple operating systems to share a physical interconnect.
Enhances network management and efficiency with support for VLAN tagging.
Streamlines Deployment and Management
Makes BroadcomQLogic Ethernet solutions available across a wide range of HPE server platforms.
Unifies NIC and storage management using HPE ProActive Insight architecture.
Network Partitioning to Reduce Network Sprawl and Take Full Advantage of Bandwidth
Allowing administrators to configure a 10 Gb adapter as four separate partitions or physical functions. Eliminate multiple NICs, HBAs, cables consolidating multiple connections on to one network adapter.
Ideal for customers in virtual server environments by allowing them to segment the high performance connection and provide the right amount of network bandwidth to the applications.
* Prices may vary based on local reseller.
Find what you are looking for?
Need help locating the right product for your business?
Our product experts would love to chat with you to find products and services that enable opportunities and resolve your business problems.
Select country to get quote
Max 4 items can be added for comparison.