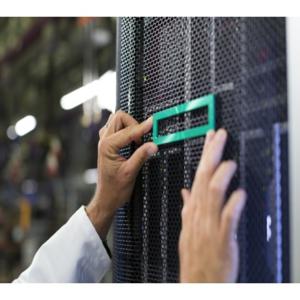 HPE Network Orchestrator
How is your enterprise responding to the digital transformation? Are your data centers under pressure to deliver greater performance, agility and operational efficiency to address data growth and dynamic business demands?

The HPE Network Orchestrator modernizes the storage network enabling businesses to increase productivity, scale and improve the efficiency of their storage investments. SAN configurations are often tedious and prone to human-errors and often in multi-protocol environments. Delivering automation, orchestration and fabric services empowers administrators to provision storage error-free and arrange fabric services for increasing fabric resiliency. HPE Network Orchestrator delivers protocol agnostic, fabric configuration validation with Single Point of Connectivity Knowledge (SPOCK), assessing the health of physical ports with self-healing, fabric monitoring, while performing end-to-end diagnostics, using predefined templates to reduce configuration errors.
QuickSpecs
QuickSpecs
QuickSpecs (PDF)
QuickSpecs (HTML)
More Information
Key Features
Orchestrate Fabric Services Across Multi-protocols
The HPE Network Orchestrator arranges and monitors end-to-end multi-protocol fabrics with HPE Storage family of products to increase fabric uptime, resiliency, and predictability. Automate fabric services for FC and iSCSI protocols for HPE Storage.
Predefined and custom templates enable fabric configuration's consistency and repeatability.
Quickly generate templates that are pre-configured and/or customized configurations, which can be applied to managed elements on specific devices thereby reducing human-errors while facilitating sharing of best practices.
SAN Pre-deployment Verification with HPE SPOCK Assurance
The HPE Network Orchestrator validates the integrity, interoperability, and compliance of Hewlett Packard Enterprise storage, servers, and network fabric infrastructures before or during deployment.
Keep the SAN and fabric infrastructure in ideal health by making informed decisions with better supportability and predictability.
Assess, report, and remedy for improved fabric health.
Visualize Managed Elements of the Fabric End-to-end
The HPE Network Orchestrator allows the administrator to understand what devices are connected end-to-end and provide fabric visibility by launching a sequence of steps to create the topology view of the managed elements.
Support: HPE Storage, HPE M-series Ethernet switches, HPE B-series and C-series Fibre Channel switches, HPE Complete partner products, qualified 3rd party Ethernet switches, adapters (HBAs, NICs, CNAs), cables and optical transceivers.
End-to-end Monitoring With Self-healing Capabilities
The HPE Network Orchestrator monitors activities and generates events for action, auditing, and reporting.
Administrators can monitor various parameters end-to-end to make informed decisions based on alerts, with other fabric services to remedy a situation. Delivering an easy way for administrators to be altered about storage networking issues.
Builds on the basic diagnostic ready fabric capabilities with advanced diagnostic assessment to monitor and quickly identify states of physical ports for root cause analysis, failure impact assessment, and self-healing for improved performance.
Windows is either a registered trademark or trademark of Microsoft Corporation in the United States and/or other countries. Linux is the registered trademark of Linus Torvalds in the U.S. and other countries. VMware ESX is a registered trademark or trademark of VMware, Inc. in the United States and/or other jurisdictions. All other third-party trademark(s) is/are property of their respective owner(s).
* Prices may vary based on local reseller.
Find what you are looking for?
Need help locating the right product for your business?
Our product experts would love to chat with you to find products and services that enable opportunities and resolve your business problems.
Select country to get quote
Max 4 items can be added for comparison.