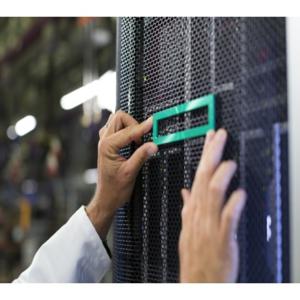 HPE Mission Critical Hard Drives
Do your servers need high-performance Enterprise Hard Drives for both your mission-critical and I/O-intensive applications?

HPE Server Enterprise Hard Drives offer a high level of performance and reliability for your most demanding application workloads. Enterprise drives help you improve server response times, power more transactions per second, and accelerate data transfer (I/O) speeds. HPE Server Enterprise Hard Drives are backed by over 3.35 million hours of the industry's most rigorous testing and qualification program1, helping ensure reliable, rugged drives. Prevent unauthorized access to your data with digitally signed firmware from HPE. It provides the security and assurance that drive firmware comes from a trusted source and protects against malicious attacks. The self-describing icons on the HPE Smart Carrier takes the guesswork out of a drive's status, and a "do not remove" button prevents data loss from human error.
Select a Solution / Model
Existing selections will be lost. Click OK to proceed further.
More Information
What's New
New 1.2 TB and 2.4 TB 10K Small Form Factor (SFF) Mission Critical Self-Encrypting (SED) Hard Drives with Basic Carrier (BC).
Up to 900 GB 15K SAS Small Form Factor (SFF) and Large Form Factor (LFF) Mission Critical Hard Disk Drives with Basic Carrie (BC) and Low Profile Carrier Converter (LPCC).
Up to 2.4 TB 10K SAS SFF mission critical HDDs with Basic Carrier (BC).
Offering 600GB 10K/15K and 1.8TB 10K SAS SFF in BC to support the latest platforms.
Key Features
Performance and Reliability for Any Workload
HPE Server Enterprise Hard Drives are ideal for transaction processing, database applications, Big Data analytics, and high-performance computing (HPC).
Broad portfolio of customized solutions provides up to 2.4 TB of storage.
Efficient drives provide power for space-constrained data centers.
Latest 12G SAS interface for increased performance.
Stable and consistent portfolio of drives offering long life cycles and steady supply.
1 HPE Internal Lab Testing. 3.35 million hour test quant is derived from a combination of drive qualification test plans, specifically HDDQ spec-supplier responsibility to perform, HDDQ spec-HPE responsibility to perform, RDT-Reliability Demonstration test spec, CSI integration test spec and Pilot test requirements. Test conducted May 2017.
* Prices may vary based on local reseller.
Find what you are looking for?
Need help locating the right product for your business?
Our product experts would love to chat with you to find products and services that enable opportunities and resolve your business problems.
Select country to get quote
Max 4 items can be added for comparison.