Do you want to improve your performance and bandwidth without increasing your hardware complexity?

The HPE Synergy 6820C 25/50Gb Ethernet Adapter provides more than two times the bandwidth compared to 10/20Gb adapters. Therefore, it simplifies hardware implementation by reducing the number of adapters, associated switches and compute modules required to achieve higher bandwidth.

The networking acceleration on this adapter alleviates the CPU utilization, increases the number of virtual machines (VMs) placed on each server, and improves the cloud scale efficiency. Pairing with the HPE Synergy high-density 50G Ethernet switching solution, this adapter provides high throughput and low latency to implement intelligent and flexible networks.
Are you looking for extremely high bandwidth and very low latency communications for your HPE ProLiant XL and HPE ProLiant DL Gen10 server families?

The HPE HDR InfiniBand adapters are designed for customers who deploy high performance computing (HPC) systems with their HPE ProLiant XL and HPE ProLiant DL Gen10 servers in the data center. The HPE InfiniBand HDR/HDR100 adapters include HPE InfiniBand HDR (200Gbps) 1-port 940QSFP56 adapter, HPE InfiniBand HDR100(100Gbps) 2-port 940QSFP56 adapter and HPE InfiniBand HDR100(100Gbps) 1-port 940QSFP56 adapter. Combined with HDR InfiniBand switches, they deliver low latency and up to 200Gbps bandwidth, ideal for performance-driven server and storage clustering applications in HPC and enterprise data centers.
Do you need an adapter that is big on capability and small on CPU utilization? The HPE Ethernet 10Gb 2-port 524SFP+ Adapter has been designed to efficiently deliver high performance, low latency an minimal CPU utilization by offloading many I/O processing within the adapter. Low latency dramatically improves application performance and frees up CPU resources in the host allowing it to do more important tasks.
Are you looking for a high-performance Fibre Channel (FC) adapter for the modern storage area network?

With improvements in server performance, increased virtualization, as well as flash and NVMe storage, the existing storage can become the bottleneck in your environment. The FC host bus adapter (HBA) is a critical element of this storage area network to improve storage performance.

The HPE SN1610Q 32Gb Fibre Channel Host Bus Adapter provides significant I/O performance and security benefits to accelerate databases, host more virtual machines, support emerging technologies such as NVMe and reduce total cost of ownership. It delivers better business outcomes across multiple industry verticals that rely on high performance, safe, and reliable storage connectivity for their storage infrastructure.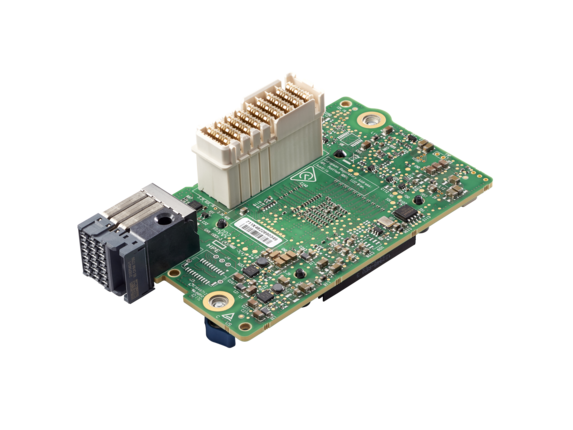 Would you like to increase your network's I/O performance while simplifying the connection between HPE Synergy Compute modules and complex storage environments? Designed for the HPE Synergy Composable Fabric, HPE Synergy 5830C 32Gb Fibre Channel (FC) Host Bus Adapter (HBA) connects Synergy Compute resource pools to SANs over 32 Gb native FC fabrics. This provides high-performance due to low latency connectivity to the HPE Synergy Virtual Connect FC modules and Brocade® FC Switch modules. The HPE Synergy 5830C supports advanced virtualization, security, dual-port isolation, dynamic power management and low CPU utilization features. Provisioning and updating HPC Synergy 5830C are easy, reliable and fast using HPE Synergy software-defined, template-driven, frictionless operation. The HPE Synergy Composer automatically coordinates proper firmware and driver including staging updates to execute and avoid workload disruption.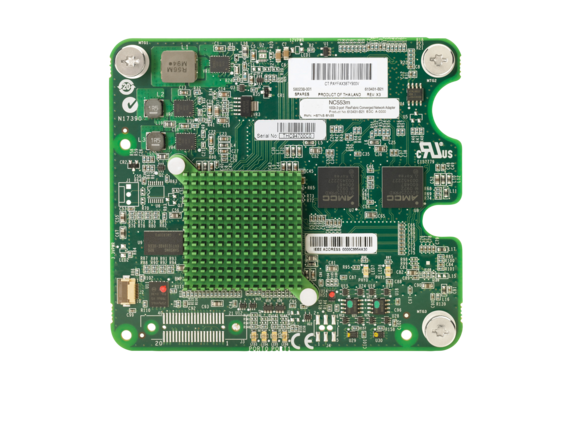 Need a 10GbE CNA enabled Ethernet NIC for your HPE BladeSystem? The HPE NC553m 10Gb 2-port FlexFabric Adapter delivers the performance benefits and cost savings of converged network connectivity for HPE BladeSystem servers. The dual-port NC553M optimizes network and storage traffic with hardware acceleration and offloads for stateless TCP/IP, TCP Offload Engine (TOE), and Fibre Channel.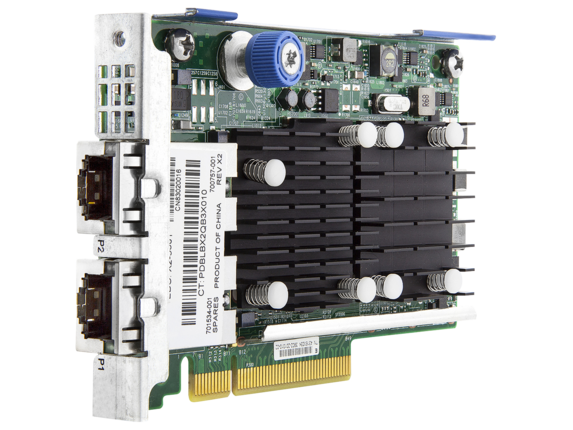 Are you looking for a 10Gb Ethernet adapter with configurable flexibility to prepare for the new hybrid server infrastructure? Increased data center workload demands are putting pressure on server I/O. The HPE FlexFabric 10Gb 2-port 533FLR-T Adapter increases throughput for the HPE ProLiant Gen8 and Gen9 DL and SL Server series by using the innovative HPE FlexibleLOM form factor to offer dual-ports in a 10GBASE-T adapter configuration. This is an affordable choice for workload-intensive computing environments, providing a reliable, high performance 10GbE connectivity solution. If you are looking for a 10GbE Adapter, the FlexFabric 533FLR-T offers everything you need plus the advanced features included in the FlexFabric series to simplifying your network and storage topology.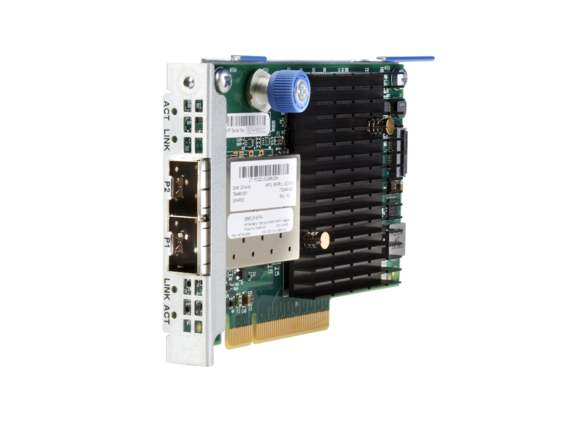 Do you need a high-performance 10 Gb Ethernet adapter for your HPE ProLiant Gen9 server family? The HPE FlexFabric 10Gb 2-port 556FLR-SFP+ Adapter is installed in the FlexibleLOM socket in the ProLiant Gen9 Rack/Tower servers. The adapter offers 10GbE FlexibleLOM with Tunnel Offload feature. It provides full-featured, high-performance, converged 10 Gb Ethernet that accelerates IT services and increases data center efficiency.

Tunnel Offload provides efficient overlay networking to increase VM migration flexibility and network scale with minimal impact to performance. Traditional layer 2 networks limit mobility and scale of virtualized and multi-tenant workloads.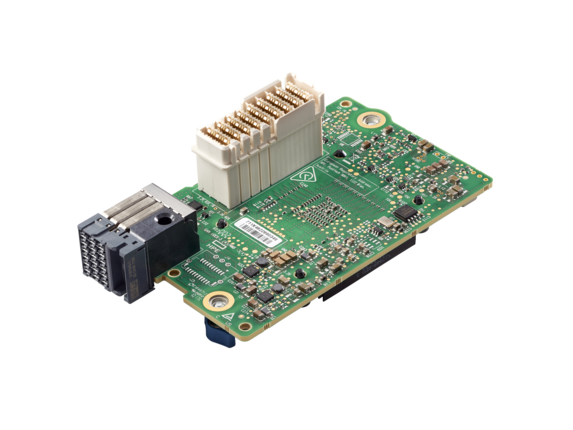 Do you want low latency and consistency for your data center? The HPE Synergy 6410C 25/50Gb Ethernet Adapter is ideal for telcos, cloud service providers, financial and e-Commerce customers as it provides both fast transmission and device processing. This adapter provides low latency for the businesses that need data transactions to cross immediately, where every second of delay could impact your business' bottom line. Pairing the HPE Synergy 6410C Adapter with the HPE SH2200 25/50/100Gb Ethernet Switch ensures no disruption between the server and switch giving you end to end high performance network capability.
Added to Your Shopping Cart
Product Availability by Store Location
Max 4 items can be added for comparison.