HPE 1GB Ethernet Pass-Thru Module for c-Class BladeSystem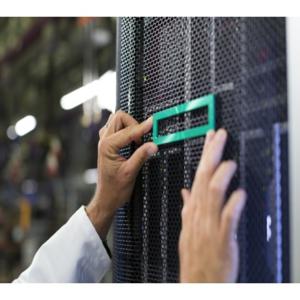 HPE 1GB Ethernet Pass-Thru Module for c-Class BladeSystem
The HPE 1Gb Ethernet Pass-Thru Module for c-Class BladeSystem is designed for those customers desiring an unmanaged direct connection between each server blade within the enclosure and an external network device such as a switch, router or hub. Ideal for datacenters with existing network infrastructure, the HPE 1Gb Ethernet Pass-Thru Module delivers sixteen internal 1Gb downlinks and sixteen external 1Gb RJ-45 copper uplinks, providing a 1:1 non-switched, non-blocking path between the server and the network. Designed to fit into a single I/O bay of the c-Class enclosure, the Ethernet Pass-Thru Module should be installed in pairs to provide redundant uplink paths to your network.
Fulfilled by
$771.99
*Image may differ from actual product
More Information
HPE Proactive Care Adv can help you to manage your infrastructure with features designed to provide:
Increased accountability and personalization through an assigned ASM, who will work with your IT team to share Hewlett Pakard Enterprise best practices and specific technical advice relevant to your IT needs and projects
Faster incident resolution from specially trained, solution-oriented advanced resources who manage the case from start to finish
A CEM assigned to severity 1 incidents to drive faster resolution and provide regular progress updates to keep you informed
Recommendations for firmware version and software patching on supported products to help prevent problems Identification of risks and issues through regular device-based proactive scans that help ensure that configurations are consistent with HPE best practices
Access to technical advice and services from Hewlett Packard Enterprise specialists to augment your team with specific skills and capabilities
Max 4 items can be added for comparison.