HPE Intelligent Power Distribution Units
HPE Intelligent Modular 3Ph 17.3kVA/60309 60A 4-wire 48A/208V (6) C19/Horizontal NA/JP PDU
Need a flexible PDU that monitors and manages power in your rack so you have greater control?
HPE Intelligent Power Distribution Units (PDUs) provide monitoring of power consumption at the core, load segment, stick, and outlet level with precision and accuracy. Remote management is built into the PDU core for power cycle ability of individual outlet on the Extension Bars and high-precision monitoring of current, voltage, wattage, and power that is 99 percent accurate across the C19 outlets.
World-class management and control to rack-mounted PDUs prevent overprovisioning of power that restricts growth in your data center. HPE Intelligent PDUs incorporate Power Discovery Services which communicates with attached servers to map power topology inside a rack, speeding implementation and reducing the risk of human errors that can cause power outages.
The HPE Intelligent PDUs unique modular design architecture enhances flexibility and control to help you avoid downtime.
QuickSpecs
QuickSpecs
QuickSpecs (PDF)
QuickSpecs (HTML)
Fulfilled by
$903.99
Image may differ from actual product
More Information
0

items
Selected for comparison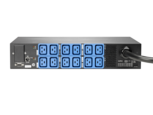 HPE Intelligent Modular 3Ph 17.3kVA/60309 60A 4-wire 48A/208V (6) C19/Horizontal NA/JP PDU
HPE Intelligent Modular 3-phase PDU, high voltage (208V), 60A with 17.3 kVA load capacity, IEC 60309 4-wire input and 6 C19 outlets, horizontal form factor, North America and Japan
---
Key Features
Accuracy in Power Monitoring
HPE Intelligent Power Distribution Units automatically detect and map servers and BladeSystem Enclosures to specific power outlets for balanced power usage.
Effectively measures power usage to all outlets on the core and the Intelligent Extension Bars and identifies available power capacity to add more servers.
Gathers information from all monitoring points at half-second intervals so the latest data is collected.
Measures power consumption below 100 MW and lets you know when a server is plugged in and not just powered on.
Greater Flexibility
HPE Intelligent Power Distribution Units have multiple mounting options saves valuable rack space. Flexible mounting of extension bars eases cable management.
Mix different kinds of extension bars on an iPDU core for a variety of configurations.
Displays power consumption for the core, stick, and outlet levels at the rack or remotely from standard web browsers.
Remotely control power per outlet or even per pair of outlets for redundantly powered equipment.
Superior Protection
HPE Intelligent Power Distribution Units have individual breakers for each load segment prevents a problem in one segment from causing a power outage on the entire PDU.
SNMP and email alerts notify operators of impending issues that could cause a power outage.
Remotely locking-out individual outlets on the Intelligent Extension Bars prevents unauthorized equipment from overloading PDUs or circuits.
Automatic redundancy checking detects power configuration errors automatically and notifies IT administrators/operators.
Simple and Easy to Use
HPE Intelligent Power Distribution Units allow you to simply assign an IP address to the iPDU and it is ready to use.
Automatically detected by HPE OneView, HPE Systems Insight Manager (SIM) and Insight Control Power Management software.
Users can be assigned full or restricted access levels as required.
Max 4 items can be added for comparison.