Rack and Power Infrastructure
Rack and Power Infrastructure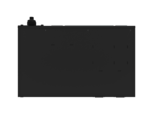 Do you need rack level power monitoring over the network?
With billing grade accuracy, HPE Metered Power Distribution Units (PDU) are an excellent choice for data centers wanting to make the most of circuit capacity or for co-location facilities needing to precisely track power usage for billing purposes.

HPE Metered PDUs have a low profile single piece design with multiple mounting options and ease of access to rear devices for maintenance. Designed for HPE racks but will also work in a large variety of third party racks as well using standard button and keyhole mounting. They can be installed on either side of the rack with outlets facing the back of the rack for easy access and improved clearance. Also for higher power density they can be installed side by side on both sides of the rack with the outlets facing in towards the center of the rack. HPE Metered PDUs are available in 1U and vertical form factors in single and 3-phase models and are back by HPE's limited 3-year warranty.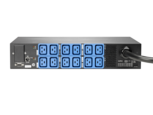 Need a flexible PDU that monitors and manages power in your rack so you have greater control?
HPE Intelligent Power Distribution Units (PDUs) provide monitoring of power consumption at the core, load segment, stick, and outlet level with precision and accuracy. Remote management is built into the PDU core for power cycle ability of individual outlet on the Extension Bars and high-precision monitoring of current, voltage, wattage, and power that is 99 percent accurate across the C19 outlets.
World-class management and control to rack-mounted PDUs prevent overprovisioning of power that restricts growth in your data center. HPE Intelligent PDUs incorporate Power Discovery Services which communicates with attached servers to map power topology inside a rack, speeding implementation and reducing the risk of human errors that can cause power outages.
The HPE Intelligent PDUs unique modular design architecture enhances flexibility and control to help you avoid downtime.
Added to Your Shopping Cart
Product Availability by Store Location
Max 4 items can be added for comparison.