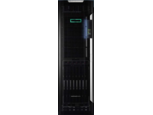 Has your data center become an inflexible, monolithic, hard-wired, under-utilized collection of systems and complex processes that require excessive manpower to operate? The HPE Integrity Superdome 2 Server family based on a blade design, a common network fabric, comprehensive cross-domain control and advanced power and cooling management delivers a mainframe replacement. The Hewlett Packard Enterprise Converged Infrastructure (CI) delivers consolidation, modernization, shared services and business continuity initiatives by simplifying, consolidating and automating everything from the start. It provides mission-critical scalability and reliability for the most demanding applications and workloads, while supporting up to thirty-two 8 core Intel® Itanium® 9700 processors. The HPE Integrity Superdome 2 Server supports up to 8 TB of memory and has ECC and built-in redundancy, helping you take advantage of the performance benefits of Itanium processors.
Added to Your Shopping Cart
Product Availability by Store Location
Max 4 items can be added for comparison.