HPE IMC VAN Connection Manager Software
HPE IMC VAN Connection Manager Software Module with E-LTU
HPE IMC VAN Connection Manager Software is an Intelligent Management Center (IMC) optional module that delivers a template, profile-based approach for managing network configuration policies. Administrators define policies in a template which is then applied as a configuration policy to the edge switch associated with the virtual machine of interest.

Virtual machine network connectivity is automated and orchestrated by IMC VAN Connection Manager Software to accelerate application deployment and service rollout. There is also an additional plugin that supports the VMware hypervisor manager.
Fulfilled by
$6,819.99
*Image may differ from actual product
More Information
0

items
Selected for comparison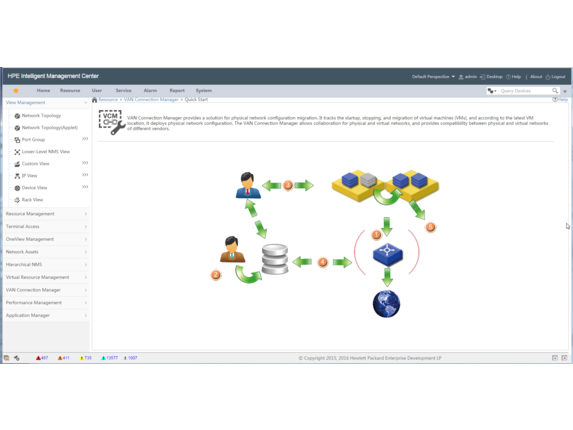 HPE IMC VAN Connection Manager Software Module with E-LTU
Electronic license for HPE IMC VAN Connection Manager module
---
Provides vMotion event for triggering actions such as running a script with notification via syslog.
Automation and orchestration of edge configuration.
Template-based approach for edge connection policy management.
Record VM migrations and view migration history.
Detailed edge switch management
Connect Virtual Machines to Speed Application Deployment
The HPE IMC VAN Connection Manager Software maintains a library of connection policy templates that act as the network configuration for binding to the vNIC of VMs, and administrators can easily define bandwidth performance, quality of service, and allowed hosts in the policy.
You can create connection policy templates with easy-to-define and easy-to-change profiles that include bandwidth thresholds, quality of service, and allowed Access Control Lists (ACLs), which when deployed, bind to the virtual machine (VM) and are applied to the edge switch.
Manage Virtual Machine Migrations
The HPE IMC VAN Connection Manager Software records VM migrations in a virtual network, allows you to view the migration history and operational records of VMs.
You can specify management type with a unique VLAN ID and associated VSI type to deploy assigned network resources to communicate with external networks.
Integrate with Hypervisor Management Tools
The HPE IMC VAN Connection Manager Software interoperates with leading hypervisor vendors such as VMware vSphere, Microsoft HyperV, Citrix Xen, and KVM.
It delivers a plugin for the VMware vCenter/vSphere environment so that the VM connections can be deployed leveraging connection policy profiles defined and created in the HPE Intelligent Management Center Software Platform from within vCenter/vSphere.
Related Links
Additional Resources
Download the module
Max 4 items can be added for comparison.