HPE IMC TACACS+ Authentication Manager Software
HPE IMC TACACS+ Authentication Manager Software Module with 50-node E-LTU
The HPE IMC TACACS+ Authentication Manager (TAM) Software is an Intelligent Management Center (IMC) optional module that provides basic authentication, authorization, and accounting functions for network devices or IT users in order to deliver network device management security.

The IMC TACACS+ TAM Software can assign users with different privileges, monitor login and command execution operations as well as simplify user management which work with devices that support the TACACS+ protocol.
Fulfilled by
$998.99
Image may differ from actual product
More Information
0

items
Selected for comparison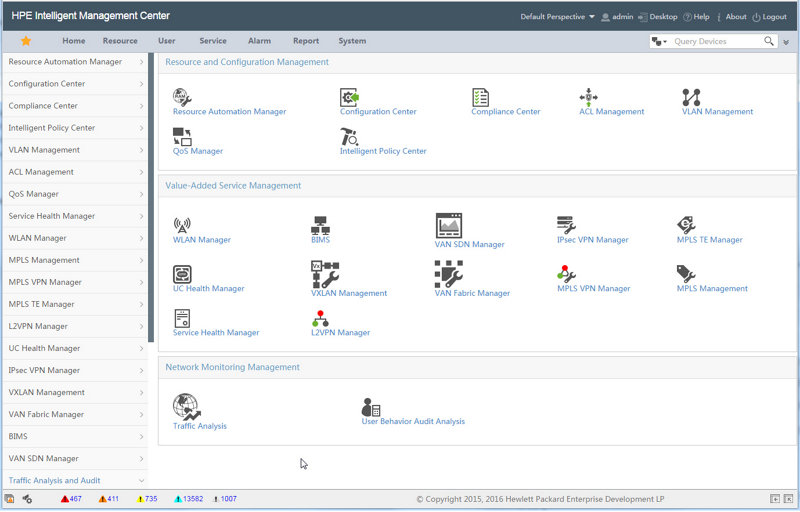 HPE IMC TACACS+ Authentication Manager Software Module with 50-node E-LTU
Electronic license for HPE IMC TACACS+ Authentication Manager module for 50 nodes
---
What's New
Support for device identification and authentication.
Comprehensive user and log monitoring.
Centralized management of all device users.
Flexible authorization policies.
Batch upload for device users.
Key Features
Easily Identify, Authenticate, and Manage Devices
The HPE IMC TACACS+ Authentication Manager Software supports multiple device access methods like Telnet, SSH, and FTP for increased flexibility.
Supports multiple identity verification methods including ASCII, PAP, and CHAP for greater security.
Uses unified authentication with a light weight assisted protocol (LDAP) server, Windows domain server, or third-party LDAP enabled email system.
Executes granular device control of operator privileges for both assigning the operator's operational limits as well as their power to add, change, and remove functions.
Easily Manage Users and Log Activities
The HPE IMC TACACS+ Authentication Manager Software comprehensively monitors users and automatically adds malicious users into a blacklist for further monitoring, auditing, and investigation. User information is archived and the user can be deleted.
Leverage group management for device users through multi-administrator management and perform batch operations on users to speed operations and minimize IT management intervention.
Synchronizes device user information from LDAP systems for latest updates.
Max 4 items can be added for comparison.