HPE D8000 Disk Enclosures
HPE D8000 Single I/O Module LFF (3.5in) Density Disk Enclosure
Need a cost-effective high capacity direct attach storage (DAS) option? The HPE D8000 Disk Enclosures with 12 Gb/s SAS architecture extends and redefines DAS for HPE ProLiant servers. The HPE D8000 Disk Enclosures, designed for data-intensive environments, is a storage enclosure for dense, cost-effective external storage expansion for massive data capacity applications. The HPE D8000 Disk Enclosures can be used not only as a standalone DAS enclosure, but can also be used for expansion in storage applications like Cloud backup, data protection or big data environments. HPE D8000 Disk Enclosures support Low Profile drive carriers. The zoned direct-attach capabilities of the HPE D8000 Disk Enclosure allows server administrators to build local storage on the fly according to their configuration requirements.
*Image may differ from actual product
More Information
0

items
Selected for comparison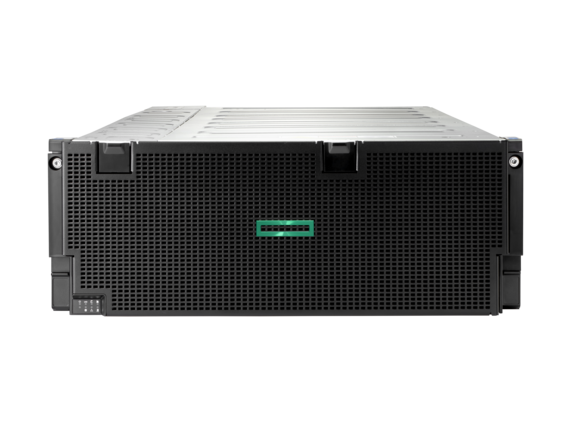 HPE D8000 Single I/O Module LFF (3.5in) Density Disk Enclosure
HPE D8000 Single I/O Module large form factor, 3.5-inches density disk enclosure
---
Introducing the HPE D8000 Density Enclosures.
Introducing the Large Form Factor 10 pack drive bundles.
High-density, Low-cost External SAS Storage for HPE ProLiant Servers
The HPE D8000 Disk Enclosures with dual I/O modules provides a 12 Gb/s SAS unit that is designed to support 106 Large Form Factor (LFF) SAS and SATA HDDs or SSDs in just 4U of rack space for customers needing a dense storage option with a low acquisition cost.
The simplicity of an in-rack storage solution reduces your expense and complexity from the storage architecture, just a Smart Array P408e-p or E208e-p Gen10 controller can connect to the Gen 10 HPE ProLiant Servers.
High-Performance 12 Gb/s SAS Connectivity to External Storage
The HPE D8000 Disk Enclosures with dual I/O modules delivers 12 Gb/s host connectivity enabling higher performance, eases configuration/deployment and broadens supported features of an HPE D8000 Disk Enclosures using HPE Smart Array P408e-p and E208e-p Gen10 Controllers.
With the HPE D8000 Disk Enclosures, applications and storage are installed in the same rack. Latency is reduced as data does not travel over large distances.
Solid State Drive support with integrated "wear gauge" helps improves application performance and allows customers to reduce their operating costs by reducing foot prints and power consumptions.
QuickSpecs
Related
Storage
Max 4 items can be added for comparison.