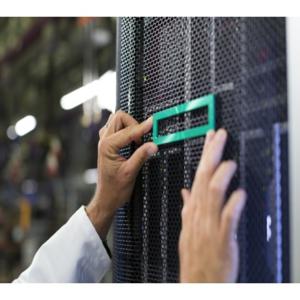 HPE IMC Branch Intelligent Management System Software Module with 50-node E-LTU
HPE IMC Branch Intelligent Management System (BIMS) Software is an Intelligent Management Center (IMC) optional module designed to remotely manage network infrastructure using the TR-069 protocol. IMC BIM Software can manage a large number of branch networking equipment without the limitations posed by traditional remote network management methods such as Telnet, SSH, SNMP, or Web remote login.

Branch network devices can be remotely deployed, configured and serviced. IMC BIMS further simplifies the experience of managing remote networks and lowers the operating costs of network managements.
QuickSpecs
QuickSpecs
QuickSpecs (PDF)
QuickSpecs (HTML)
Select a solution / model
Existing selections will be lost. Click OK to proceed further.
More Information
What's New
Unified remote resource management.
Comprehensive configuration management.
Flexible, with enhanced security features to communicate with devices.
Zero touch device deployment.
Key Features
Simplify Remote Resource and Configuration Management for Branch Network
The HPE IMC Branch Intelligent Management Systems (BIM) Software allows administrators to remotely configure device parameters, update software, reboot and restore the device to factory defaults based on TR-069 protocol.
Devices can be remotely deployed and auto-configured by templates that are sent to the device by the Intelligent Management Center (IMC) to deliver zero touch deployment.
BIM Software automates batch device configuration to reduce the error-prone complexities of the upgrade process.
Devices are identified by serial numbers rather than IP addresses to simplify device identification in a DHCP environment.
Delivers Comprehensive Remote Management in Secured or Private Networks
The HPE IMC Branch Intelligent Management Systems (BIM) Software can communicate and manage devices that are private.
IMC BIM Software also uses HTTPS to securely communicate with or to transfer files to the device.
* Prices may vary based on local reseller.
Find what you are looking for?
Need help locating the right product for your business?
Our product experts would love to chat with you to find products and services that enable opportunities and resolve your business problems.
Select country to get quote
Max 4 items can be added for comparison.